e-Wallets will come into their own sooner rather than later
By Kiran Kaur Sidhu March 27, 2019
Strategy is to build the ecosystem around digital payments, including social aspects
Education needed as still in early stages, e-wallets and credit cards to co-exist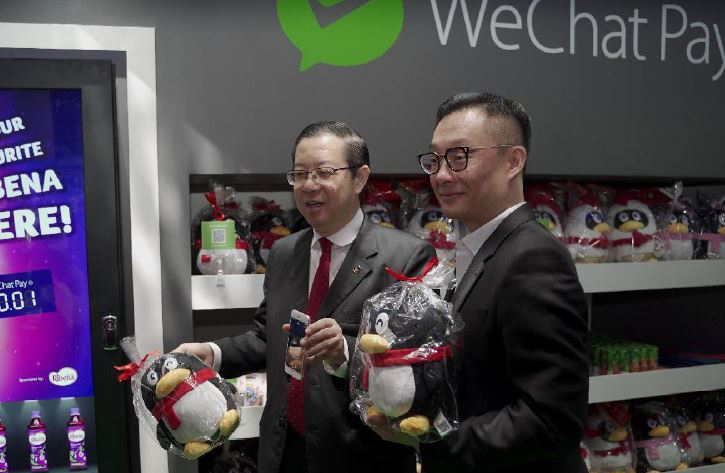 MALAYSIA is still in the very early stage of e-wallet adoption, says Poshu Yeung, the vice president of Tencent International Business Group, the developers of the WeChat social media and mobile payment app.
In a one-on-one with DNA at a WeChat Pay MY event in Grand Hyatt Kuala Lumpur, Poshu shared some insights. "The whole journey is going to take some time. Looking back, it took China over three years to fully adopt digital payment."
At the event, which was officiated by Malaysian Finance Minister Lim Guan Eng, WeChat Pay MY put together its first showcase of how it intends to encourage adoption and usage of mobile payments with an experience zone simulating various payment service experiences at a convenience store, petrol station, and even a regular roadside vendor.
There was also a proof-of-concept demonstration featuring a petrol station smart solution where users can select a petrol station, key in the fuel amount to purchase and upon arrival at the kiosk, a camera will detect the car plate number to activate the pump.
In his speech, the minister shared Bank Negara data indicating that the use of cash is high in Malaysia at US$ 26.5 billion (RM106 billion) circulating in the economy in 2018, or about 7.4% of the gross domestic product (GDP), although it is lower than 7.7% and 7.9% in 2017 and 2016 respectively.
"When we talk about cashless systems, another very important benefit is that it would cut down corruption," said Lim, before adding that corruption in China is low in part due to this.
Offline education will drive adoption
During the interview, Poshu shared his belief that, to drive adoption, the on-ground education of potential users is very important. As far as drawing users in through customer experience and the convenience factor goes, it takes offline marketing in addition to the in-app promotion incentives.
"We need to implement in a lot more outlets. Once a user tries it, they will love it. It's about overcoming the hurdle of having them try it the first time," he says.
In China, WeChat Pay has an over 95% reach and is the most used offline payment app via its Quick Pay QR code feature. Malaysia has over 40 e-wallets vying for the top spot in the market. But what do these digital payment players have to do to reach that goal?
"If we talk about e-wallets as a utility, it may not be that attractive to users," comments Poshu. Speaking from WeChat's perspective, he says: "What we need to do is build the ecosystem around payments, social media and chat. That's the most powerful thing."
It is not sufficient to just have a digital payment solution, he claims. "We always look at payments as the last mile. It is important that merchants have it, but there are other areas to focus on for the Malaysian market."
Bridging the social and payment divide, WeChat Pay enables social gifting which includes buying Starbucks drinks online for friends and social payments such as money packets for Chinese New Year and other festivities. While these features have taken off in China, it is yet to become popular in Malaysia.
The WeChat market plan
Speaking of the sentiment that the China payment situation cannot be duplicated in other markets, he says: "That's probably true for now. But we strongly believe that down the road, it will happen. Not just in Malaysia, but everywhere."
For the time being, WeChat is prioritising its local market in Malaysia and Hong Kong before expanding into new markets. "For the next couple of years, it is still going to be in the early stages and is going to involve a lot of education. We need to work more closely with merchants, local partners and also the authorities," explains Poshu, indicating hope that Malaysia will enter the next stage of progression by 2021.
Although Tencent has not identified its next target market for WeChat, according to Poshu, there are some factors the company takes into consideration before diving into a new market. Aside from internet penetration and smartphone adoption, the gross domestic product (GDP) of a country is important to WeChat Pay.
"These are money transactions and we're also trying to build on the ecosystem. At the end of the day, it is also about spending power," he explains.
E-wallets and credit cards to co-exist
All things considered, the phenomenon of e-wallets replacing cash and credit cards is not set to happen any time soon. "I don't think we can completely replace credit cards and there is no intention to. At the end of the day, you still have to bind your credit or debit card to your e-wallet. I do believe the two are going to co-exist for quite a long time."
The usage of e-wallets is mainly dependent on human behaviour. Poshu shares his observation of China and Hong Kong where most people have their credit cards in their bags but have their hands on their phones. "Which can you reach faster – phone or wallet? The typical user behaviour is happening already, so we're not trying to introduce something different."
Related Stories :
Keyword(s) :
Author Name :