1-Net dedicated to 'Data Centre Corridor' vision for Asean
By Gabey Goh February 6, 2015
New facility part of plan to capitalise on, and aid, Asean Economic Community
'Hub' thinking is passé, it's about the region's data centre needs and opportunities
1-NET Singapore Pte Ltd may have kept a low profile in the first 17 years of its existence, but it hopes that 2015, which also happens to be its 18th birthday, will be the year it officially comes of age and breaks out into a higher profile.

"We've been an extremely bashful company in the market for a long time," said managing director Wong Ka Vin (pic), who joined the Singaporean company two years ago.

The end-to-end data centre services provider, owned by media giant MediaCorp, underwent a rebranding exercise in 2014 and is now executing on its new vision and approach, summed up by Wong as "get it right at home and expand like hell in Asean."

"Within Asia Pacific, the majority of opportunities for data centre players is in this [Asean] region, and I believe the concept of Singapore as a hub is passé thinking, especially when it comes to the digital economy.

"The increasing integration of Asean nations, and the binding together of non-governmental infrastructure and business represent significant opportunities and we have the desire to quickly tap into this in the next few years," Wong told a recent media briefing in Singapore.

The first step to seizing this opportunity was announced in July 2014, with its plans to build a new data centre designed to meet the emerging demands in content digitisation, and which is touted to be the first of its kind in South-East Asia.

The company currently has one other data centre facility in operation: 1-Net East at Chai Chee, within Singapore, and recorded S$30 million (US$22.3 million) in annual revenue for its fiscal year 2013-2014.

"One of the first things I did after joining the company was to justify the building of this new facility with the board. To leverage on the possibilities and better position ourselves in the market, we need a state-of-the-art facility," Wong said.

The 200,000 sq ft facility will be located at Marsiling, and the new building is on a long-term lease from CitySpring Infrastructure Trust, as part of a joint venture with Shimizu Corporation.

Called 1-Net North, the new data centre will be Singapore's first Tier III designed and constructed data centre to be certified by the Uptime Institute, and is expected to be completed by the last quarter of this year.

Total investment is expected to be around S$130 million (US$96.6 million), with 1-Net investing an additional S$70 million (US$52 million) to fit out the data centre with the technology required to attain the Tier III Design and Construct certification.

Asean and the Data Centre Corridor
The new facility is only part of 1-Net's ambitions for the coming months, which is to make its 'Data Centre Corridor' concept a reality.

The concept seeks to capitalise on and aid the eventual realisation of the Asean Economic Community (AEC), a single regional common market that would enable the free flow of goods, services, investment capital and skilled labour between Asean nations.

In a report by AFP, Malaysian trade minister Mustapa Mohamed, whose country holds the rotating presidency this year, said that Asean will officially call itself a single market by year's end, but "big things" within the 10-nation bloc would only come in 2020.

"We don't have complete integration or harmonisation yet, 2015 is laying the stage for bigger things to come.

"We're going to get almost there by 2015 but the big things like seamless travel ... would come in 2020," Mustapa said on the sidelines of the World Economic Forum in Davos.

There's time yet for 1-Net to achieve its goal, in which it envisions dedicated connections between participating data centre facilities across the region, complete with seamless service level agreements (SLAs) and management for customers.

Late last year, the company signed Memoranda of Understanding with CyberCSF in Indonesia, TCC Technology (TCCT) in Thailand and PCCW Global, the international operating division of Hong Kong's telecommunications service provider HKT.

Using Singapore as a data centre hub in this alliance agreement, all partners will have the option to connect to all participating data centres directly through the 'corridor.'

This will enable easy access to domestic and international markets more rapidly, which in turn will improve customers' network experience at lower latency and cost, 1-Net said.

"I describe this as a federated approach, or in other words, the 'poor man's expansion plan'," Wong quipped.

He said that with the use of bandwidth rising and the shift to cloud computing – and the need for resilience physical infrastructures to complement this demand – the benefits afforded by creating an aggregation point in the region, linked together with a high performance network, becomes apparent.

"We don't need to own the capacity per se – that could be owned by the telecommunications operators, with us working closely with them.

"The key is to have that dedicated connectivity that will allow customers to move data between sites seamlessly – essentially it will be one virtualised cloud irrespective of location, an Asean hub," Wong added.

Last November, Tony Gaunt, director of Internet Data Centres (Asia) for Emerson, had told Digital News Asia (DNA) that there was an upcoming opportunity for South-East Asia's data centre industry, thanks to growing attention on the issue of data sovereignty.

The developing mandate by many governments for sensitive data to be retained within national boundaries means that local providers have more opportunities with serving local organisations and institutions.

However, with the creation of the AEC intended to ease cross-border trade, this still bodes well for South-East Asia-centric data centres seeking to expand in tandem with their private sector customers.

Devil's in the details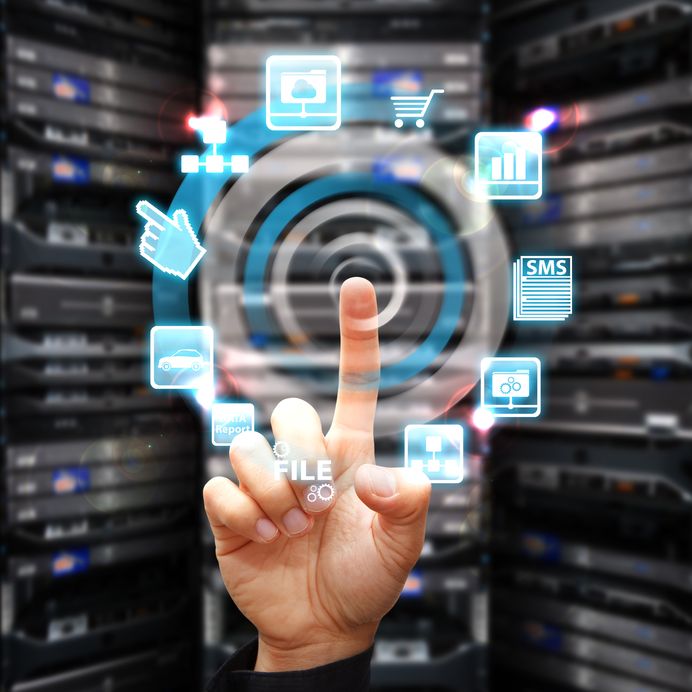 The notion of creating an Asean data centre hub and network is not new with Wong, admitting that "many are trying to do it."

"But many are doing it via an open Internet approach that can cause problems in terms of security and bandwidth allocation.

"We intend to have dedicated connections which would allow for better network resilience, flexibility and control over aspects such as encryption," he argued.

According to Wong, dedicated connections must be in play to fully leverage on such innovations as software-defined networking (SDN).

"The physical plumbing has to be in play – we are the plumbers and we need to ensure it can work," he added.

The goal for 1-Net this year is to focus on adding more partners from Asean nations, as well as Hong Kong, to its corridor alliance. It is already in discussions with "like-minded" players in Malaysia and the Philippines.

Two contracts have been sealed, with Wong sharing that the committed parties are now working on implementation – however, he also admitted that there's still a lot of work to be done with the details of practical execution.

"When negotiating the business alliance, there are three main factors that need to be ironed out: The first is the harmonisation of product between partners.

"While pricing will be independent to each market, the products must be set up to allow for configurations to be done the same way across markets," he said.

The second factor is on how to handle customer arrangements, and with many seeking to expand to other markets, the issue of service agreements comes into the picture.

"It could be the case for a customer to have a master service agreement with 1-Net which will apply across all other partner facilities. This way, it's not a case of signing a new contract for the customer but rather just an extra sales order for additional capacity.

"We need to iron out a document that establishes the commercial and legal basis for managing service levels and operations," said Wong.

He also noted that as the primary partner will be underwriting the service agreement, trust and operational knowledge that will be eased by product harmonisation would be key to consistent delivery to customers.

The third factor is the issue of tax across multiple markets, with agreements needing to be reached on how to streamline value-added tax or goods and services tax applicable to individual markets, to costing in a manner that allows the customer to "not worry about it."

If there is one potential stumbling block to the campaign of convincing more data centre operators to jump on board, it could be the issue of cross-connect charges.

Cross-connects are used as a facilitator to help clients connect to other carriers or a third party in the data centre. A cross-connect is generally used among colocation customers and traditionally comes with setup and monthly fees.

1-Net doesn't charge monthly cross-connect charges within its data centre, with an expectation of potential alliance partners doing the same.

"For many data centre operators, it represents a sizeable portion of their revenue, which makes it a difficult thing to pull away from," admitted Roland Ang, 1-Net's business market vice-president.

Related Stories:

Singapore's 1-Net in data centre partnership with Asean neighbours

Data centre future: It's about management and the core

Emerson, Schneider leaders in Asia's data centre infra market: IDC

Indonesia's Telkom deepens footprint in Singapore

StarHub in data centre partnership with Japan's KVH


For more technology news and the latest updates, follow us on Twitter, LinkedIn or Like us on Facebook.
Keyword(s) :
Author Name :