Microsoft Malaysia makes new leadership appointments with Azizah Ali, Millie Yong
By Digital News Asia October 27, 2020
Azizah Ali as Director of Small, Medium and Corporate Group
Millie Yong helms newly created role as Director of Solutions Sales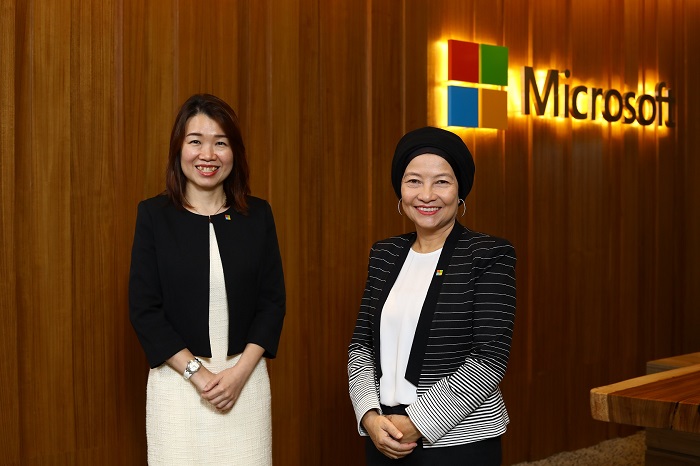 Microsoft Malaysia has appointed two new additions to its leadership team in Malaysia. Azizah Ali has been appointed as the director of Small, Medium and Corporate (SMC) Group, while Millie Yong will lead as director of Solution Sales, in line with the company's focus on helping customers meet their digital needs in the new normal.
Azizah has been with Microsoft for more than two decades, helming various leadership roles in the Asia Pacific region. In her prior role as the director of Public Sector Group, she played a key role in kickstarting national initiatives like the eGovernment project with the Malaysian government. Azizah was subsequently appointed as the Country Manager for Microsoft Brunei in 2009, during which she led partnership initiatives between the Government of Brunei and Microsoft to establish the Brunei Software Development Centre.
In 2013, she returned to Microsoft Malaysia as the director for Small, Mid-Market Solutions and Partner Group, subsequently taking on another international role as Microsoft Asia Pacific's Business Development Director for Public Sector in 2017. In her new role effective September 2020, Azizah will focus on supporting SMCs in their digital transformation journey, by matching customer challenges with Microsoft solutions and leveraging Microsoft's vibrant partner ecosystem.
"Digital transformation is crucial in this day and age," said Azizah. "As our nation works together to strengthen our economy through business growth, technology will play a fundamental role in keeping businesses operating and thriving in the future. As such, I am honoured to work with my colleagues once again at Microsoft Malaysia and support Malaysian SMCs on their journey towards success."
Also joining Microsoft Malaysia's leadership team is Millie Yong, who has been appointed to a newly created leadership role as director of Solution Sales. In her role, Millie will be providing sales and technical thought leadership to enable the acceleration of digital transformation among enterprise customers in Malaysia. Along with a team of sales and technical specialists, Millie will also provide new and relevant cross-tech solutions for customers while helping to grow their digital capabilities.
Millie is a highly accomplished industry leader, with more than 20 years of experience across industries including financial services institutions (FSI), telecommunications, manufacturing, and retail. Prior to joining Microsoft, Millie helmed various positions at IBM, including that of the general manager of IBM Systems and Country Sales Manager for Banking, Insurance and Finance Sectors. She also held various sales and technical roles at Siemens and Hewlett–Packard, before joining Microsoft Malaysia in 2018.
"Meeting the needs of businesses today is an exciting challenge that demands innovative thinking," said Millie. "This is certainly true with regards to the enterprise community, who are also key contributors to the Malaysian economy. As more and more businesses integrate technology into their processes, we will provide the technological solutions and advice needed for organisations to transform and grow their business."
Commenting on the new appointments, K. Raman, managing director, Microsoft Malaysia, said: "We are living in a time where change is happening all around us, from the way consumers interact with businesses, to the way organisations operate. Year 2020 has rapidly brought forth a wave of digitalisation that necessitates digital transformation, especially among SMC and enterprises. We are thrilled to have Azizah and Millie joining our leadership team. Together, we are committed to further driving meaningful growth for our customers in Malaysia."
Keyword(s) :
Author Name :