Businesses still figuring out their cloud strategy: NetApp CTO
By Goh Thean Eu April 28, 2015
Cloud may not be compelling for large enterprises with well-run IT ops
Changes in economic landscape also forcing business to rethink IT strategy
IT is not every day that a Fortune 500 technology company's C-level officer comes to pay Malaysia a visit. After all, the market here does not match those in South Korea and Singapore (in terms of technology adoption), or even China and Indonesia (in terms of market size and growth potential).

So when storage giant NetApp Inc chief technology officer Jay Kidd (pic) took time off to spend a few days in Malaysia, one had to wonder what brought him to this part of the world.

This was Kidd's second visit to Kuala Lumpur, the first having been some seven years ago.

"I was struck by how much this country and this part of the world (South-East Asia) are growing. The first time I was in Singapore was 22 years ago – it has grown a lot since then and I am seeing the same growth momentum here," Kidd told Digital News Asia (DNA) in Kuala Lumpur recently.

In terms of revenue, Asia Pacific (which includes countries like China, South Korea and India) contributed about 13-14% of NetApp's total revenue of US$4.58 billion for the nine months ended Jan 23, 2015.

While the Sunnyvale, California-based storage and data management company did not disclose its numbers for South-East Asia or Malaysia, one can assume that they made up relatively small portion of the pie.

But that did not stop Kidd from spending time with Malaysian executives and decision-makers. "We believe that the future of the world resides in this part of the world. It is critical to understand what's happening out here," he said.

Kidd said that about half his time is usually spent working with technologies that are shaping the storage and data management space, while the other half is spent engaging with customers.

"This trip is more about engaging with customers, and potential customers. We discussed various topics – such as the hybrid cloud and flash technologies.

"We also shared some perspectives on how technologies are changing, and what their obstacles are for adoption," he said.

Still figuring out

Although it is a common notion that developed markets like the United States and Europe are at the forefront of technology adoption, Kidd said that many companies globally are still "figuring out" the most effective ways of implementing their cloud strategy.

"Everyone in the world is still figuring this out, especially enterprises," he quipped.

He said that for medium-sized companies, it makes economic sense for them to put their workloads on a cloud infrastructure.

"It's the mid-size companies that don't have the scale, or sometimes the manpower or talent. That's when the cloud can save them effort and [keep them focused].

"That's why mid-size companies are more aggressive in putting their workloads on the cloud," he said.

However, the economics of the cloud may not be compelling enough for enterprises.

"For big enterprises with fairly well-run IT operations, the economics of the cloud may not be compelling because they already have enough scale that they can run things by themselves.

"In fact, companies like JP Morgan & Chase and Citibank are operating at the same level of scale as some of the cloud providers are ... not Amazon [Web Services] or Azure [from Microsoft], but some of the traditional cloud providers," said Kidd.

But that does not mean that larger enterprises are not adopting the cloud, as the technology is "too disruptive of an approach to ignore," he added.

Driving cloud adoption
Although security is a major concern when it comes to adopting the cloud, Kidd said helping customers to overcome such concerns is not a big obstacle.

"What I have been seeing is that the flexibility and the economic benefits of cloud computing usually overwhelm concerns on security," he argued.

Another concern is figuring out what type of workloads or applications can or need to be moved to the cloud. In such instances, enterprises usually run ad hoc campaigns on the cloud, which may trigger a sudden peak in data traffic, according to Kidd.

For example, if a company wants to run a holiday promotion-related application, the app would be housed in the cloud and not on the company's own server so that it would be able to handle the peak traffic without having to invest in additional infrastructure.

Or if a company needs to develop an application that requires huge computing resources, it can move this workload to the cloud on a short-term subscription basis, and then unsubscribe once the workload is complete – all without having to buy additional in-house servers.

Even NetApp is constantly looking at which of its applications can be moved to the cloud.

"At NetApp, we have about 300 applications," said Kidd.

"About one-third is run with an enterprise managed hosting service provider, about another one-third is run on Software-as-a-Service (SaaS) type of models, and about one-third is run on our own infrastructure.

"We are constantly judging what kind of app can move out of our own infrastructure and into a cloud offering," he added.

Kidd said he also believes that the company's Data Fabric concept and strategy could be key to further driving cloud adoption.

"We are pushing very hard on the idea of the Data Fabric, where data and storage management; how applications interact with the data; and the movement of the data between clouds can be done consistently – via sets of storage management software that run on-premises, in the cloud, or on service providers' infrastructure," he said.

"It's like an extension of on-premises IT. It is simple to replicate data back and forth, remove applications, and start an application running in the cloud – and then to take it down and put it on-premises whenever one feels that the application is not driving a lot of traffic.

"You can do that in a very normal and natural process," he added.

Data … on tap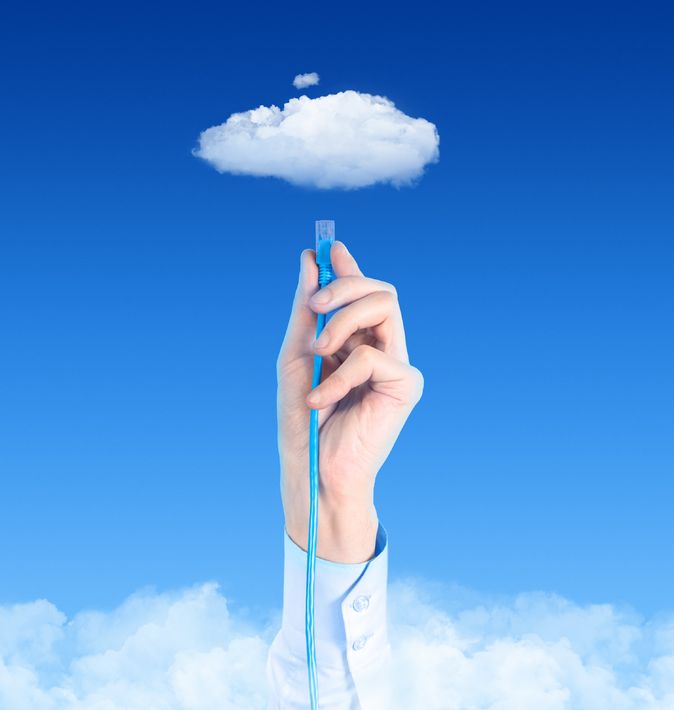 As part of its data fabric strategy, NetApp has launched Data OnTap and made the storage operating system available on Amazon Web Services (AWS).

So far the service has managed to register more than 40,000 hours of runtime, according to NetApp. In other words, people have been using the service for over 40,000 hours collectively.

Kidd said people are using it for various reasons – from running ad hoc campaigns or to develop new workloads that may require additional servers, and even as a "cheaper alternative" for disaster recovery.

"For example, the company's IT (department) can replicate some of the critical applications into an instance in the cloud, perhaps only an hour a day they need to replicate the data.

"If there is a disaster, the company can spin up the application and get it up and running on Amazon in an hour – it is much faster than rebuilding the system on-premises," he said.

Kidd acknowledged that the data fabric concept is still new [it was only introduced last year], but he is confident that it is only a matter of time before organisations buy the idea.

He also believes that there will be increasing reasons for people and organisations to jump onto the cloud bandwagon.

For example, the recent volatility of crude oil prices have put some oil and gas companies in a position to consider if they should shut down oil wells, as the cost of extracting crude oil may be higher than the price of crude oil.

"In such a scenario, if an oil and gas company decides to shut down one site, the IT infrastructure that is sitting on the site will remain as a cost factor," said Kidd.

Such disruptive external factors are also forcing organisations and businesses to rethink their IT strategy.

"The cloud can be one answer, especially if they need something that can allow them to scale up and scale down easily," said Kidd.

Related Stories:

Malaysia moves from talk to action with cloud tech: NetApp

Cloud growing in Asia, but companies face new challenges

Acronis rolls out backup cloud service in Malaysia

Darwinism, survival of the fittest and the cloud


For more technology news and the latest updates, follow us on Twitter, LinkedIn or Like us on Facebook.
Keyword(s) :
Author Name :