Boost partners UnionPay International to expand footprint
By Digital News Asia July 26, 2018
Allows Boost to create relevance to merchants, customers inside and outside Malaysia
Plan to enable users to use the app to leverage on UnionPay's offerings to transact globally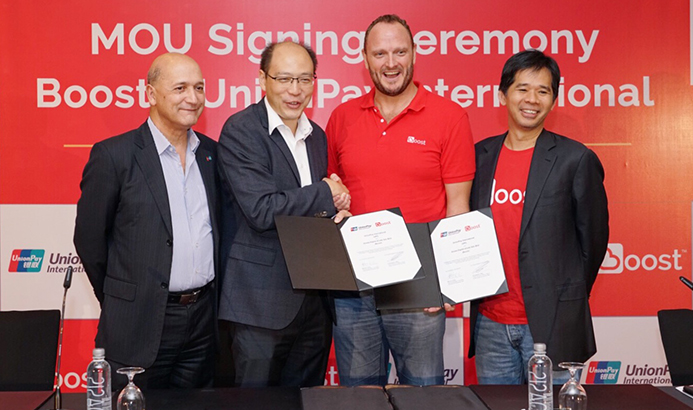 BOOST, Malaysia's homegrown e-wallet app, announced on July 25 its partnership with global payment brand UnionPay to grow its footprint in Malaysia and overseas.
UnionPay serves a global card base of over seven billion. Having formed partnerships with more than 1,800 institutions worldwide, UnionPay has enabled card acceptance in 170 countries and regions globally with issuance in 48 countries and regions.
Providing high quality, cost effective and secure cross-border payment services to the world's largest cardholder base, UnionPay ensures convenient local services to a growing number of global UnionPay Cardholders and merchants.
Currently, there are over 7.5 million UnionPay QR Code (QRC) merchants globally, with UnionPay International announcing in May 2018 a massive roll out of EMV-compliant QRC terminals across different industries all over Malaysia.
"We are pleased to partner with Boost as we immerse our business into a cashless environment to provide our customers a more convenient, secure and seamless way of paying.
"With our core values centred on sharing growth and win-win cooperation with partners and bringing fresh perspectives to the global payment industry, joining forces with Boost signifies a natural progression in our business as we shift towards digitising the worldwide nation.
"This is also in line with our strategy to localise our business to better cater to the payment needs of Malaysian businesses and consumers," said UnionPay International Southeast Asia general manager Wenhui Yang.
Boost is an e-wallet application with over 2.7 million users with online and offline merchants located in over 30,000 touchpoints.
Acting as a virtual replacement for the physical wallet, Boost is designed to simplify the transactional process, ensuring an easy, fast and convenient payment process and overall more rewarding experience.
"We are excited to be partnering with UnionPay International as we continue to rapidly expand our footprint nationwide as well as overseas, which is part of our regional expansion plans.
"As UnionPay International is one of the leading international payment brands in the world, this partnership allows us to create relevance to merchants and customers both inside and outside Malaysia, by leveraging on UnionPay's international presence.
"This is another milestone in broadening Boost's functionality and usability to provide a more rewarding experience for our partners and customers," said Boost chief executive officer Christopher Tiffin.
As part of the partnership, Boost's long-term plans are to enable users to use the app to leverage on UnionPay's offerings to transact globally and likewise, for tourists to transact in Malaysia.
On top of that, Boost and UnionPay will be jointly ramping up its marketing efforts in order to promote their services and further quicken education and expansion plans.
Android users can download Boost from the Play Store while iOS users can download from the App Store.
Related Stories:

KK Super Mart goes cashless and cardless with Boost

Homegrown e-wallet app, Boost unveils new features

Axiata launches cashless ecosystem through Boost e-wallet
Keyword(s) :
Author Name :