SEA logistics platform, TheLorry, raises US$5.85mil in Series B round
By Karamjit Singh April 2, 2019
Funding to strengthen regional drive, uplift status of lorry/truck drivers in SEA
Led by FirstFloor Capital with PNB-INSPiRE Ethical Fund I, Cradle Seed Ventures, ADIF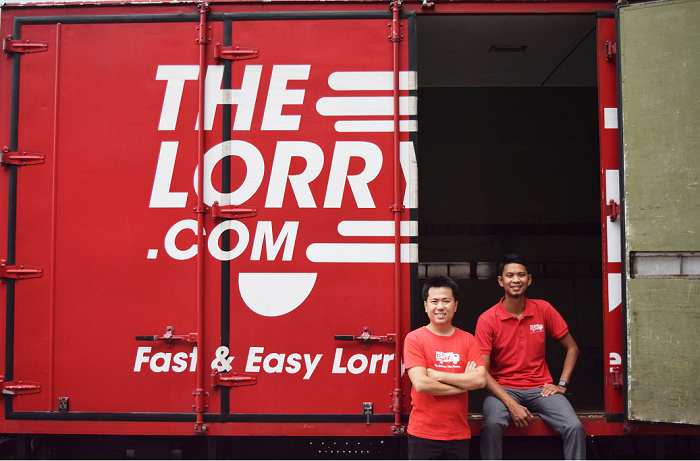 Malaysian headquartered Southeast Asian logistics startup, TheLorry, has raised a US$5.85 million Series B round led by new investors FirstFloor Capital with participation from PNB-INSPiRE Ethical Fund I, Cradle Seed Ventures and Axiata Digital Innovation Fund (ADIF). Existing investor, SPH Ventures, an arm of Singapore media company SPH Holdings Ltd also participated in the round.
PNB-INSPiRE Ethical Fund I is the first shariah compliant private equity fund in Japan established to facilitate development of shariah compliant businesses with Japanese SMEs and venture companies worldwide. It was established in 2014 with a fund size of ¥5.15 billion,
The company hit profitable in its Malaysian and Singapore operations last year and claims to have grown multiple-fold since its Series A in 2016. It recently expanded to Thailand and Indonesia in 2018.
Declaring themselves excited to be part of the next phase of growth for TheLorry, Mohd Khairil Abdullah, CEO of Axiata Digital Services tells DNA, "this is the next vertical of a proven model of the 'on-demand sharing economy' theses. There have been successful models around the world including Lalamove out of Hong Kong."
While there are better funded competitors in the region, especially Lalamove, which recently raised a US$300 million Series D round, Khairil says Axiata Digital Services believes that the local knowledge and network that TheLorry team posseses, "combined with the assets that the local partners will bring, allows them to be successful against potential global entrants."
According to Nadhir Ashafiq, cofounder and executive director, TheLorry intends to use the funding from the oversubscribed round, to strengthen its operations in Malaysia, Singapore, Thailand and Indonesia. This will not, for the time being, involve any M&A but Nadhir says, "we are open to it if there's a suitable target."
60% to 70% increase in income for driver-partners
Interestingly, while it is par for the course that funding rounds are typically used to strengthen talent pool, the technology platform and for marketing, and TheLorry will do that to strengthen its position in the four markets of Malaysia, Singapore, Thailand and Indonesia, but there is also a softer focus. "We want to develop and improve the perception on lorry and truck drivers in their respective communities," says Nadhir. "There is a lot of value in a lorry and truck driving career that many people have yet to see and appreciate," he adds. "We want to be the agent of change in uplifting the status and income of lorry and truck drivers in this region."
In total TheLorry has about 10,000 registered units of lorries, vans and pickup trucks across the four countries it operates in. Malaysia commands majority followed by Indonesia, Thailand and Singapore.
As it operates on an asset-light model, all lorries are owned by driver-partners. Some are part time and some of them rely on TheLorry on a full-time basis.
While declining to comment on the payment mechanism with its driver-partners, Nadhir does share that, "based on our internal study, partners that join us have seen a 60% to 70% increase in income pre- vs post-joining TheLorry."
Founded in September 2014, TheLorry operates a logistics platform that connects both individuals and corporate clients to thousands of lorry, truck and van owners in their database across Southeast Asia.
It was founded with the aim of utilising technology to make logistics more efficient and affordable. The platform provides transparent, secure and reliable house moving and furniture transport solutions to its individual clients. Apart from that, TheLorry also serves large multinational corporations in the Fast-Moving Consumer Goods (FMCG), retail, industrial, and e-commerce sectors with technology-enabled distribution and long haul transport solutions.
Augmenting its main B2B segment which refers to e-commerce bulky item deliveries, distribution and long haul trucking is a B2C segment. This consists of retail house moving and furniture transportation market. "Our top customers are young families/dual income no kids (DINK) who are typically renters," explains Nadhir.
Two key challenges to growth
Co-founder and managing director, Goh Chee Hau believes that the growing ecosystem built by TheLorry will continue to bring down logistics cost for its customers. "With the optimisation done through our technology, we are reducing underutilised capacity and in turn, improving efficiency of our drivers. We are already seeing results of cost savings being delivered to our customers."
There are two key challenges that is faces as it drives growth. Changing B2B customer behaviour in adopting paper-less logistics is one. "We would like to educate and enable our customers to go digital in all aspects of their land logistics requirements – from placing a booking, invoicing, proof of delivery, etc. We currently find that this process is still manually done for both large corporations and SMEs alike," says Nadhir.
The second challenge is in balancing demand (jobs) and supply (drivers). "Having more of one than the other is unhealthy for platforms like ours. Ideally we'd like to see a healthy increase in both for the years to come," he says.
Keyword(s) :
Author Name :