HelloGold's goal: To have a platform where everyone can buy gold securely
By Goh Thean Eu March 15, 2017
Hopes to announce its partnership with a large retail company soon
To have 10 mil customers in five years
FOR many years, the man in the street has had limited choices when it comes to how they can save and multiply their hard-earned money.
While fixed deposit is secure, its returns may not beat inflation in the long-term. Stocks and unit trusts can offer higher returns, but can be complicated to some investors and of course, likely come with higher risks. Then, there's properties and gold, however they come with high entry barriers.
This is where Hello Gold Sdn Bhd cofounder and chief executive officer Robin Lee hopes to make a difference in Malaysia and other emerging markets.
HelloGold is Malaysia's first shariah-compliant gold savings platform. What makes it interesting is that it allows Malaysians to buy gold as savings for as little as RM1 (US$0.22) - yes, you read that right.
"Our aim is to have a platform that everyone can buy gold in an affordable and secure way," says Lee in an interview with Digital News Asia in Kuala Lumpur.
HelloGold basics
HelloGold, which was founded in 2015, officially launched its platform late last year whereby allowing people to buy gold via their Android mobile devices. Today, the service is available on both Android and iOS.
Users first need to register for an account. Next they would need to "top up" their account with cash -- which can be done via a bank transfer.
With the money, account holders can then use the funds to buy gold - all at one go, or in stages. Should users decide to sell the gold (when gold prices appreciate), the transaction can be done with ease.
The catch? HelloGold charges users RM1.20 (US$0.27) per top up, and take a 2% cut for each transaction (buy and sell).
On top of that, it also has a 2% management fee which users have to pay annually. The fee is calculated and charged on a monthly basis.
Unique for a few reasons
Lee (pic above) believes that HelloGold is unique for a few reasons. First, it is a shariah-compliant gold savings platform. Secondly, it makes it easy for users to buy and sell their gold. Third, customers are actually buying a portion of an actual physical gold - which is acquired by HelloGold and is located in a vault in Singapore.
"The gold is physically held in a vault in Singapore. So, if we have 1 PAMP kilobars of gold in the vault now and you want to buy RM1 worth of gold, so it may be roughly 0.005 grams. When that happens, we will "virtually" slice up the gold for the buyers and we end up holding the remainder 0.995 kg of gold.
"So, the more people buy, we will own less and less of that kilobar of gold. And then, we will buy the next kilo and it goes on," Lee explains.
But how does that make HelloGold unique?
"Our gold is fully allocated and fully insured. Allocated means that it always sits in the vault, and secondly, it belongs to the buyers. Third, it is fully insured.
"So, this in turn, means that even if we were to wind up, our buyers will have ownership of the gold," explains Lee.
Lee, who cut his teeth in the gold industry while serving four years as the CFO to the World Gold Council (WGC) from 2010-2014, believes that HelloGold can be an answer to the man on the street when comes to gold savings. Its low entry barrier allows many users to buy gold as a form savings, and to protect against inflation. Prior to his stint at the WGC Lee also worked with Industrial and Commerce Bank of China to introduce the gold savings program there.
Gold, good returns?
Like stocks, gold spot prices can be somewhat volatile. Therefore, whether or not one makes a decent return from gold savings would also depend on the entry and the exit prices. In Malaysia's case, it also depends on the strength of the ringgit against the greenback.
A look at gold spot price over a 10-year period showed that gold prices have gone up from US$774 per ounce 10 years ago to above US$1,200 per ounce today -- representing an appreciation of 55%. Should one manage to sell at its peak of over US$1,900 (in August 2011), the return would be 145% (from March 2007 to August 2011).
If one were to look at the past one year's gold prices - it will show that gold prices have fell from US$1,232.29 in March 15, 2016 to US$1,204.98* today, or a decline of 2.2%. Despite the marginal decline, the gold buyer could still stand to gain especially if he/she was transacting in ringgit. US$1,232.29 in March 15, 2016 is worth RM5,084.98, while US$1,204.98 is worth about RM5,362.10 today (5.4% return year-on-year).
Challenges, and solutions
Over the years, Malaysians have been spooked with various "investment schemes that have gone rogue". To mitigate the fear factor, and to help boost consumer trust, Lee and his team are making the platform as transparent as possible.
Besides storing the gold in a vault in Singapore, the company also hires an auditor to ensure that buyers' gold are accounted for. Physical checks to the vault are made once every six months.
Other than that, whenever a person buys gold via the platform, the person will be assigned with a code. On a daily basis, the company will disclose how much gold has been owned by various code numbers. Although it does not reveal the identity behind the code, Lee believes that it will play a role in assuring buyers that the gold is allocated for.
Another way to gain consumer's trust is to tie up with a strong and reputable partner. Towards this, Lee says HelloGold is on the verge of tying up with a retail company, and will be making an official announcement soon.
Trust aside, there may be also fears that HelloGold may be used as a platform to launder money. Lee takes this seriously and has established processes in place so that it is able to comply to the rules and regulations.
For example, when a customer signs up, they need to take a photo of themselves, as well as the front and back of the identity card. When users want to cash out (from their HelloGold account) into their bank, they would need to show their bank statement - so that HelloGold knows that they are transferring the money to the actual customer (by matching the names on the IC and the bank statement).
It also has monitoring system in place to keep track of unusual transactions.
HelloGold's...Goals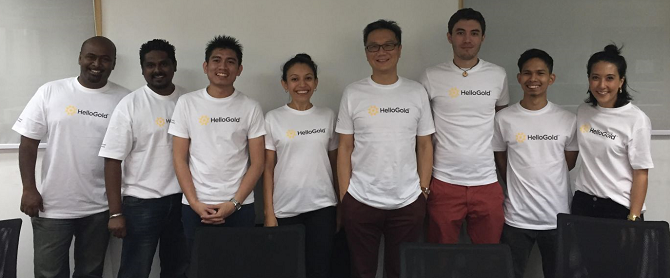 Over the next five years, HelloGold hopes to ambitiously secure 10 million customers in the key markets it penetrates into. The markets include Indonesia (over 249 million population), Thailand and others.
Based on its assumption that one account holder would not hold more than RM2,000 (or approximately US$450), the company could be having RM20 billion worth of gold in its system. From the amount, a 2% maintenance fee alone would translate to RM400 million revenue. If one were to add the 2% cut it takes when one buys or sells gold, as well as the RM1.20 per top up, the actual annual revenue would be significantly higher.
While the numbers and projection may look nice, there could be one issue ahead -- customer acquisition costs (CAC). Should the company's CAC be around US$30 per customer, it would mean that the cost to acquire its 10 million customers to be US$300 million. This could put a strain to its short-to-medium term sustainability. Because of this, Lee has no intention of acquiring all his customers on his own, which is where partnerships come in.
"This is why we are tying up with our partner. Initially, we will be focusing on pushing the service/ platform to our partner's customers. This helps lower our CAC significantly," he explains.
That's not all. Over the near-to-medium term, HelloGold users will also be to transfer gold to other users, and users could also obtain loans by using the gold as collateral. This will be done via its tie-up with its soon to be announced partner.
While the company did not disclose its current customer base size, Lee admits that it is still in its early days. To date, the company's HelloGold app has over 1,100 downloads.
Why start HelloGold?
While some people jump onto the entrepreneurship bandwagon due to passion, Lee says his decision to set up HelloGold was more of a "calling".
"During the Asian financial crisis (1997-1999), I saw bad things happened to good people. I saw many people who saved cash in the bank suddenly become poorer because their money worth a lot less.
"It was then, I started to have this vision, that I needed to find a vehicle to solve that," says Lee who was with the Boston Consulting Group during that period.
In terms of funding, Lee is in constant discussions with various investors, including VCs. Currently, the company's key shareholders are Lee, his cofounder Ridwan Abdullah, as well as a few angel investors.
Related Stories:
Insurtech and Fintech players join forces
UangTeman expands service to Eastern Indonesia
Buying financial services in Indonesia the Cermati way
For more technology news and the latest updates, follow us on Twitter, LinkedIn or Like us on Facebook .
Keyword(s) :
Author Name :