Gogopasar born out of Haslinda Alias' desire to solve a personal pain point
By Geraldine Wong July 28, 2021
Sold FGV Holdings a 52% stake for US$2.37mil 8 months after launch
Launched Home Agent programme, Gogopreneur to help B40 communities
Since the start of the Covid-19 pandemic, consumers have become accustomed to the "new normal" of grocery shopping. New shopping patterns, with higher reliance on online and delivery options, have become commonplace.
While the restaurant industry has had to adapt and innovate to stay afloat, online grocery platforms have benefited tremendously from the uncertainties of the times and consequently have emerged as very popular alternatives to traditional grocery shopping. At a time when people have been urged to maintain social distancing and avoid crowded places – the previously leisurely trip to the grocery store has become a stressful sprint, with many shoppers now going online.
In fact, an early 2021 report by management consultants Bain & Company indicates that online grocery shopping in Southeast Asia grew nearly three times at the height of Covid-19 and forecasts show that shoppers in the region will continue purchasing groceries online even after the pandemic ends. And on Monday, Indonesian-based online grocer Happy Fresh, which is also operating in the Klang Valley, announced it had raised US$65 million (RM275 million) in its latest Series D funding round.
For Malaysian online grocer, Gogopasar, which launched early 2020 and received US$2.37 million (RM10 million) in funding from FGV Holdings Bhd (FGV) in October 2020, the onset of the pandemic and frequent movement control orders (MCO) imposed have led to an increase in orders, new subscribers and active users, Haslinda Alias, chief executive officer (CEO) of Gogopasar said.
"We started off with 20 transactions per day at the start, in February 2020, and transactions increased to 600 per day in April 2020," she says of the next day grocery service. There are no plans yet to offer same day delivery.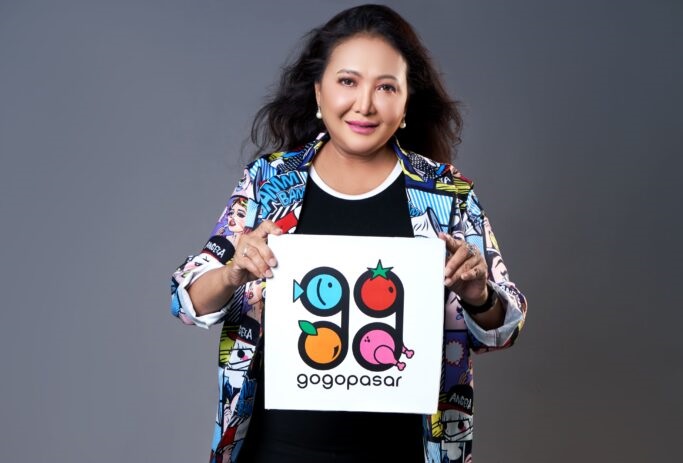 Gogopasar & its serial founder
A serial entrepreneur, Haslinda (pic) started her first business at the age of 28, with Gogopasar being the 25th company she founded – surely a record for a Malaysian entrepreneur. A hands-on founder in 70% of the companies, she was an advisor in the other 30%.
"I had plans to retire after my last company was up and running but the idea of Gogopasar hit me when I realised how difficult it was to get my hands on high quality fresh produce" she says.
As a busy entrepreneur, Haslinda relied on supermarkets for fresh produce but was never fully satisfied with the quality offered. Seeing this as a gap, Haslinda began embarking on Gogopasar in September 2019.
At the start, she toyed with various ideas around the concept of groceries including her desire to help single mothers and housewives earn an extra buck by incorporating a social commerce element to the business. However, it wasn't until February 2020 that Gogopasar was registered and the company officially started doing previews of its products and business model to potential customers.
"Essentially, Gogopasar brings together three core elements, namely technology, networks and social commerce, connecting both the business-to-business and business-to-consumer markets with a no minimum quantity order," she explains.
Currently, Gogopasar claims to be the sole end-to-end retailer in the country to have an established system that integrates suppliers, warehouses and logistics, providing a virtual retail business platform directly to consumers with an option for same-day delivery, best-price and quality assurance.
The startup currently has 22 members in its team, ranging from operations, marketing and delivery personnel. It outsources its packers from external vendors or has casual arrangements with selected packers.
Hitting a sweet spot
A week before the first Covid-19 lockdown in mid March 2020, Haslinda was approached by the Islamic Development Bank, who were looking for a Syariah compliant digital platform for a customer of theirs to partner.
"At that point, we were just a month old and still getting a feel of the business," Haslinda said. But, not one to pass on a good opportunity, Haslinda and her team scrambled to put together a comprehensive business plan which saw the hard work pay off as the bank's customer was FGV Holdings Bhd (FGV). The timing was right for FGV which wanted to accelerate its digital journey and saw Gogopasar as a good fit. The deal still took seven months to close but saw Gogopasar receiving US$2.37 million (RM10 million) from FGV in October 2020 in exchange for a 52% stake in Gogopasar.
While it is unusual for founders to give away a majority stake so early, Haslinda realised that Gogopasar did not have enough traction in the early days. The trade off in selling early was about receiving financial support and tapping FGV's network.
"I thought this was something we couldn't give up. Plus, the FGV Board would not give approval to this investment unless they hold majority shares," she shares.
The startup is recognised as the subsidiary of FGV Integrated Farming Holdings Sdn Bhd, under FGV Holdings with business components which include fresh produce, cash crops, paddy and rice, animal feed, livestock and dairy farming.
"There are many synergies between Gogopasar and FGV as the latter was looking for a company that will help digitalise their route to market for their agriculture products and fresh produce. Therefore this partnership just makes perfect sense," Haslinda notes.
WIth FGV on board, Gogopasar has access to the finest selection of imported and fresh goods direct from local suppliers which include FGV's contract farmers. These goods include items such as vegetables, seafood, meat and chicken and fruits.
The first 'sertu' location in Selayang, Selangor
Besides access to produce from the farm, another bonus which comes from the partnership is that Gogopasar has access to an FGV warehouse. "Gogopasar will be moving to a new 20,000-sq ft warehouse in Selayang, Selangor, by the third quarter this year. The warehouse which is currently 70% completed will house both Gogopasar's and the entire supply chain for FGV Integrated Farming's operations," Haslinda said. "
We will be the first 'sertu' (cleansing) warehouse in terms of groceries, and we will house and deliver only halal products," she added. To date, Gogopasar has more than 2,800 stock-keeping units including wet and dry items.
Keeping the B40 communities afloat through Gogopreneur
To help overcome the recent high unemployment rate of the country and to provide business opportunities particularly for the B40 (bottom 40% of households) communities, Gogopasar has introduced a Home Agent programme known as 'Gogopreneur'. With a profit-sharing scheme, Gogopreneurs have the opportunity to obtain a monthly average income of US$1,650 (RM4,500) in these increasingly trying times.
"The more market share Gogopreneurs acquire in their designated area, the more income they will generate. The revenue can be exponential with RM4,500 monthly as the baseline," Haslinda said.
"The more effort a Gogopreneur puts in, the more they get out of the business without the burden of scaling physical aspects of the business, for example, like hiring more people, or purchasing more equipment," she said, adding that there are currently 37 Gogopreneurs in the Klang Valley, with plans to increase this number to 100 by the end of the year.
Currently, Gogopasar covers the Klang Valley, but the online grocer has plans to expand to Pahang, Penang, Johor and Melaka next year.
Also on the horizon are FGVs plans to go into retail with Gogopasar taking the lead to market agro products under FGV Integrated Farming. Enhancing its end-end supply chain integration from Warehouse Management System to Logistic Management System with some FGV collection centres in Malaysia is also on the cards. This will lead to an eventual consolidation of all Agro Produces.
Keyword(s) :
Author Name :