Gerard Lim's Agroz Group goes big into indoor vertical farming in Malaysia
By Karamjit Singh December 31, 2020
Aims to build 100k sq ft of farms in mid to upper income neighbourhoods
To raise US$39mil, provide food security and create high valued jobs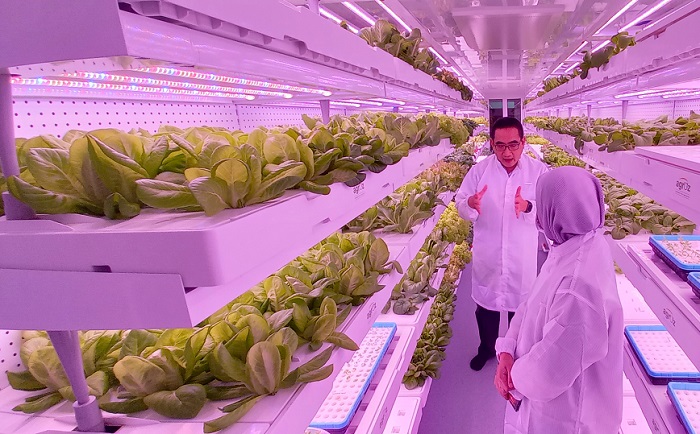 With RM5 million worth of produce orders locked in and another major order closing this week, "fingers crossed", and announcing intentions to raise RM100 million via issuance of Redeemable Convertible Preference Shares, Gerard Lim, a seasoned tech entrepreneur, has not wasted any time in trying to capture the multi billion opportunity he sees in merging agriculture with technology – agritech.
Less than four months after a short 17-month stint of national service at the Malaysian Communications and Multimedia Commission (MCMC) where he served as a director, Gerard, is off to the races and seems to have adopted Patrick Grove's "Go Big or Go Home" motto with his agritech venture, Agroz Group Sdn Bhd that he set up three months ago.
The goal is to build Agroz Group into the largest indoor vertical farm operator in Malaysia. The immediate target it to have 100,000 sq ft of total vertical farms dotted across middle to upper income neighbourhoods in the Klang Valley, "so the fresh produce will match with the discerning consumers and related businesses that will afford the premium value that is offered," he explains.
With a "Farm to Fork in minutes" tagline, Gerard says that each farm will be placed within a 30 minute drive to a populated area. He already has a farm in Seri Kembangan, and soon in Sg Buloh. A mega farm in Shah Alam will serve Sunway, Subang Jaya, Puchong, Shah Alam, Klang and other neighbouring communities.
"We also aim to create hundreds of new high valued jobs and generate income in our local communities heading into this post COVID-19 era," Gerard says.
The group has also been asked to look at setting up a farm within one of the 5-Star hotels in the heart of Kuala Lumpur to serve the needs of the hotel as well as the population around Kuala Lumpur city centre.
A lure beyond farming & disrupting the food sector business model
A successful tech leader who has exited two ventures through trade sales to public listed companies on the Sweden and London Stock Exchange, Gerard, especially through his work with the MCMC would have seen many pain points that technology can solve and which he could have gone after.
In explaining the lure or farming, he says that it actually goes beyond farming. "It is also about the best use of technology to improve food supply and disrupt the entire business model of matching demand with supply in the food industry."
Indeed Agroz Group is using, and plans to introduce, a suite of tools, from Internet of Things (IoT), Data Analytics, Machine Vision, Artificial and Augmented Intelligence (AI), Machine Learning (ML), Blockchain and, in future, 5G communications in growing its produce.
Yet it is more than just the tech that Gerard plans to bet on. "Technology will be combined with innovative and differentiated business models as well as financing to create a new sustainable approach to modern precision agriculture through indoor vertical farming."
A personal motivation for him is about improving the food quality (both food safety and food security) that Malaysians are getting, "or rather not getting" at present.
"Just look at our supermarkets and grocers, and you'll know what I mean. The few large scale commercial farmers in Malaysia export their top A Grade to Singapore (and other countries)."
Malaysians demand, and deserve better, he feels.
Raising the pressure
While it is unusual for entrepreneurs to publicly announce they are raising funds, Gerard seems to have put further pressure on himself in seeking such a large amount – RM100 million.
Yet he is unperturbed, and confident, declaring that, "the ambition is achievable and demand has been very strong, both from enterprises, individuals and various organisations."
Even at this early execution stage, there has been interested from PLCs and a Special Purpose Acquisition Company (SPAC) with Gerard planning an exit in 5 years through a proposed initial public offering or via trade sale to a SPAC.
Understanding that his ambitious plan of building Malaysia's largest indoor vertical farms needs an entire village, and then some, to make it into a reality, since Sept Gerard has been busy assembling an experienced team of 20+ experts in the field of agronomy, indoor vertical farming, engineering, ICT, digital tech, marketing and fundraising to be a part of Agroz Group. "There are many people that I am counting on to make this ambition into a reality. I am working with a team of professionals with many years of combined experience."
The team has been working fast and hard. The first harvest was collected in the first week of Dec, producing 200kg from a 300 sq ft lot. Jumping to 1 ton per day can be achieved with 30,000 sq ft, which is Phase 1. Three tons of produce, meanwhile, is when Agroz has the full 100,000 sq ft planted.
More importantly, demand from both organisations wanting to invest and those keen to convert their unused/under utilised space into Indoor Vertical Farms as well as consumers who want to eat clean and fresh vegetables has been good. "Demand has been strong and we expect high growth, going forward," Gerard confidently predicts.
That demand could come from Singapore as well. He shares that Agroz Group has been invited to look at serving the Johor Baru and Singapore markets with a farm in Iskandar. He will look at this later in 2021, once he has met his 100,000 sq ft target in the Klang Valley.
The product mix strategy will be driven by demand starting with the local market and Gerard's desire to ensure Agroz Group provides clean, fresh and healthy vegetables. Hand in hand with this is the need to educate and create awareness on eating right and healthy.
Keenly aware that Malaysia is too dependent on imports for much of its food, with a Department of Statistics Malaysia report showing the country to be a food net importer of around RM18 billion a year, Gerard is hoping that Agroz Group can be a big part of the solution.
Keyword(s) :
Author Name :