25 startups pitch at Korea-Indonesia Tech Startup demo day
By Yunnie Marzuki November 2, 2018
Programme aims to encourage Korean and Indonesian startups to scale up
Startups all came from thhe ICT and manufacturing sectors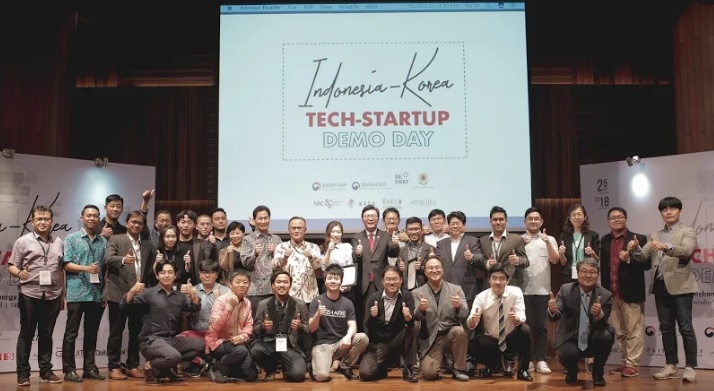 KOREAN Small and medium Business Corporation (SBC), Korean International Trade Association (KITA), Korea Creative Contents Agency (KOCCA), and Indonesian Agency for Creative Economy (BEKRAF) organised Indonesia-Korea Tech-Startup demo day in Jakarta recently.
This inaugural programme is part of an agreement between the presidents of the Republic of South Korea and Republic of Indonesia to nurture 1,000 digital startups in Indonesia by 2020.
This programme was an exclusive space for Korean and Indonesian startups to pitch their businesses before the approximately 100 investors who were present.
South Korean ambassador to Indonesia Kim Chang Beom says, "This programme is held to foster collaboration. Indonesia is the fastest in the growth of its startup ecosystem and to scale up. It is important to collaborate with partners and investors."
The 15 Korean and 10 Indonesian startups came from the ICT and manufacturing sectors.
The startups from Korea are:
Softgear Inc provides super-directional speakers for vehicles.
Zeus Tech produces precision linear motors for semiconductors, dental multi-axis processing machines, and hemodialysis machines.
Ad Design Co provides modern floor drains which include technical drain systems.
Tripeaks Games is an online e-sports game developer.
Earback provides acoustic wearable equipment.
Hope Co Ltd carries out character branding, licensing, and retail.
XrisP Co Ltd creates (plans, produces, publishes) its own IP in a fusion of content, hardware, and software for global distribution.
Wayne Inc, provides operating systems based on the Chrome OS for PC.
Payperse Inc is a big data platform for mobile payment services.
Stylepill is a a cross-border commerce platform.
Paintpam Inc provides solutions for Digital Out of Home (DOOH) with special screen paint and installations.
Davin Holdings Co Ltd produces plant-based ingredients and eco-friendly skin care.
Medi Whale offers AI solutions for scanning the eye and detecting cardiovascular diseases.
Mhmind Inc provides mobile billing services.
Diamond Tools Solutions, provides safe diamond-cutting tools.
Participating startups from Indonesia:
MSMB Indonesia offers a multi-functional app for agri-technology and production.
Bly is a marketplace that connects buyers and personal shoppers.
Gudang Voucher provides electronic vouchers for e-commerce, online gaming sites, telephone top-ups, internet access payments, and mobile content services.
Bizhare is an equity crowd-funding platform.
Manpro is a SaaS project management platform.
Svara is a platform for radio, music, podcasts, and social media.
Qiwii is a queuing application management system for various industries.
AIlesh Power provides consultancy, project planning, research, and development in biomass and bio-energy manufacturing.
Vaxcorp is a digital health portal and vaccination provider.
Ponja is a marketplace that connects owners who have unused belongings with borrowers.
This programme is part of the Global Mentoring Programme under SBC, KITA, KOCCA, and Indonesian Angel Investment Network (ANGIN).
For one week, these startups have been mentored by venture capitalists, visited accelerators as well as Qraved and Gojek's offices, participated in the Tech in Asia Conference 2018, and taken part in business-matching sessions.
Related Stories :
Keyword(s) :
Author Name :