Social media and business: It's about people, people
By A. Asohan July 19, 2012
Technology has caught up with the 'mass customization' or 'market of one' rhetoric
73% of CEOs identified customer insights as their most critical investment area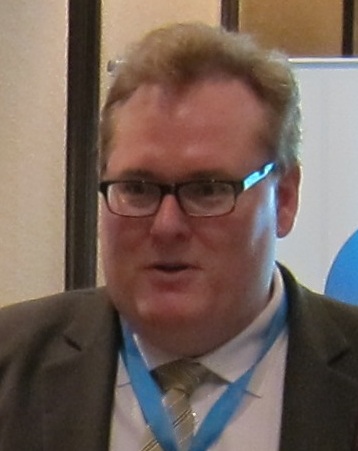 THE customer has always been the center of any good business. It's Business 101: Customers = revenues = profits = more funds to invest in developing even more products or services to sell. Rinse and repeat.

But two key technology trends are changing the dynamics of that equation: First, the enormous amount of data out there that is available (the amount of data accessible on the Internet grew by 20 exabytes per month in 2011, according to some estimates); and second, thanks to social media and similar technologies, the customer can finally be treated as an individual and not a statistic or a market segment.

"It's what my colleague describes as 'the segment of one,'" says Anthony Marshall (pic), the Global CEO Study program director at IBM's Institute for Business Value when briefing the media on the IBM CEO Study in Kuala Lumpur recently.

IBM interviewed 1,709 chief executive officers in 64 countries and across 18 industries to prepare the study, asking them what their challenges were and how they were facing them, amongst other areas. The company then analyzed what the better performing CEOs – the "outperformers" – were facing and doing, and came out with a set of recommendations based on feedback from these executives.

A majority of the CEOs believe that technology has caught up with the 'mass customization' or 'market of one' rhetoric and that they can finally be enabled to approach the customer and his or her needs on an individual basis. There are challenges, they however acknowledge.

"The argument or story here is that customers are willing to share their insights into what they value, who they are and what they want -- if they perceive value in it," says Marshall (click chart to enlarge).



"What CEOs are really focusing on is treating customers as individuals and finding the technologies that can help them to do that and be more responsive," he adds. "In order to do that, they are envisaging a step-change to social media interaction."

In fact, the CEOs have a very clear focus on understanding customers, and 73% identified customer insights as their most critical investment area.

"With our outperforming CEOs, we also see a very strong correlation between their ability to access data, the ability to interpret that data, and the ability to translate that interpretation into clear actions," says Marshall.

"When asked which specific areas they plan to improve their ability to drawn meaningful and executable insights from available information, they were very clear – it was on understanding customers individually and improving response time," he adds.

In fact, 73% of the CEOs globally cited understanding customers individually as a key change, with Asean CEOs putting it even higher at an overwhelming 89% (click chart to enlarge).



"It is also interesting to note that Asean CEOs (71%) rate harmonizing customer experiences across channels much more highly than their global counterparts (55%)," says Marshall. "Cross-channel integration is very important – it is about taking all the new technologies you're using to ensure the customer has a very cohesive experience."

With the proper strategy around this, customers can not only become advocates for the company, but even an extended workforce, notes Marshall, citing an IBM case study on Magazine Luiza, the second-largest department store chain in Brazil.

An early e-commerce adopter, the retailer also launched an innovative 'bricks and clicks' store format, where shoppers sit with associates who guide them on Internet shopping trips, and even introduced on its website a virtual salesperson named Lu.


More recently however, Magazine Luiza established a new channel with 'Magazine Você' – your store – where customers can create personalized storefronts with their favorite products and share them via Facebook or Orkut.

These store 'owners' earn a commission when someone from their social network buys a product. Magazine Luiza collects payment and ships the goods.

Already, more than 20,000 social stores have sprung up, with average conversion rates that are higher than the retailer's online store, IBM said. (Click here for the video case study.)

F2F prevails, social to spike

When it comes to engaging customers, all but the most traditional of mechanisms is going to lose traction in the next three to five years, with social media coming into fill the gap.

"Face-to-face engagement is and will continue to be the most important, but within three to five years, social media – which currently is the least important – is going to become the second-most important mechanism," notes Marshall (click chart to enlarge).



However, he notes there is a "huge gap" between intent and knowledge.

"The CEOs recognize these technologies are here and they need to incorporate them into their business plans and strategies, and figure out how to derive revenue from them – but they are not completely sure how to do it.

"This is a huge gap – they know they have to do it, but they don't know how, and they keep telling us this will be a big challenge for them," he says. "This is why they have identified technology as the No 1 force affecting their organizations (see previous article here)."

The CEOs helped IBM define three steps:
Let 'big data' reveal the customer you never knew
Look outside to complete your view by incorporating external data and integrating it with internal data. Use analytics to connect the pieces into profiles – based on how the customer connects and interacts with other people and organizations, not just yours.
Listen lavishly, respond with focus
"With technology, there's always the risk you are going to bombard the customer with messaging," says Marshall. "The CEOs we spoke to realize this is not the right thing to do.

User-generated reviews, online communications and blogs are good way of hearing directly from individual customers, as are employees' own observations and feedback from customers. Organizations must then find ways to respond more selectively.
Be where your customers expect you to be
Mobility is elevating customer expectations. Organizations have a tremendous opportunity to create value out of immediacy, to be ready with relevant services and information in the context of the moment.

And don't treat mobility as a separate channel – it should be part of an integrated, multichannel customer experience.

Previous Installment:
Keyword(s) :
Author Name :