Unseen gap in ecosystem, and techies in their cocoons
By Karamjit Singh September 23, 2013
Emotional peer support for startups a big factor in Silicon Valley success
Techies highly coveted by big companies, never short of options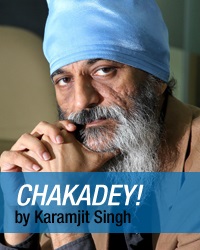 ONE thing becomes very clear when you are in the tech space: English rules.

I have seen that consistently over the years. And while I sometimes feel it is unfair to be judged by how well people can express their ideas or products in a language that is not their mother tongue, the rules of the game have long been set and we have to follow them or pay the price.

The most recent example of this was during the Sept 19 DNA-TeAM Disrupt panel discussion when Ngeow Wu Han, founder of WebCampKL, shared that while coders who are at least semi-eloquent are highly valued, those "non-English speaking coders are severely undervalued." That hits you right in the gullet.

That should be incentive enough for all those Malaysian coders who are poor in English to make the effort to sharpen their language ability, besides their coding.

And during the recent MCMC-AT&T Developer's Day hackathon too, I could see that some of the teams could not do justice to the apps they had built because they just did not have the language skills to express what they had created.

What can be done? If they are aware that their career prospects are being hurt by their lack of English, then they just have to buck up and improve their English. Or, blame everybody else and stay in the hole they are in.

The other thing they can do is to at least warn those who are studying tech courses that their livelihoods and careers will be severely curtailed if they cannot at least speak good English.

But back to Disrupt and Ngeow's observation that the best techies are in strong demand and never short of work.

That's good, right? Well, not really, because they then have no incentive to risk it all to join a startup. Actually, they don't even have an incentive to come up with their own idea and form a startup.

This is a big challenge for startups that are looking for strong technical people to complement their teams. It is not a problem unique to Malaysia. Singapore faces an even greater challenge with all the multinationals there hungry to snap up people with strong technical skills.

What will change this? Success. Of those who did take the risk to join startups with equity and succeeded with either a trade sale or a listing.

This is organic and this will be slow. No policy intervention will help here. Policy can only help to create the most supportive and fertile ecosystem for entrepreneurs to take risks and to help them bounce back quickly from failure.

But even this is not enough because the Sept 19 Disrupt session also opened my eyes to a gap we have in the ecosystem which is not being addressed by anyone. And this is about the emotional support that entrepreneurs need.

As David E. Weekly, our other panellist noted, entrepreneurs get plenty of this in Silicon Valley even though it does not appear in any metrics you see about the ecosystem there.

"No one talks about the emotional peer support structure required for a vibrant startup ecosystem," he noted.

Yet, with the odds high that most startups will fail, why do so many people still try? He reasons that this is because of the support entrepreneurs offer each other and to the fact that failure is not a stigma in Silicon Valley.

In fact, I was told by an entrepreneur from Silicon Valley that failing just means that you tried and there is no shame in that, versus others who stay in the safety of their comfort zones.


Have we in Malaysia made much progress towards how we view those who may have failed in their startups? Do we have the beginnings of an informal peer support structure going?

I think we have taken small steps forward since the first Internet boom hit Malaysia in 1998. For instance, in a previous Disrupt, I asked Vincent Tan (pic), founder and chairman of Berjaya Group, if he would fund an entrepreneur who had failed previously, and got an affirmative answer.

Renuka Sena, the chief executive officer of mentoring and coaching company Proficeo, told me that she observed the beginnings of a peer support group among the participants of the Coach and Grow Programme (CGP) which Proficeo manages for Cradle Fund.

These are good signs but they clearly need to be accelerated. Do you see more good signs like these around you?

Related Stories:

Disrupt on tech startups: It's about people, people

Malaysia's edge is in quality workforce … and English: Intel

Vincent Tan wows start-ups at Disrupt

Building a community to support and learn from failed startups

Budget wish list: Pikom urges English for maths, science


For more technology news and the latest updates, follow @dnewsasia on Twitter or Like us on Facebook.
Keyword(s) :
Author Name :