IIPL's strategic approach to accelerating the ecosystem
By Gabey Goh January 9, 2015
Investing in accelerators to build the startups that populate the ecosystem
Accelerators allow startups to experiment, and corporates to support them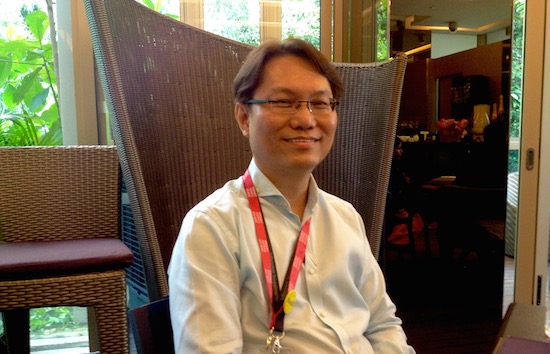 AS a government-funded investment firm managing more than S$200 million (US$159 million), with a mandate to accelerate the development of startups, the only tool Infocomm Investments Pte Ltd (IIPL) really has is … money.

"It's kind of sad in a way," quips IIPL head Alex Lin (pic above) in a recent interview with Digital News Asia (DNA), about a year after he took on the role, in December 2013.

As a wholly owned subsidiary of the Infocomm Development Authority (IDA) of Singapore, IIPL also plays a central role in building the startup ecosystem in the country, and with that mandate, a strategic approach to how it spends its money is necessary.

In October 2014, it launched its London arm and announced its first investment in Europe, into fintech (financial services technology) accelerator Startupbootcamp FinTech.

Apart from it being one of the leading fintech accelerators in Europe, Startupbootcamp FinTech's London base and industry connections made it a prime choice for IIPL's first investment, says Lin.

It will help provide access for Singapore-based tech startups into Europe through London; and London-based tech startups into Asia through Singapore.

"While Singapore is a financial hub in our region, it is largely focused on trade financing, so there isn't much work being done in terms of high-frequency trading or crypto-currencies – but the infrastructure and security are all in place already to facilitate that kind of growth.

"So with an aim to build out a wide-spectrum financial arm, bringing Startupbootcamp FinTech to Singapore will allow us to build something on top of what we have, and to recruit startups from all over the region and build solutions for Asia," he adds.

The inaugural Singapore intake, with partners such as DBS, MasterCard, Route 66 Ventures, SBT Venture Capital and the Monetary Authority of Singapore (MAS), is slated to kick off in May, with applications closing on March 15.

"Our instrument of choice is investments, and we invest in accelerators as the tool of mechanism to build the startups that would populate the ecosystem," says Lin.
"As a government agency, we take the long-term view and are constantly very mindful about the ecosystem and its evolution.

"Where your action is, is where your message is – and that's why we invest in such accelerators, and publish the results of how these startups raise their funding and grow their business, and share our learnings with the ecosystem," he adds.

He says that IIPL is also contemplating launching a regional business acceleration school to pull best practices and knowledge-sharing across the region, but adds that it is probably too early as yet for such a venture.

READ ALSO: Japan's Credit Saison invests in Singapore fintech startup MatchMove

All sizes for all purposes

Singapore's proclaimed goal of becoming the world's first Smart Nation is admittedly "kind of hazy," and many projects are still in experimental phases says Lin – but it is also a goal that can only be achieved with the cooperation of all, from startups to corporations.

"We're very conscious of the fact that existing companies are different from startups, and startups are not the small version of an existing company.

"They are transient entities trying to find an anchor, an angle; and will pivot when necessary – while larger companies are about the execution of a business model.

"They live in totally different worlds and can never be together, but one context in which they can is via acceleration programmes – where startups can experiment and accelerate new ideas and models, while corporates can sponsor and support them with their core strengths of domain and industry knowledge and existing customer base," he adds.

According to Lin, this type of relationship enables startups to build viable business models and products, and post-acceleration, grow.

"This way, startups can capitalise on all possible problem statements that existing companies cannot address quickly, and corporations can tap into these new solutions without disrupting their core business executions," he says.

The launch of IIPL's London arm is also intended to help open doors for Singapore-based startups into Europe and vice versa by establishing a pathway between two major city hubs.

For example, European startups get a conduit to Asia via Singapore while startups in South-East Asia can come to Singapore and get an entry point to London via IIPL, and the 10 accelerators it already works with there.

"What we don't do is fund their travel there because we are an investment company – we put it very specifically that you must be able to get there on your own," says Lin. "We've funded that before but that is not the best approach."

"We are working on helping build the best, we can't help them all but those who are weak, we ask them to take their lessons learnt and recycle and try again," he adds.

Big problems beget unicorns
Lin points out that Singapore, as a nation and a market, has developed differently from other countries, and thus should never strive to be the same as others in its startup ecosystem aspirations.

"Singapore is a part of the larger ecosystem. We are not 'the' ecosystem but a part of it, and want to be an attractive stop in a startup's journey as every market as a different advantage," he says.

Singapore's strengths lie in the fact that it is a financial hub, which attracts investors, with sufficient technology accessible by the local population.

"For example, Singapore is a small country so … entrepreneurs cannot look to the domestic market for long-term growth and must be born global in nature, with at least the Asean region as its immediate catchment area.

"This allows us to weed out the weak ones and keep the strong ones," he says.

Singapore is unlike countries such as Malaysia, Thailand or Indonesia which have big markets that allow for building a sizable domestic market first.

However, Lin notes that this also means that trying to expand overseas after all that can be tough.

"It's up to the startup to decide what it should be doing; it's not a 'one size fits all' thing and depends on where you want to be as a business," he says.

If there is one disadvantage to Singapore as a startup hub, notes Lin, is the fact that good companies that are international in their focus also make for good acquisition targets.

"When they reach the US$20-million market cap (capitalisation), many of our companies are acquired quietly and just disappear.

"Even those that can grow a little bigger get acquired fast, so this makes it difficult to build a unicorn in Singapore even though we have the money, because once they reach a certain size they get eaten.

"But of course, for any company looking to be global, that's what you need to do," he adds.

In addition, Singapore does boast a lot of small startups that are good and will survive, but whether they can scale to become multibillion-dollar enterprises is "possible but is probably not so likely," says Lin.

"So that's the kind of thing we're looking at. Can we build a company that tackles a big problem for example, the issue of urban food security?
"We're not sure what we're eating these days and want our food to come from nearby. Do we grow food at home on our windowsills and conduct barter trades, giving 60% of what we produce to neighbours?

"We need to have a system in place to facilitate this distribution – it is possible to do urban farming, but it's a question of how to operationalise it.

"So we are trying to encourage people to think about such things and how to solve such problems, because it is a big enough problem to solve which also comes with a huge market.

"That's what we're focusing on – to try and get our people to channel their efforts and push themselves in terms of thinking about these big problems," says Lin.

Related Stories:

IDA's VC arm launches in London, makes first investment

Singaporeans lack 'entrepreneurial inclination,' but …

CEO Cheryl Yeoh lays out MaGIC's ingredients

For Smart Nation vision, a call for all to help


For more technology news and the latest updates, follow us on Twitter, LinkedIn or Like us on Facebook.
Keyword(s) :
Author Name :