Review: The Huawei Y6p packs a lot in a highly affordable price 
By Tan Jee Yee November 16, 2020
Summary: Pros: Solid experience throughout, decent camera, massive battery
Cons: Somewhat sluggish performance, no USB-C, no Google Services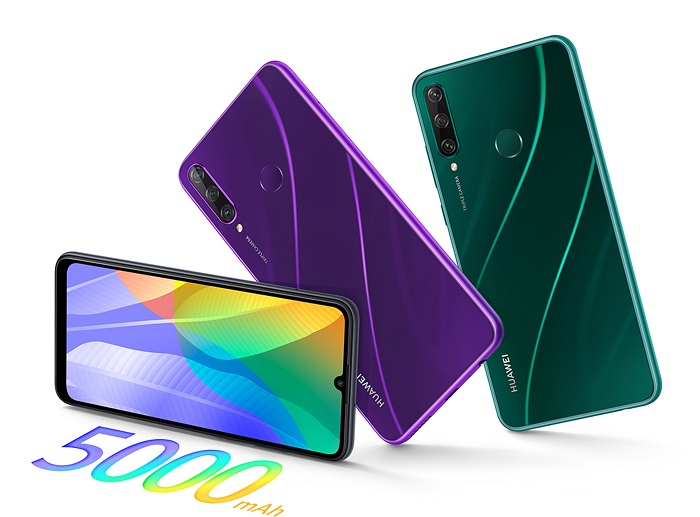 Budget smartphones are all about acceptance that the affordability entails only a foot through the kind of wonders and performances that mid-range to flagship devices tend to offer. The Huawei Y6p, however, promises a little more.
Here is a US$135 (RM559) smartphone that offers a triple-camera setup and a massive battery, plus a design that doesn't pale in comparison with its more expensive peers. The trade-off, of course, is lesser performances on all of these features. But if you're seeking for something that is functional without hefty sacrifices to your bank account, you can't do worse that the Huawei Y6p.
The first thing to note about the Huawei Y6p is how sturdy it feels. It's certainly heavier and bulkier than most devices, but the heft doesn't betray its overall plastic construction. That said, I've held smartphones that cost three times its price yet somehow feels much flimsier, so the sturdiness is welcoming, bulk notwithstanding.
It looks decent, too – the design is not too different from what you'd expect from most non-flagship smartphones, but it does come with a back that sparkles and shines with elegant curves. The unit I got to review is in Phantom Purple, which looks elegant. It's also in Emerald Green and Midnight Black.
At the front is a 6.3-inch display, with a little dewdrop notch for the front camera. The screen-to-body ratio here is at 88.4%, so it's not exactly edge-to-edge but certainly wide enough to look good. This is a TFT LCD (IPS) display, so it's not going to be as eye-catching as the OLEDs on the flagships.
But it is, undoubtedly, decent. Viewing angles are great, and I think the contrast works well. It's bright enough to remain readable outdoors. At 1600 x 720 resolutions, images may not appear quite as sharp, but it's fine for a spot of Netflix and YouTube. In short, it's functional, which essentially describes every aspect of this phone.
Snapping it up
Decent certainly describes the camera experience as well. The Huawei Y6p rocks a triple-camera setup, consisting of a 13MP main shooter, a 5MP wide angle camera and a 2MP depth camera.
Picture quality here is alright, in the sense that they'll be good enough for social media. Shooting on bright daylight, I would say that the 13Mp main shooter demonstrates good colour reproduction and solid dynamic range, with decent sharpness and ability to capture details.
The wide-angle camera works, too, in that it will be able to capture a wider scene. The details, however, are noticeably lower than that of the main shooter – most images shot in the same location under direct sunlight turned out smoother and a little smudgy.
The 2MP depth camera allows for Aperture mode, which lets you blur out the background through a nifty toggle. It works pretty well – under good lighting, it can produce some solid portraits with laudable bokeh effects. Safe to say, it does its job.
You can only shoot video at 1080p at 30fps, which is expected for a smartphone of its price range. There is, however, no stabilisation. Otherwise, I'd say that the video quality is okay so long there is ample light and a steady hand.
The selfie shooter here is an 8MP camera, which works fairly well for Skype. It has a customisable beauty mode, which allows for the usual range of face-smoothing and defect-removing. It doesn't blur out the backgrounds, however.
Performance and other features
The Huawei Y6p runs on a Mediatek MT6762R octa-core chipset, which is coupled with 4GB of RAM and 64GB of storage space (expandable to 512GB via microSD).
Hopping onto the device from a flagship phone, the differences in performance is stark. Apps take a little longer to open, and I noticed slight slowdowns scrolling through webpages and multiple screens. For people used to the smoothness of more expensive devices, the Huawei Y6p's overall experience can feel sluggish.
But it's not unusable, nor does it ever cause problems – I didn't experience a single crash or freezing in my two weeks of usage, barring one instance where I thought it froze while accessing the app gallery, but it turns out it just failed to register one of my taps. I haven't had the same issue since.
Where it lacks in performance, the Huawei Y6p more than makes up for it through a bevy of useful inclusions, primary of them being the massive battery. It houses a 5,000mAh battery, which provides enough juice to last two full days of regular usage (social media scrolling, occasional YouTube sessions, snapping random flowers). Use it sparingly, and it can last four days easily.
The Huawei Y6p includes a fingerprint scanner at the rear of the device, which works accurately and speedily enough. Surprisingly, it also comes with face unlock. It works well enough, just a little slower compared to other higher-end phones. It also works in relative darkness, just much slower.
The speakers are also commendable, capable of producing fairly loud audio. There's a 3.5mm jack for headphones as well. A minor gripe I have, however, is that it uses a microUSB port instead of USB-C. Not that it's a major inconvenience, but it does feel that it's high time for USB-C to be the norm.It's worth noting that the Huawei Y6p doesn't come with Google services – no Google Maps, no Play Store. Instead, you get access to Huawei AppGallery. It's something that users will have to deliberate on – I personally think that AppGallery has enough apps to work, and there's always the web browser to access the unavailable services.For RM559, the Huawei Y6p offers an experience that is as wholesome as you can get. Sure, it may not have lightning-fast performance nor will it capture the best photos, but the features that are available – the triple-cameras, the fingerprint and face unlock, the massive battery – ensures that you're at least not missing out on the parts that matter.
Related Stories :
Keyword(s) :
Author Name :