DNA Test: BlackBerry Classic
By Keith Liu March 2, 2015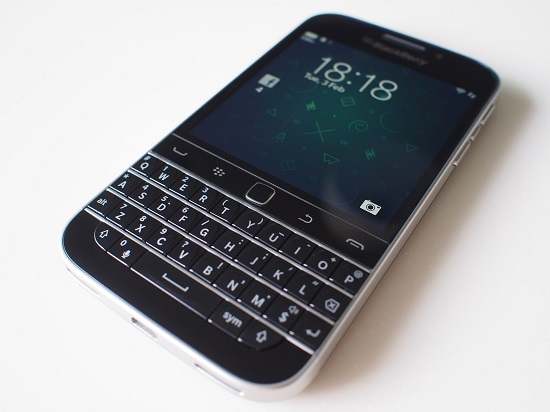 NG Foong Ming is your typical busy media executive in her 40s, with a unique preference: She's part of a dwindling group of smartphone users who rely on a BlackBerry as their primary communications device.
"I just cannot give this up," she says, pointing to the QWERTY keyboard on her BlackBerry Q10. "My family laughs at me because I'm still using this," she sighs. "My husband recently went and bought me an iPhone 5, and I gave up after two days – I just cannot type on the screen!"
Three or four years ago, a large number of BlackBerry users would have shared the same sentiment. But this is 2015 and the market has clearly moved on, preferring full touchscreen devices that run on Apple's iOS and Google's Android platforms.
And while BlackBerry did attempt to, belatedly, break into that market in 2013 with the Z10 flagship, it not only failed to win new fans but alienated old ones, as the company's market share continued to dwindle.
According to the full-year data from IDC, BlackBerry only had 0.4% of the global smartphone market in 2014.
For customers like Foong Ming, BlackBerry continued to offer QWERTY keyboard-toting devices such as the Q10, the entry-level Q5 and a premium model, the BlackBerry Passport. But they faced similar complaints – a new interface that relied too much on touch gestures, an apps ecosystem that lagged far behind rivals, and less powerful hardware despite the higher price.
READ ALSO: BES12: The future of BlackBerry?
Throwback design
The BlackBerry Classic then, is an attempt by the struggling Canadian handset maker to bring back some of its past mojo. The design harks back to a time when its Bold and Curve models were all the rage, circa 2009-2010.
In fact, it feels as if the company simply wanted to take something that fans were familiar with, and basically upgrade it with the latest innards. Retro on the outside, modern on the inside.

The Classic looks and feels robust, enhancing the perception that it means business. Size-wise, it's significantly larger than the previous Q10 thanks to a bigger display. It's surprisingly heavy at 178 grams, heavier even than Samsung's large-sized Galaxy Note 4 or the iPhone 6 Plus. Yet in spite of the heft, it was comfortable to use with one hand.


It's framed by a silver strip around the unit, and the back is made of hard plastic with an assuring anti-slip texture. The rear cover and battery are not removable.

The power button and 3.5mm headphone jack are positioned at the top, while the volume and mute buttons are placed on the right. Towards the left, you'll find separate nano SIM and micro SD card trays (pic, right), and at the bottom is where the speaker and micro USB port are housed.

Above the keyboard, BlackBerry resurrected the utility belt featuring a row of 5 dedicated keys – CALL, MENU, TRACKPAD, BACK and END.

After having ditched this feature from its recent portfolio, the company made a U-turn with the Classic to appease loyalists who prefer keys to gestures.
Aside from doubling as a 'Select' button when pressed, the touch-sensitive trackpad can be used as directional keys, cursor control in edit mode, or as a mouse pointer when browsing the Web. Along with the keyboard, this belt allows users to control the phone almost exclusively without ever needing to touch the screen.
Physical keyboard
The physical keyboard is undeniably the reason why anyone would buy the Classic. Thankfully, it delivers in spades in terms of travel, comfort and accuracy.

Typing on it evoked sweet memories of tactile sensations which my thumbs haven't felt in ages. There is just something natural about pushing a button, feeling that satisfying click, and seeing a letter pop up on the screen.

Unfortunately, I didn't actually type faster on it, since I switched to a full touchscreen device about five years ago. That's a lot of time for me to become proficient at typing on glass.

When I attempted to write this entire review on the Classic, I realised that I missed my virtual keyboards, with gestures and swipes to call up numbers, symbols and capital letters.

However, I was impressed with the keyboard's software features, particularly the ability to type in three different languages within the same message, with prediction and auto-correct working seamlessly across all of them.

This is especially useful in our multi-ethnic, multi-language markets, where we frequently switch between languages when we communicate.

And like all BlackBerry devices, the keyboard also lets users perform a quick search (just start typing and relevant results will appear), launch applications, create new documents and scroll web pages.
Display
Be prepared to scroll a lot, since the 3.5-inch display can only show a portion of the page at any time, due to the square aspect ratio. The 720 X 720 pixel resolution is hardly the highest out there, but the text and fine print came across looking sharp, while the colours are vivid. Importantly, the screen is bright and visible under direct sunlight, with decent viewing angles.

Still, watching videos (or YouTube) won't be entirely satisfying, with large black bars surrounding the top and bottom of the screen. BlackBerry did include a full-screen zoom function, but the result is a video that has significant parts on the left and right sides chopped off.

Performance and user experience
The Classic has the basics well covered. Call quality was clear, voice-conferencing was reliable, WiFi and data connections were very stable. With BlackBerry's pedigree and patents on telephony, I'd be surprised if these posed any problems.

What's disappointing is that it chose not to upgrade the Qualcomm Snapdragon S4 Plus running at 1.5GHz. This chipset was also used in the previous Q10, as well as other flagships from 2012, like the Samsung Galaxy S3 and Nokia Lumia 920. The processor is clearly showing its age when it comes to start-up, app loading and overall response times.

While BlackBerry's native software like the web browser, and the consolidated inbox known as BlackBerry Hub performed admirably with relatively fast animations and response times, the lag and incompatibilities became painfully obvious when I began using third-party software and Android apps.

The latest version of BlackBerry's OS allows you to download and install Android apps from the pre-loaded Amazon App Store, as well as other third-party Android app markets.

But more often than not, these apps were not optimised for BlackBerry's platform. There were several occasions when the apps just crashed or displayed a black screen because it was processing something in the background.

Certain games work fine, especially casual titles like Candy Crush Saga, but try playing fast-moving action games like Angry Birds GO! and the resulting stutter and abrupt crashes are a buzzkill.

This is assuming that you're patient enough to sit through the slow installation process.

The takeaway here is that this is not an Android smartphone, and not all Android apps will work well, if they work at all. BlackBerry's strategy to manage the app ecosystem gap has turned out to be a hit-and-miss affair.
Camera and imaging software
The 8-megapixel rear camera, fortunately, is more hit than miss. It delivered sharp photos with a natural colour balance, especially when there is a good amount of light. The auto-focus however was a tad slow, especially in low-light conditions.

The software is smart enough to suggest different camera modes depending on what I was trying to photograph. HDR mode for example, worked well in a high-contrast lighting environment, and Time Shift kicked in when I took a portrait photo, capturing many images and allowing me to pick the best one.
I also found the photo editing suite pleasant to use, with a number of useful filters, effects and frames to spruce up my selfies.

Battery life
At 2515 mAh, the Classic's battery may seem paltry by today's standards, but the company claims it provides up to almost 12 hours of talk time and 15 days of standby time on 3G/4G networks.

My typical usage consisted of making number of phone calls, including one with the speaker turned on, a ton of WhatsApp and e-mail messages, browsing the web, watching a couple of short video clips from YouTube, streaming music for about an hour, and a few attempts to play some games.

The battery life lasted slightly beyond a day, exceeding my expectations.
Blend and Balance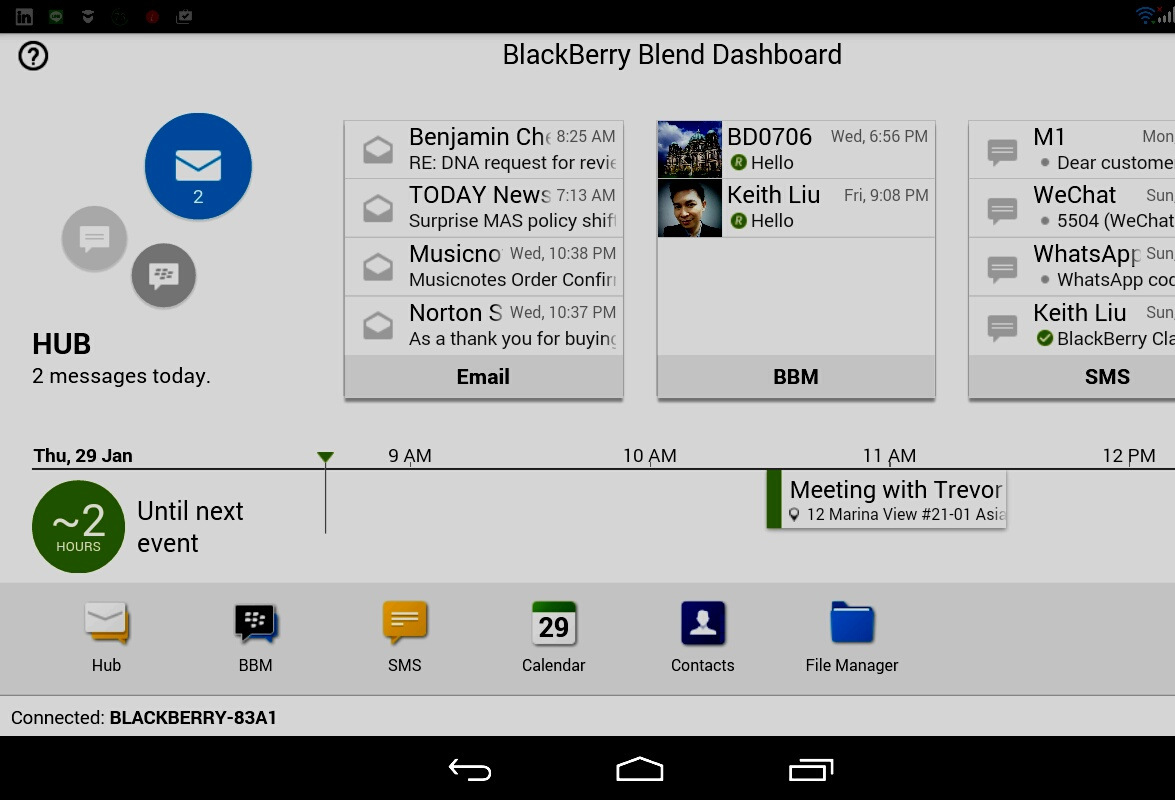 To connect the Classic to a PC, Mac or Android tablet, I installed the BlackBerry Blend desktop software and paired it with the phone. Blend provides an overview of my contacts, calendar entries and messages, and allowed me to transfer files across devices, as well as send messages from the desktop app, which was convenient.

For enterprise users, the BlackBerry Balance feature allows IT administrators to fully separate company data and apps from personal content, thus providing that extra layer of security which BlackBerry is well-known for.

Companies wishing to deploy the Classic would need to be running BlackBerry Enterprise Service 10 and above.

Since the introduction of BB10 OS, consumers no longer need to sign up for a separate BlackBerry plan from the operator, allowing more flexibility in the choice of mobile plans.

Price and purchase considerations
At US$449, the BlackBerry Classic is targeted at the mid-range market, and is certainly not the most expensive in the company's recent portfolio.

However, considering some of the hardware specification and materials used, BlackBerry is clearly charging a premium for its physical keyboard, especially when it's the last remaining global player to provide this form factor in a smartphone.

The BlackBerry Classic is the company's key retention product, to keep BlackBerry users in the fold, and one of its best products in recent history. It's more than competent when it comes to doing what it's best known for – an enterprise-class, secure communications device.

It's almost a no-brainer to acquire the Classic if you are upgrading from a Q10, a Bold or a Curve. Compared with the BlackBerry Passport, the Classic has a lower price and a more familiar hardware design.

If your company is issuing you a new BlackBerry, make sure this is on top of your list – but if you have moved on to other platforms and are considering coming back, do keep your expectations in check.

The Classic is simply not on par with the mid-range competitors in the Android camp. Many of them in fact, are available for US$100 less.

As for Foong Ming, the decision was easy. When I showed her the device, her face immediately lights up and she declares, "I will definitely upgrade to this one!"
| | |
| --- | --- |
| Design | **** |
| Performance | *** |
| Value | *** ½ |
| Overall | *** ½ |
Summary
An essential upgrade for BlackBerry users. For everyone else, the BlackBerry Classic is a retro-inspired curiosity.

Keyword(s) :
Author Name :