Review: Master your mugshots with the Asus ZenFone Selfie
By Keith Liu September 25, 2015
Features high resolution 13 megapixel front camera with dual-tone flash
Design similar to Asus ZenFone 2 flagship
HOW many times have you attempted to capture a selfie or a group selfie (sorry, but we refuse to call it 'groufie' or 'wefie') and ended up disappointed, either because the photo turned out blurred, underexposed (too dark), or grainy and pixelated?
Taiwanese computing giant Asus wants to help you avoid all those self-portrait fails with its ZenFone Selfie smartphone.
First unveiled back in June this year at the Computex technology expo, the company this week announced the availability of its imaging centric device in Singapore.
The highlight of this mid-range Android handset is undoubtedly the fact that it has not one, but two high-resolution cameras.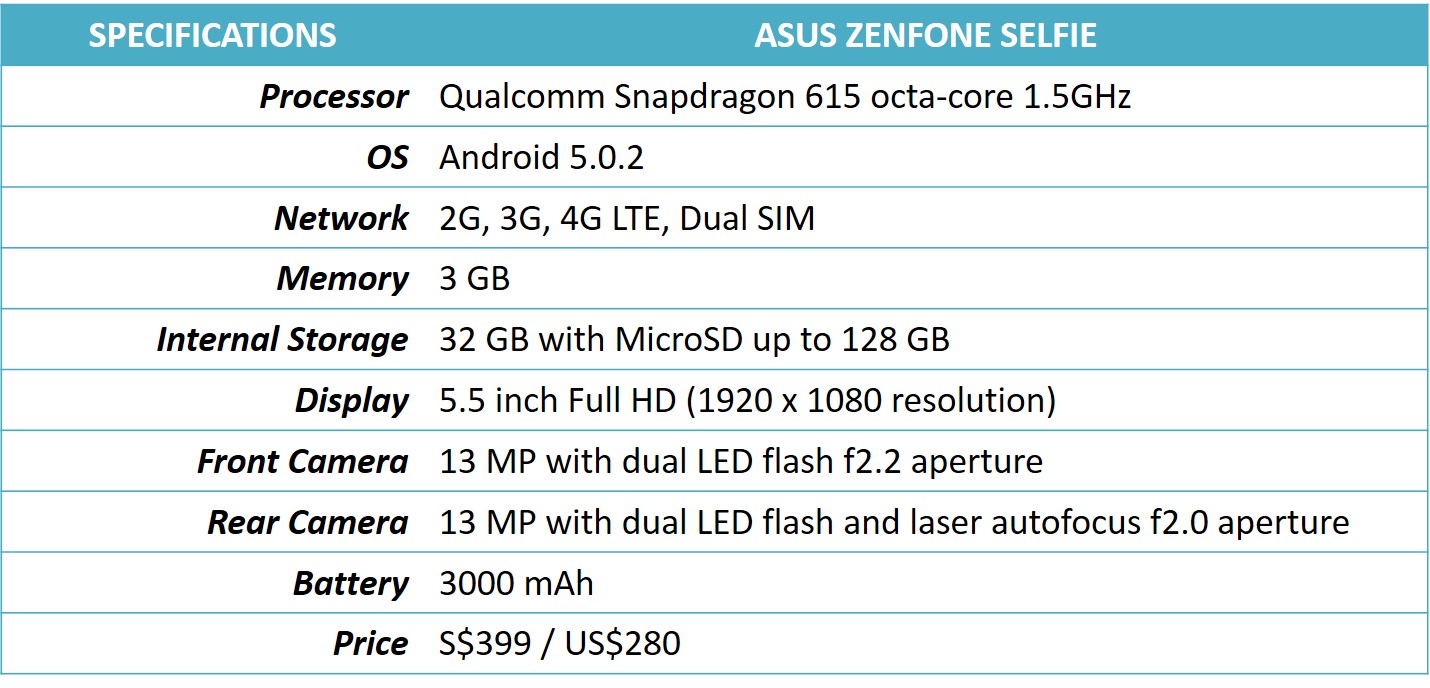 Camera Capabilities
Typical smartphones today sport 13 megapixel sensors for the rear camera and 5 or 8 megapixel sensors on the front.
Asus took a step further by including a 13 megapixel front-facing camera, similar to HTC's Desire Eye, which was launched late last year.
The two 'PixelMaster' cameras, as Asus calls them, are paired with dual-colour, dual-LED 'Real Tone' flash lights, to bring 'true-to-life' colours in every photograph, the company said in statement.
The rear camera also comes with a 'laser auto-focus technology' which the company claims would capture images in just 0.3 seconds, since the laser beam is able to measure distances near instantly.
We have been testing the ZenFone Selfie for a few days now and found the front camera to be highly capable and lives up to the name.
The f2.2 aperture front lens isn't the brightest in the business, but the 88-degree wide-angle lens is a boon for group selfies, or if you want to capture more of the background. It's also useful for taking half body-length shots, if that's your thing.
To take better selfies in low-light environments, Asus provided 2 options for the LED flash – one option is similar to how you would use a video light where it's always on, and the other option is to use it like a normal camera flash where both the LED lights turn on when the picture is taken.
The illumination is stronger but has a slight yellowish tint when using it as a normal flash, while the video light option was slightly weaker (since it only employed one of the lights) but works better when there is some ambient lighting available.
We didn't see a lot of innovation in the beautification department, unfortunately – the options to lighten and smoothen your skin, enlarge your eyes and slim down your face have been industry standards from two years ago, and this is no different.
The good news is the software doesn't go overboard with these enhancements, so even if you maxed out all the settings, you won't end up looking like an alien.
Plus the changes happen in real-time, so you can make the adjustments before you press the shutter button.
The ZenUI camera software in general however, is pleasant to use, and we were delighted to see Asus improve on the self-timer function, which seems to be fiddly to find or use in many camera apps.
With this device, you only need to swipe upwards from the on-screen shutter button, and it will automatically give you a timer countdown before it snaps the picture.\
The length of the timer depends on how far you swipe up on the screen, though it maxes out at 5 seconds and only available for the front camera. Regardless, it's a clever and intuitive system for self-timer shots.
The rear camera shares the same Toshiba sensor as the front, but comes with a brighter f2.0 aperture lens.
Focusing speeds did seem a tad faster with the 'laser auto-focus' system but in low-light conditions it is nowhere near instant and tended to go off-focus at times, though those occasions were rare.
The camera UI (user interface) features 16 still photo modes and 2 video modes., including the usual Auto and Manual modes, HDR for high contrast situations, Depth of Field to blur off the background, Panorama, Super Resolution, Miniature, Effects and Low Light.
In low-light conditions, simply press the 'owl' icon and the camera will attempt to capture more light by keeping the shutter open for longer – but that means you'll also need a steady hand to ensure the photo isn't blurred and the image captured is a 3 megapixel quality one.
As for videos, the ZenFone Selfie can record up to Full HD (1920 x 1080) resolution footage and offers a slow-motion mode as well. Electronic video stabilisation is available.
Looks like ZenFone 2
In terms of design, the ZenFone Selfie looks very similar to its flagship ZenFone 2 with its curved back, plastic housing, rear volume rocker, top-side power button and long speaker grille at the bottom.
The back cover is removable and so is the 3000 mAh battery, but the pastel blue unit which we borrowed picked up dirt and oil smudges quite easily. However it's easy to clean and the matte, soft-touch finish on the back felt good in the palm.
Good enough performer
Unlike the ZenFone 2, Asus decided against using the Intel chipset for the Selfie, and went with Qualcomm's Snapdragon 615 octa-core chipset running at 1.5GHz instead, along with 3GB of RAM and 32GB of storage.
The device also supports microSD cards up to 128GB, and Asus provides 5GB of lifetime WebStorage space in case you ever need to store something in the cloud.
The 64-bit Snapdragon 615 chipset isn't the best in terms of performance, and has been squarely beaten by MediaTek's and Samsung's Exynos mid-range offerings, but somehow this average-performing processor still commands a premium due to the Qualcomm branding.
Big on bloatware
The other downside is the Asus ZenUI which has become more and more bloated with Asus based apps and third-party software which aren't really necessary and takes up precious space.
Our unit required us to update 40 – yes, 40! – apps on the device, even before we began using it. Granted, about a third of those apps that needed updating were Google's own apps, but more than half of those were Asus-related ones.
Thankfully many of these apps can be uninstalled, but between updating the ones we wanted to keep and ejecting the rest, it was still a time-consuming process.
Screen goodness
The 5.5 inch IPS (in-plane switching) LCD is a Full HD (1920 x 1080) resolution panel providing 403 pixels per inch. The image is enhanced with Asus's own 'TruVivid' technology which the company claims will bring colours to life and highlights details.
It doesn't match up to the vibrancy you'll find on a Super AMOLED display, but we found the screen pleasant to look at, with bright, rich colours and good contrast levels.
It's protected by Corning's Gorilla Glass 4 which provides slightly better durability, though we were hesitant to test it against a concrete floor. The anti-fingerprint coating is also present, but our greasy mitts still managed to mess up the screen.
Tempting offer
The best part is, Asus has kept to its strategy of producing excellent smartphones with respectable specifications and selling them at affordable prices.
This explains why the ZenFone series, despite not being in the market for too long, has garnered a sizeable fan base.
The ZenFone Selfie is the latest in the Taiwanese firm's strong mobile efforts and at S$399 (US$280), it's a highly tempting offer.
It will be available at all Asus branded stores, authorized retailers and Qoo10 online retail portal from Sept 26.

Related Stories:
Asus Malaysia rolls out ZenFone 2, world's first 4GB RAM smartphone
DNA Test: The Asus ZenFone 2 hits the right pricing notes
Asus launches LolliFlash, ultraportable external LED flash

For more technology news and the latest updates, follow us on Twitter, LinkedIn or Like us on Facebook.
Keyword(s) :
Author Name :