Week in Review: The right kind of sexy
By Karamjit Singh December 6, 2013
Yes, let's really make 2014 Startup Malaysia Year!
Need logo, tagline, and for spinoff VC firms to materialise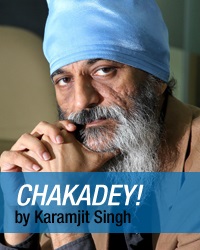 JUST like last week, a sexy story rules again this week. However, this week we have the right kind of sexy.

My commentary on Tuesday reflecting on some thoughts about last week's awesome Disrupt session had me ending by declaring that 2014 should be 'Startup Malaysia Year.'

That seemed to have stirred some excitement among Digital News Asia's (DNA) readers, enough to make it the week's best read article. In fact, one venture capitalist congratulated me on it.

It was actually a bit of a tongue-in-cheek declaration but hey, if all of you love the thought of 2014 being declared that, then let's do it!

So, who's going to design the logo and who is going to offer their ideas in helping come up with a tagline?

After all, we are on the cusp of a year which will see, potentially, up to US$124 million (RM400 million) in venture capital available. Imagine the frenzy of activity we are going to witness then! Everybody and their grandmother will be coming up with the next great idea.

The RM400 million will be mainly driven by the outsourced partners of Mavcap's third Outsource Partners (OSP3) program. I am really keeping my fingers crossed that the targeted four venture spinoffs happen.

Moving on, I was moderating a panel session at Exabytes' annual e-commerce conference and asked the 100-strong audience if any of them had done any online shopping over the Black Friday/ Cyber Monday weekend. None raised their hands!

Does it mean that e-commerce merchants don't shop online themselves? I can tell you one thing for sure, they certainly don't know what the 'e-commerce act' is because when I asked this question, only one person in the hall knew what it was.

Called the Consumer Protection (Electronic Trade Transactions) Regulations 2012, under the Consumer Protection Act 1999, it came into force on July 1, 2013.

With this, an online operator is required to provide their full details, terms of conditions of sale, rectification of errors and maintenance of records.

We clearly have a long way to go then. Still, that is the least any e-commerce merchant should do – that is, to know the regulation well, don't you think so?

Still on the e-commerce front, somehow Rocket Internet's Zalora has secured a fresh round of US$112 million in funding, touted to be the single investment ever made into a South-East Asian online fashion retailer.

This really makes you wonder if the existing small e-commerce players even have a chance today if a big player comes and plays in the same niche.

Some of the larger local players actually ran their own Black Friday deals and it will be fun if they share some data about how they did.

Finally, do check out the RM450-million project that the Royal Malaysian Customs is kicking off. This will be for a trade facilitation platform that Customs has dubbed uCustoms, with the 'u' standing for ubiquity.

A low-profile IT company called Brilliance Information Sdn Bhd has received the kick-off contract as a start. I have reached out to its CEO for an interview, but doubt he will respond.

While many of you are out there hustling and trying to make it happen for your startups and more mature tech businesses, government spending for large tech projects still goes to the multinationals but via well-connected bumiputera technology companies, of which, Brilliance Information is one.

This leads me to our Dec 18 Disrupt where we will be talking about Bumi tech companies – Why have none of them made a breakout yet?

We already have two interesting panellists confirmed, so keep Dec 18 free and watch for the write-up and RSVP next week on this!

Editor's Picks:

Malaysia's uCustoms project about to get off the ground

Fuelling athlete dreams in Asia with FundMySport

Axiata starts its 'digital company' reinvention

Big data benefits recognised in Asia but potential untapped: EIU study

Owe$ome at the Valley, and lessons therein

Interest in cyber insurance on the rise in Asia Pacific: AIG

VMware wants to get you out of 'Hotel California'

Previous Instalments:

Week in Review: Sexy sells, even in a tech portal
Week in Review: What YOU can do about the funding gap

Week in Review: A game changer? Get an advisor first!

Week in Review: A blot on the ecosystem

Week in Review: How many more Ivan Tehs are there?


For more technology news and the latest updates, follow @dnewsasia on Twitter or Like us on Facebook.

Keyword(s) :
Author Name :
By commenting below, you agree to abide by our ground rules.