Week in Review: Tale of three 'exits'
By Karamjit Singh November 28, 2014
Mark Chang kinda exits JobStreet; James Khoo exits startup life
Ganesh Kumar Bangah deals with fallout from CFO exit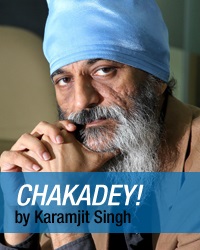 HOW can I not start this week's highlights with Mark Chang, who saw the sale of JobStreet.com's Internet assets to Australia's SEEK Ltd, finally go through in November?

The deal was delayed in closing but I think Chang did not mind as the sale price went up from RM1.7 billion to RM1.93 billion (US$510 million to US$580 million).

As low-key an Internet entrepreneur as you will ever meet, Chang now walks away from the sale with his various other assets still within the listed company, whose name he has to change as he sold the JobStreet.com brand together with all its related Internet assets.

So, to put this plainly, he has exited from JobStreet's online recruitment business, with around RM250 million (US$74.7 million) personally in his pocket, while still keeping the other assets of JobStreet, which combined have a value of around US$100 million.

How cool is that?

And all this while happy to proclaim, "I am a boring person and run a boring business." I'll eat what he's having then! But seriously, he is not boring, just low-key, understated and very calm.

I have been bugging him to introduce me to Andrew Basset, the cofounder and chief executive officer of SEEK. He finally did so last night, with the email header reading 'Press from Malaysia.'

I had a good laugh at that. I have only known him for 16 years. And he only came for my wedding vows in the gurdwara (Sikh place of worship) back in 2002 in Penang, where we are both from.

Entrepreneurs in South-East Asia are going to benefit from his exit as he plans to use both his personal funds, and funds from his soon-to-be renamed listed company, to invest in consumer Internet startups, especially those from Malaysia, Indonesia and the Philippines.

Moving on to another type of exit, we have the founder of security app Watch Over Me reluctantly exiting his startup SecQ.me, to support his family. Because his wife is about to lose her job, James Khoo has had to make the painful decision to exit and get a job that pays him the market rate.

You may ask why he doesn't just pay himself more since he is the founder of his company. Well, one of the things you discover when becoming an entrepreneur is that the salary of your team comes before yours, and where possible, you will pay yourself less than anyone else.

Khoo's story has been exquisitely told by my cofounder A. Asohan and I urge you to read that and just reflect on the sacrifices Khoo has had to make, and the stress that his wife has had to go through as well. And let's wish his cofounder Chin Xin-Ci all the best as she steps up into the CEO role.

Meanwhile, another entrepreneur who is going through a very stressful time now is Ganesh Kumar Bangah, founder and CEO of Nasdaq-listed MOL Global, who also has had to deal with an exit.

Literally, the shit has hit the fan over there as his chief financial officer quit (after only joining in August), and on the eve of MOL Global's debut results announcement.

No matter what the real reasons are, the market has assumed the worst and the stock nosedived to around US$4 before it was suspended pending his results announcement on Dec 3.

Ganesh was due to speak at Echelon Malaysia this past Monday but not surprisingly had to pull out. I am sure all of us are awaiting that results announcement and the intense grilling he can expect from the media and analysts there.

But Ganesh is a tough cookie and I am sure he will pull through this dark period.

Ending this week on a high for me, I was super-excited to get an interview with Jamaludin Ibrahim, the group CEO of Axiata. With over 230 million subscribers, it is the second largest telco in Asia after SingTel.

As Jamaludin sat down to chat with me and my colleague Goh Thean Eu, he remarked that it was his first interview in a long time, and definitely his first to talk about Axiata's digital strategy.

I will bring you that exclusive story next week, so watch out for it! In the meantime, Thean Eu has written about one discussion we had with Jamaludin.

Finally, the most popular story this week was SecQ.me founder James Khoo quits the startup life.

Editor's Picks:

A firewall around YouTube, a fence around Digital Malaysia

EIU study: CIOs are top contenders for CEO role, but …

Singapore's LTA moves to regulate taxi-booking apps

Automotive online classifieds market heats up with MyEG entry
MOL Global postpones Q3 reporting, CFO quits, shares plunge

As Mark Chang prepares for Act 2, so does JobStreet

SecQ.me founder James Khoo quits the startup life


Previous Instalments:

Week in Review: Will funding floodgates open in 2015?

Week in Review: Asking the right questions

Week in Review: Is Malaysia ready to welcome them?

Week in Review: Execution always trumps 'me too' model

Week in Review: From Norway to Singapore to Malaysia


For more technology news and the latest updates, follow @dnewsasia on Twitter or Like us on Facebook.
Keyword(s) :
Author Name :