Week in Review: More need to carve out time
By Karamjit Singh February 21, 2014
Leaders in Malaysia's ecosystem have to make themselves available
This includes JobStreet's newly minted millionaires, led by Mark Chang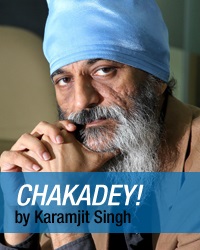 I DROVE by JobStreet's office in Kuala Lumpur (KL), Malaysia's capital city, this morning on my way to interview Maxis chief executive officer CEO Lundal (watch out for that article next week), and my first reaction was one of sadness.

Sad that soon we won't be able to call JobStreet a Malaysian Internet success story. Perhaps that is actually not true. After all, selling your startup for US$523.5 million (RM1.73 billion) is by any measure a phenomenal success.

Mark Chang the founder still owns 11.1% of the company, which means he will soon be a very wealthy man with a passion for Internet-based businesses. And that is great news for every existing entrepreneur out there, and for those aspiring to launch a startup.

I do hope however that Chang will also start taking more risks with some of the investments he will make. Speak to any entrepreneur who has made a pitch to Chang and you will get the impression that he is a really tough cookie to convince and get money from.

Here's hoping that having a few more zeroes to his account will make him more open to risk and betting on entrepreneurs.

But beyond just Chang, I am sure this sale will create a few more high net worth individuals from within the ranks of JobStreet, and I hope those men and women become angel investors too. Suresh Thiru, Greg Poarch and Dr Albert Wong, I am talking about you!

They are, respectively, the COO, CFO and CTO, with Wong being the key software architect behind many of JobStreet's solutions. Chang in fact once referred to Wong as "JobStreet's secret weapon."

I hope that collectively, they become the 'nuclear weapon' powering a wave of Internet-based innovation and disruption from Malaysia.

And with Chang soon having more time on his hands, I hope he starts making more appearances at KL and Penang (where he is from) industry events.

Actually, this is a really important ingredient in the building of a vibrant ecosystem in Malaysia.

There are leaders in this ecosystem, by virtue of their influence in connecting people (think of StartupMalaysia.org's Dakhshinamoorthy 'Dash' Balakrishnan); in terms of their success in building their companies (Catcha's Patrick Grove, TIME dotCom's Afzal Abdul Rahim, QEOS' Dr Gabriel Walter and MOL's Ganesh Kumar Bangah); or in terms of having cashed out (Slashes & Dots' Azrul Rahim and now Chang).

All of these guys need to carve out time from their schedules to attend events and be available for entrepreneurs and those aspiring to be one.

That is what Ganesh and Walter did on Wednesday when they attended our most recent Disrupt gathering. They are as busy as any of us, but they both carved out time to attend Disrupt and I know the audience appreciated it.

It is an open secret that Ganesh is headed for a Nasdaq listing within a few months and Walter has big plans for his company, Quantum Electro Opto Systems. Yet they made themselves available.

Doing this creates the opportunity for spontaneous discussions, immediate feedback, forward connections and even serendipity to happen.

Plus guys like this have enough experience that they can easily help you connect the dots in your ideas or business model that you may not have thought of. Of course, they may also think you have a terrible idea, but that goes with the territory!

But it starts with them making time and accepting that while they may not see direct benefits, they are actually playing a role in strengthening the ecosystem in a critical and intangible manner – and believing that the returns to them will come later down the road.

Of course in Silicon Valley, this act has become part of its magic ingredient and is described as 'Pay It Forward.' We absolutely need to create this here too. And we have enough amazing people in our ecosystem that can help accelerate this.

I am playing my part too. I try to meet everyone who wants to see me, as long as you are willing to meet at 8am or 10pm or fit around my schedule. I am even more easily available via video chat too, though people still prefer to meet face to face, even when they already know me.

But I want to see many more join me in making themselves available.

And not surprisingly, this week's most popular article is the piece on JobStreet being acquired by SEEK of Australia.

Have a productive week ahead.

Editor's Picks

Disrupt: Be willing to risk all, be prepared to cut your losses

Australia's SEEK to acquire JobStreet outright

The Malay Mail and 3 other papers launch 'digital revolution'

Bread & Kaya: A look at Malaysian cyberlaw cases

Mudah is already No 1 … now for the other 20%

Mobile9 launches ad network for apps

MOL gets royal treatment, Johor Sultan buys stake


Previous Instalments:

Week in Review: When reality matches the PR

Week in Review: You are not indestructible!
Week in Review: Attitudes towards failure changing

Week in Review: 50 to watch and be inspired by

Week in Review: Defending the rights of all Malaysian netizens

For more technology news and the latest updates, follow us on Twitter, LinkedIn or Like us on Facebook.

Keyword(s) :
Author Name :