Week in Review: Leadership lessons from Jobs, or Picard?
By Karamjit Singh September 6, 2013
Convergence of Internet and telco worlds sees term used by both
To Steve Jobs, being sticky meant aiming for consumer's heart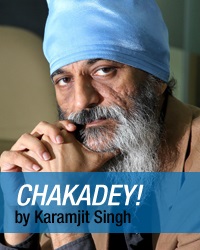 YESTERDAY we broke the story of Celcom Axiata taking equity in Merchantrade Asia Sdn Bhd, a remittance and mobile virtual network operator or MVNO.

What caught my attention while I was working on the story was the use of the term "sticky" by a telco consultant in describing the deal.

With the intense competition in the foreign worker remittance business, being able to bundle low-cost calls back to their country will likely lean migrant workers towards picking Merchantrade's services over competitors that just offer remittances.

I guess the term is not just used in the Internet world. It is also just another example of how tightly the Internet and telecommunications worlds have converged.

One of the main movers in bringing these two worlds together has been Apple Inc, especially with its iPhone introduced in 2008. So, it was with some interest that I watched a special screening of the movie Jobs last night, in support of sending the entire Owe$ome team to San Francisco.

Steve Jobs knew all about sticky too. To him, being sticky lay at the heart of any product or service he wanted to create. And the heart was the one thing he wished for all his products to touch, "because once you touch the heart, anything becomes possible." That was one of the standout quotes in the movie for me.

While he put his heart and soul into his company, he also came across as being cold-hearted in some instances. That left me leaving the theatre thinking what a world-class asshole he was. No disrespect meant to the man.

Something similar must have been imprinted in another entrepreneur who saw the movie too, as he quipped, "See, you have to be an asshole to make sure DNA succeeds."

That remark stayed with me that night just before I slipped into a deep sleep.


Fortunately the wise old man of DNA (Digital News Asia), A. Asohan, suggested I look instead to Captain Jean-Luc Picard of the USS Enterprise for leadership lessons I can apply to take DNA to the next level, as summarised neatly by Forbes magazine.
Coincidently, Jean-Luc is my all-time favourite captain of the Star Trek franchises. [Indeed, here's a lesson from Sheldon Cooper: Picard over Kirk; Classic over Next-Gen -- AA].

But Jobs is a movie entrepreneurs in tech will definitely like as there are many points they can take away and apply to their own startups – even if they are nowhere as intense and single-minded as Jobs was.

The one I liked was to find something you are passionate about OR can be passionate about, meaning you can come to adopt a cause or purpose as yours too.

But do shoot me an email and we can have teh tarik (pulled tea) while discussing what we found inspiring about the movie.

Getting to the heart is not the only way to be sticky though. You can also use the M&A way as Tech in Asia has done by announcing its acquisition of SGEntrepreneurs, bringing the latter's talented team into its fold.

I assume the SGEntrepreneurs name will be dropped as Tech in Asia goes toe-to-toe against e27 in being the most popular site for startup news in the region. Now if only both of them could see how interesting the startup scene is in KL too. That somehow still seems to be a blindspot for both.

Finally, this week's most popular article was unfortunately the one on U Mobile sacking its CEO. Do also have a read of the following Editor's Picks of the top DNA stories of the week.

Editors' Picks:

Malaysia best port to launch SEA offensive: Tim Marbach

So why did U Mobile sack its CEO?

Building blocks for software testing niche coming together

Celcom takes 20% stake in MVNO Merchantrade

TeAM to take on Apple in trademark issue, calls for evidence

Penang's Tribeup gets goods moving on Facebook with Instapps

PayPal's seller protection scheme to debut in Asia in Oct

Previous Instalments:

Week in Review: We are hustling all the time

Week in Review: The pain they go through …
Week in Review: Is listing the end or the beginning?
Week in Review: It's ALL about execution
Week in Review: What's driving Syed Mokhtar's telco interest?


For more technology news and the latest updates, follow @dnewsasia on Twitter or Like us on Facebook.
Keyword(s) :
Author Name :