Week in Review: Badlisham the bridge across that 'trust chasm'?
By Karamjit Singh June 20, 2014
Expect MAHB to become a super tech-savvy airport operator
Expect local companies to play leading role in transformation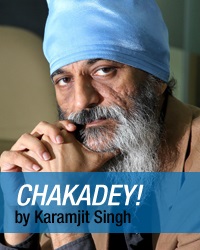 "IT is a question of trust," said Badlisham Ghazali, the outgoing Multimedia Development Corporation chief executive officer (CEO), describing the heart of the problem that prevents most Malaysian firms from adopting homegrown technology.

If that is the case, then I am really looking forward to Badlisham's tenure as CEO of airports operator Malaysian Airports Holdings Bhd (MAHB) that begins next Monday (June 23), because no other CEO of a listed company in Malaysia has more trust and confidence in Malaysian-built technology than the man who has helmed MDeC for eight-and-a-half years.

And I fully expect MAHB to become the world's most tech-oriented airports operator as well. Badlisham has already given a hint of what will come ahead when he mentioned the setting up of an 'Aeropolis cluster' as something MAHB could and should be doing.

I also expect MAHB to become an anchor company of MDeC's 'stacking' approach where one large company – which can include government-linked companies (GLCs) and the major telcos – takes the lead and works with a number of smaller companies which have complementary solutions.

MDeC's role here is to identify these companies and match them, describing the process as "creating market access via co-creation."

In his exit interview with Digital News Asia (DNA), Badlisham does not deny that he will be partial to Malaysian-built technology and services. "Of course.. I know what is out there and what is possible, and encourage it. I expect our Malaysian tech companies to step up – but before you knock down my door – wait lah, give me time [to settle in]."

So that is great news for our tech companies. But be warned that Badlisham will drive a hard bargain. He will have no issues with paying for quality but will expect value from his partners, as all CEOs do.

For local tech companies, I am sure they will not let down Badlisham and his faith in them. And once MAHB becomes a super-savvy tech user and its performance, both from a financial and customer-oriented aspect, improves, MAHB will become an example of how a company that leverages smartly on technology can deliver outstanding performance.

And, in the process Badlisham would have unwittingly become that very bridge that he has sought to build, to enable Malaysian tech companies to cross that "chasm of trust."

Let us all wish him luck and thank him for his service. And give him six months before you start knocking on his door!

This week's most read story was AIM to be dissolved in 2020, programmes to live on.

Editor's Picks:

Badlisham leaves, having put MDeC on expected trajectory

Malaysia among countries most hit by e-banking malware: Trend Micro

Telco Deep Dive: Two sides to Malaysia's digital TV story

AIM to be dissolved in 2020, programmes to live on

Malaysia's data centre industry needs to better sell itself: Emerson

MDeC: 3% revenue growth 'high' when seen in context

Autodesk moves to standardise 3D printing with open source Spark


Previous Instalments:

Week in Review: University R&D not aligned to national interests

Week in Review: Doesn't matter where the money comes from

Week in Review: DNA is global tech media too

Week in Review: TeAM in angst over Gen Y disconnect

Week in Review: It's all happening in the telco space


For more technology news and the latest updates, follow us on Twitter, LinkedIn or Like us on Facebook.
Keyword(s) :
Author Name :