The MCMC shakeup: From tranquility to turbulence
By Karamjit Singh January 14, 2015
Minister needs to explain rationale for separating chairman and CEO roles
Appointing best person, as happened at MDeC, absolutely right thing to do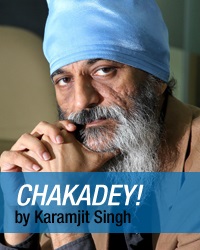 TRADING the tranquility of his Telekom Malaysia chairmanship with the pressure cooker job of chairman and chief executive officer of the Malaysian Communications and Multimedia Commission (MCMC) was probably the last thing Dr Halim Shafie imagined last December.

But that is the hot seat the health-conscious Halim – he climbed Mount Kinabalu, the highest peak in Malaysia, during his first stint as MCMC chairman from 2006-2009 – occupies now.

And while one of his mandates coming in is to oversee the separation of the post of chairman and chief executive officer (CEO), opposition leaders are already speculating that this separation is being done to open the way for a politician from the dominant political party in the country, Umno, to grab the CEO post, according to a report in independent news portal Malaysiakini.

With all the key industry issues that demand his attention – national security as well as cybersecurity, censorship, the digital terrestrial TV rollout and spectrum allocations – I personally doubt Halim will be immediately looking at this separation.

But it seems like the politicians are. Now, I typically do not like to bring politics into my writing, but I find it strange that our Minister of Communications and Multimedia is not being communicative in this matter.

When former chairman Mohamed Sharil Tarmizi's tenure was abruptly ended on Dec 31, 2014, Ahmad Shabery needed to come out and firstly, deny or confirm the speculation that the new MCMC chairman was going to be a politician from Umno, his own party.

He did not. But fortunately, he acted fast to appoint a new chairman in Halim, making the announcement on Sunday Jan 11, less than a week after news broke that he had not renewed Sharil as chairman.

Sharil had served from October 2011 to December 2014.

But now the minister needs to address this issue of whether the decoupling of the post of chairman and CEO is being done to place a politician in the latter role, and specifically one from his own party.


Ahmad Shabery (pic) may well feel that he can't be spending time and energy denying or confirming every claim being made about the MCMC post, but, bearing in mind that Malaysians have a very poor opinion of their politicians, and with the MCMC being a key driver of Malaysia's digital transformation agenda, he needs to swiftly reassure citizens that the government they voted in can be trusted to do the right thing for the country.

He already did that with the swift appointment of Yasmin Mahmood as CEO of Multimedia Development Corporation (MDeC) last September. That was a solid choice and you can already see the impact she is having at MDeC.

Unencumbered by distracting speculation of some politician coming in to share power with her, she seems determined to make a difference at MDeC, which like the MCMC, is a key agency to drive Malaysia's digital transformation.

As was done at MDeC, putting in the best and most able person as chairman (done) and CEO (pending), once that post is decoupled, is absolutely the right thing to do.

But before that, the minister needs to explain what happened to convince him that the two roles, which have never been separated before, need to be two different ones now.

And since, according to a former senior executive of the MCMC, the Communications and Multimedia Act 1998 [corrected] makes no mention of a separate CEO role, the Act needs to be amended to accommodate this new position.

But why is it needed? Did something happen during the tenure of the last chairman that the minister frowned upon? Is this about the estimated RM6-billion (US$1.7-billion) Universal Service Provision (USP) Fund, and the tenders to carry out the USP projects? Will this responsibility be carved out for the CEO role to oversee? Currently, under the Act, it is the commissioners (board members) who decide on matters realting to the USP.

Or is Ahmad Shabery just taking the opportunity that has presented itself now to separate the two, so that less power is in the hands of one person? And perhaps also to align the MCMC with the Energy Commission and Water Commission, where the roles of chairman and CEO are separated?

Until the minister clears the air, we won't know – and in the meantime, the speculation about why and who will fill the post leaves room for rumour and conjecture, and will be an unnecessary drag on Halim.

Incidentally, in Halim, Ahmad Shabery not only gets a top class technocrat, but also one who has proven himself to be loyal to his minister.

According to a former MCMC executive who worked with Halim before, during his first tenure as chairman, he received a call from the then infamous 'Fourth Floor' of the Prime Minister's Office wanting to see him about a decision the Minister of Water, Energy and Communication (as the Communications and Information Ministry was called then) was about to make.

Halim refused to go meet them behind the minister's back. So, with such an old-school sense of loyalty and service to his minister, why the need to separate the roles?

In the meantime, let us all wish Halim the best of luck in the next two years – and his managers too, since Halim, described as being "mentally tough" by an ex-colleague, was known as a chairman who would still be in the office at 10pm and had no qualms about calling for 8.30pm meetings.
Related Stories:

Halim helms MCMC again, appointment greeted with cautious optimism

Speculation mounts after Sharil's abrupt exit as MCMC head

MCMC a 'toothless tiger' and other Parliament shenanigans

Keep calm and stop spreading hate online, urges MCMC

MCMC fines major telcos RM1.2mil for dropped calls


For more technology news and the latest updates, follow us on Twitter, LinkedIn or Like us on Facebook.
Keyword(s) :
Author Name :