The gathering against MaGIC
By A. Asohan February 28, 2014
Latest news about one-stop entrepreneur centre, including its CEO, causes concern
Having an 'outsider' head MaGIC may be a good thing, but there are still other issues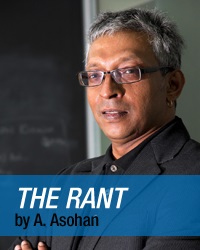 THE news that the Government has identified a chief executive officer for the highly-anticipated Malaysian Global Innovation and Creativity Centre (MaGIC) has been buzzing around for a couple of months now.

The appointment was confirmed earlier this week by Dr Mohd Irwan Serigar Abdullah, the Secretary General of the Treasury at the Ministry of Finance (MoF) who has been championing the centre.

He also confirmed what Digital News Asia (DNA) has been hearing from our sources: That the CEO-to-be is a Malaysian woman who has been working in the United States with a multinational for some years now.

The news, while eagerly-awaited, didn't take the local startup ecosystem by the storm, however. Or if you'd rather, it had a bit of a stormy reception. In the comments section of our story above, many valid concerns were raised by DNA readers.

A common thread was that the CEO should have been from the local pool, someone who knew and could appreciate the idiosyncrasies of the Malaysian ecosystem. There were also a few scratching their heads over the people being invited to sit on the MaGIC board, which included the country managers of US tech multinationals such as Google and Microsoft.

Valid concerns, some frustration, a bit of cheek and quite a bit of cynicism, all populated the comments thread.

I am a weird duck, however. I was quite heartened by the passion of these commentators, and also had to tip my hat off to their insights. All this just goes to show how united we all were on the urgent need to do something, and the need to do it right, when it comes to boosting the startup ecosystem in the country.

Yes, there can be unity in dissent.


I agree with many of the concerns raised, and have some of my own too, but first let me don my angel's advocate hat and try to get behind some of the thinking that may have led to MoF making this decision.

First, the most important consideration should have only been if this lady is the best person for the job. Everything else is secondary. If she has those qualities that are deemed most important to MaGIC's charter and mission, then more power to her. Let her weave her own magic, I say.
Second, while I think that someone from the local startup/ entrepreneur ecosystem could have brought a lot to the table, and would have had a deeper understanding and appreciation of the issues Malaysia faces, I'd also be worried if such a person wouldn't bring some baggage to the role.
As it is, we know that MoF invited locally-based players to apply for the position. A few did, while others declined because they had businesses to run. Even amongst those who did, some declined during the process when they realised the amount of time they would be spending in the role of MaGIC CEO. It's a full-time job, remember.
Of course, one could argue that there are entrepreneurs who have already made it, and who would have the time and other resources to dedicate to the role – people like
JobStreet's Mark Chang
or
MyEG's T.S. Wong
come to mind.
However, I would argue against that because I believe the roles they, and others like them, can play as angel investors and mentors would also bring a lot of value to the ecosystem. And if they did try to do both this and head up MaGIC, a conflict of interest could easily arise.
Also, they've put in their blood, sweat and tears already, and if they decide to ride off into the sunset, I certainly would not hold it against them.
And when you think of it, as head of MaGIC, I expect the CEO would have the full freedom to recruit the right kind of people to the cause, and this should include those more plugged into the local ecosystem – whether as employees or as advisors and board members.
Finally, there's something to be said about getting an outsider in – somebody with no baggage, who doesn't give a damn about sacred cows, and so important in the Malaysian context where business and politics have such an unholy union, somebody with no political connections or considerations that could muddy her role.
So, given all this, I can actually agree with MoF's choice, assuming the considerations above played a part in its selection (and with the caveat that I really don't know who this person is).
But now let me don the other hat, the one belonging to the devil's advocate. I have my own concerns, foremost being the hefty US$21.4 million (RM70 million) that I and my fellow Malaysian tax-payers will be forking out for this venture.
As usual, and we can see that from what happened with the Multimedia Super Corridor (MSC Malaysia) project, we seem to think that bold new ventures require the construction of big, bright new buildings … or massive renovations, at the least. I'd rather more money and effort were spent on getting the right people and getting the processes right.
And speaking about people and processes, how much 'government' is there going to be in MaGIC? One of the problems MDeC faces is that it has to answer to a board made up of civil servants and politicians who have a say even on the people it hires for key positions.
Sure, since the people of Malaysia are bankrolling it, MDeC has to answer to someone who presumably keeps the interests of the people at heart. But especially in the early days, when it was known as MDC, this allegedly led to politically-connected civil servants and academics being 'rewarded' with key executive positions at the agency.
Let's hope MaGIC does not have to go through the same baptism of fire. The CEO must have the autonomy to hire the best people for the job. Accountability should come only in the form of measuring her performance.
There was also an eye-opener in the few details MoF's Irwan shared with the media earlier this week: That MaGIC would have a tech focus.
This is a turnabout, since the original charter was to look at all forms of entrepreneurism – from the fish sellers to the stall owners who wanted to take their business to the next level, whether they used technology or not.
Now, just because DNA is a publication devoted to the tech ecosystem, you may think I would consider this great news, but I don't. After all, we already have agencies and bodies looking into the tech sector, with some – like MDeC – actually focused solely on it.
Do we need yet another agency? Won't there be some overlap? If there was going to be such a tech focus, wouldn't it have made more sense to have expanded MDeC's remit to include what MaGIC is going to be doing, especially since the former already has the experience? Why build a new body from the ground up? And who now is going to be paying attention to non-tech entrepreneurs?
It's early days admittedly, but these and other questions are of great concern to me, to others in the tech ecosystem, and let's face it, to Malaysians as a whole.
Hopefully, when Prime Minister Najib Razak makes the official announcement in April, as he is expected to, he will include details on the CEO's experience; MaGIC's KPIs (key performance indicators) and milestones and how they will be tracked and measured; and also how it will be working with similar agencies and bodies to ensure there is no redundancy or working at cross-purposes.
The best way to counter doubt and cynicism is through open-ness and transparency, I always say.
Related Stories:
CEO chosen, MaGIC to get a dose of Silicon Valley
MaGIC needs right leader to work its magic
Budget 2014: Entrepreneurship and connectivity main focus for tech
GES: Obama's no-show a non-issue
For more technology news and the latest updates, follow us
on Twitter
,
LinkedIn
or Like us on
Facebook
.
Keyword(s) :
Author Name :