Retired execs: A neglected talent pool
By Karamjit Singh September 2, 2013
Startups and mature tech companies ignoring value of retired executives
Vinod Khosla from Silicon Valley feels this is actually the best combination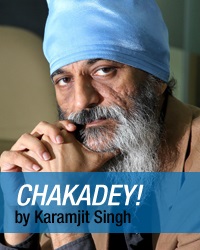 THERE were a number of key points I took away from last week's DNA-TeAM Disrupt panel discussion, captured by A. Asohan in this article.

[The video of the panel discussion is still being edited, but to see it and our previous Disrupt sessions, check out DNA's YouTube channel.]

However the main one was about an aspect that I do not see at all, among not just startups here but also more mature tech companies too. And that is the value of bringing in older hands who may have retired.

They were inelegantly described as 'older farts' by myself but that was just tongue-in-cheek. Throughout my 14 years of covering the tech scene in Malaysia, I have rarely seen entrepreneurs bring in retired people into the company, either formally on their boards or just as advisers.

It is common in the West for startups to have boards which advise them, but in the East, we tend to take the word 'board' too formally, as if boards are only for mature or listed companies. Hence you will not see many startups in the region with boards.

I actually have not seen this at all among the startups here and that is not a good thing as the majority of startups are manned by those below 30 who, I would contend, don't have enough of a network, domain knowledge and leadership skills to fully build a product to take advantage of the opportunity they have identified.

And don't underestimate the value of bringing on board leadership skills. Two entrepreneurs who cashed out of their startup reflected that dealing with the various issues that come from having a team that is mainly in its mid-20s can be emotionally and mentally draining.

This is where someone in their 50s with proven leadership experience can be invaluable.

And it is not just startups that seem blind to the value retired executives can add. Even tech companies which are five to 10 years into their journey and have some level of market success, somehow, do not seem to see the value of bringing in experienced people who are past 55.

Let me clarify. By bringing in, I do not mean hire them. Have them join you in an advisory role first. After they have proven their value to the business and to you, then you can decide how best to get a greater commitment from them.

And having an impressive multinational corporation pedigree is no guarantee that they can deliver value to your business, especially if you are still in startup mode where flux and uncertainty are common.

There are no structures and systems in place, nor is there the bench strength that the experienced people are used to; not even the stability. As Bob Chua, founder of Pulse Group, put it beautifully, "So it's self-belief, confidence, a bit of luck and a bit of BS."

This is where the advisory role is a great starting point for each party to feel the other out.


Thanks to the previously low retirement age of 55 in Malaysia, there are a lot of these experienced hands around. Don't ask me where they are. You're the entrepreneur. Go find them!

And just so you don't think it is cool to add these seasoned professionals to your ranks, listen to what Dhakshinamoorthy 'Dash' Balakrishnan (pic), president of Technopreneurs Association of Malaysia (TeAM) had to say.

"I know older people as seen as somewhat irrelevant in the startup scene but I was in the Silicon Valley two months ago and heard Vinod Khosla speak about this very issue," said Dash, who is also the founder of StartupMalaysia.org.

Apparently Vinod, known as a 'super-angel,' feels that the melding of older experienced guys with the founding team makes for the best combination in startups!

"But the condition is that the older guys do not rule over the younger guys. They have to be speaking on the same terms," Dash said, sharing that he himself has two very experienced people on his board, one a retired partner in a Big Four firm. "They have both been of huge value for us."

So there you have it. Do rethink where your business is at and ask yourself if an 'old fart' can add value anywhere, and go sell them the merits of being on your board.

Even DNA has an experienced hand to advise us. In fact, one investor interested in us was impressed with the advisor we had and even suggested we should add him to our website in the About Us section. We will. Soon!

Related Stories:

Arm yourself with an advisory board
Disrupt: Easier to sell to overseas clients than local ones
Disrupt #10: Getting your foot in the door

Giving our own start-ups a fair shake

TeAM and DNA out to 'Disrupt' the ecosystem

For more technology news and the latest updates, follow @dnewsasia on Twitter or Like us on Facebook.
Keyword(s) :
Author Name :