Mydin IT director confirmed as third panellist for Disrupt #16
By Karamjit Singh March 24, 2014
Retailer Mydin's IT director Malik Murad Ali joins panel
Strong believer in cloud, has grown IT team from 2 to 50 people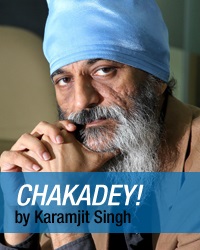 WITH Disrupt #16 two days away, I am pleased to welcome the IT director of homegrown retail giant Mydin Mohamed Holdings Bhd, Malik Murad Ali, to the panel.

Malik joins Dr Mubbashir Iftikhar, chief information officer of KPJ Healthcare Bhd; and Goh Eng Choon, head of IT at Eversendai Corp Bhd as panellists.

The discussion will be around the theme Meet The Buyers, for technology startups and SMBs (small and medium businesses) to better understand the kinds of solutions large enterprises are seeking.

Malik joined Mydin in 2001 and was responsible for setting up the IT department with only two people and growing it to the current 50. With a philosophy of making a difference through technology, he has been driving IT to become a business enabler for Mydin.

With Mydin currently having over 200 outlets throughout Malaysia – comprising hypermarkets, mini-markets (MyMydin), convenience stores (MyMart), bazaars and emporiums -- Malik and his IT department are kept busy.
In addition, Mydin was appointed the operator for the 85 Malaysian Government-initiated Kedai Rakyat1Malaysia (KR1M) outlets in 2012, with another 90 KR1M outlets built in 2013 throughout Malaysia.

Malik's work has seen him recognised with numerous awards, the most recent being the CIO Excellence Award 2013 by the National ICT Association of Malaysia or Pikom.


A strong believer in cloud-based technology and solutions, back in 2011 he had already implemented a cloud-based POS solution, and in an interview with a regional publication was quoted as saying, "cloud technology is the way forward for our company.

"Today, whenever we look at any solution, application or product, the first question asked is whether it has a cloud strategy or platform."

That cloud-based POS was developed by a local software company.

While a US retail body estimates that large retailers spend around 1% of their retail revenue on their IT budget, Malik (pic) wistfully remarks, "I wish it were true." Mydin had US$755 million (RM2.5 billion) in revenue in 2013.

Whatever the size of their IT budgets, come listen to our CIO panellists as they talk about where their companies are heading and the business enhancer role that they expect IT to play.

And learn from them what solutions they are looking for and how you can perhaps solve some of their problems.

The Disrupt session, organised by Digital News Asia (DNA) and the Technopreneurs Association of Malaysia (TeAM), is being held on Wednesday, March 26 at 5.30pm, at the Plug at Plug 'n' Play Technology Garden, 7th Floor, South Tower, Gardens, Mid Valley, Kuala Lumpur.

Admission is free. To make your reservation, click here or on the link below.
Related Stories:

Disrupt #16: Meet the buyers

Disrupt: IoT to be a goldmine for app developers

Disrupt pointers for start-ups in the app economy

TeAM and DNA out to 'Disrupt' the ecosystem


For more technology news and the latest updates, follow us on Twitter, LinkedIn or Like us on Facebook.


Keyword(s) :
Author Name :