Making the right choice for CEO of MyDigital
By Karamjit Singh March 14, 2021
Four candidates submitted, each with their strengths
Strategic Change Management Office to play critical role to ensure MyDigital delivers
In the three weeks since it was announced, the Malaysian Digital Economy Blueprint (MyDigital) has generated a lot of excitement and concern.
The excitement has manifestated in the form of various messaging chat groups formed to discuss MyDigital's many initiatives, three consecutive evenings of discussions with hundreds of ecosystem players involved on Clubhouse - the latest communications platform, media coverage, virtual panels and of course, through social media chatter.
The key concern, especially for ecosystem players familiar, perhaps even jaded, with various national action plans for the country to become a hub for many things – is over execution. It was no surprise that the most respected media voice in the country, financial publication, The Edge Malaysia, ran the headline, MyDigital – A Game Changer, If Well Executed, on its cover. Will we have learnt from the experiences and mistakes of the past to get it right this time?
Will we pick the best executives to lead and manage, measure and maneuver (for surely the plan is not set in stone) MyDigital over the next 10 years so that we can arrive in 2030 as among the leading digital nations in the world? With a government that only delivers services digitally. With companies that have digitally adapted to remain relevant and vibrant. With startups of today becoming tomorrow's successful tech companies. And, with a talent pool that is digitally adept and competent, powering the 5,000 new startups that MyDigital targets to create while attracting global companies to our shores as well.
The talent, the desire and willingness to work with government to make MyDgital a success is absolutely there. It is now a matter of waiting for the leadership team and organization that will oversee the execution of MyDigital to be put into place and start the ball rolling on engaging with the various parties responsible for driving the 48 National and 28 Sectoral Initiatives. It is through these 76 identified initiatives that the rubber hits the road for MyDigital.
And this brings me to the pending appointment of the CEO of the Strategic Change Management Office (SCMO) that is tasked to "Drive changes on the ground across the nation, especially to inculcate a digital and innovative mindset among the rakyat." While this is the only mention of this unit in the MyDigital, plan, it will actually play a key role in ensuring delivery of the outcomes of the plan.
Initially meant to be a special secretariat within the Economic Planning Unit, a consensus emerged during the planning of MyDigital from 2019 to mid-2020, that a specialised and more powerful body would be a better driver of MyDigital to ensure the critical plan is executed well. The EPU proposed this to the Ministry of Finance which has accepted the rationale for a standalone body/agency to oversee MyDigital with an undisclosed budget.
Driving this consensus was the nagging fear that while Malaysia ranks competitively in various global digital and connectivity reports, almost always in the top 33%, the reality was that many countries were showing greater hunger to transition their economies to digital.
The country had to up its pace of adoption across various metrics. It is hoped that MyDigital can provide that optimism and momentum boost. "It is good that the government has come out with this and it's a good plan. But other countries have similar plans," notes the head of a European nation chamber of commerce. Investors will be looking to see how well and how aggressively the government and private sector work together to execute the plan and support each other, he notes.
Now there is criticism that the report, with its three phases, does not reflect this urgency to action and that the report even seemed to be put together hastily.
But that is not the case. Work on MyDigital started in 2019 say some parties that were involved. And infact, MyDigital was due to be launched in June 2020 but was affected by the Covid-19 pandemic and a shaky government that was trying to shore up its position.
With the plan sitting idle for months, towards Dec 2020, the EPU brought in a former senior executive from Pemandu Associates to quickly assess the plan again before it was launched. Apparently minor changes were suggested to keep the plan relevant.
For those not familiar with Pemandu Associates, it started life in 2009 as the Performance Management and Delivery Unit or Pemandu (akin to the Strategic Change Management Office of MyDigital) of the ambitious Government Transformation Programme and Economic Transformation Programme promoted by former Prime Minister Najib Razak, as an anchor piece of his administration's efforts to strengthen the Malaysian economy by dramatically improving the efficiency and effectiveness of both the public and private sector.
Similarities between Pemandu role and SCMO
I definitely see similarities between the role Pemandu played then and the key role this SCMO will play. And, apparently it has already been incorporated as an Sdn Bhd company with its CEO appointment imminent, pending the green light from Prime Minister Muhyiddin Yassin who has just returned from Saudi Arabia. And as newly established news portal, The Vibes recently reported, four names are associated with being in the running.
According to The Vibes, there are two bureaucrats in Anna Amalina Imam Baweh from the Communications and Multimedia Ministry and Fabian Bigar, from the Ministry of Health, one startup entrepreneur turn technocrat, Fadzli Shah Anuar, the chief strategy officer of Malaysia Digital Economy Corporation and seasoned technology entrepreneur, Dr Abu Hasan Ismail, founder and CEO of listed company AwanBiru Technology Bhd (AwanTec).
None of the four candidates have the kind of credentials Idris Jala had when he ran Pemandu after having run the Malaysian operations for Shell and then running national airline, Malaysia Airlines Bhd. Nor do they have the kind of management and leadership track record that Ralph Marshall has, who is the CEO of the 5G special purpose vehicle, Digital Nasional Bhd, whose rollout and operations forms a key backbone pillar for MyDigital but yet is only focused on one of the six key thrusts under MyDigital – Thrust 3: Build Enabling Digital Infrastructure.
I would contend that the CEO of the SCMO will have an even heavier responsibility, so the choice of the four candidates strikes me as being quite lighweight versus the role that they will be entrusted with.
I will share what I know of three of the candidates but not Anna, as I could not find anyone who talk to me about her background and strengths. Of the other three candidates, Abu Hasan and Fadzli, I have interacted with in the past as they are entrepreneurs and I have covered them.
[Ed: Para edited for clarity.]
Pemandu experience stands Fabian in good stead
But I will start with Fabian, who is highly regarded by those he has worked with before during his seven year secondment at Pemandu from 2010-2017.
Apparently, a tech loving geek, Fabian is also said to remain calm under pressure, approachable and works well with others. But the key takeaway about Fabian is that he understands what it takes to drive transformational change.
As one of his ex-colleagues notes, "If Malaysia is to succeed, this has to be done as a transformational initiative. Small tweaks to bring incremental digital improvement will not work because the international competition is stiff."
Two of his ex-colleagues highlight the extensive practical experience in transformation he has during his seven years with Pemandu. This will enable him to contribute significantly. "He knows exactly what it takes to drive large scale transformational and make it work," says one ex-colleague.
His standout performance also saw him promoted to be a Director despite the stiff competition in Pemandu.
While his ex-colleagues' testimonials stand him in good stead, I do wonder if he has the sense of urgency and spirit of doggedness and persistence that all entrepreneurs innately possess. The SCMO cannot succeed if it allows the civil service to dictate the pace of execution of the 48 National Initiatives.
Concerns of conflict of interest cloud strong credentials
Abu Hasan's (pic) nomination is the most intriguing to me, as, on the surface, he has the most to lose if appointed. As the founder/CEO of Awantec, who also recently took up a private placement of 79.6 million shares worth US$6.8 million (RM27.9 million) as he doubles down on his commitment to Awantec. The company has struggled since having its US$850 million (RM3.5 billion) immigration SKIN project cancelled by the previous government in late 2018. Abu Hasan is the driving force of the business.
As stated in its 2020 Annual Report by Interim Chairman, Paul Wan Chan Siew, "I believe our stakeholders are more confident in a Prestariang with Dr Abu at the helm, and the significant injection of cash from him at this juncture demonstrates his continued confidence in the Group and its rebuilding efforts." The company changed its name in Dec 2020 to AwanBiru to reflect its new focus on cloud based services.
Of course those rebuilding efforts received a major boost when Prestariang Systems, a wholly-owned subsidiary of Awantec was appointed one of the three Malaysian companies appointed to be Managed Service Providers as part of the government's aggressive push to move at least 80% of its data storage to the cloud by 2022 with at least 80% of government services to be fully online as well by 2025.
In its statement to Bursa Malaysia, Awantec said the three year contract, from March 2021, is expected to contribute positively to earnings. Incidently, that three year time frame is also how long CEOs of Ministry of Finance incorporated companies are appointed for.
Still, it does not stand to reason that Abu Hasan would agree to be a candidate for the SCMO and step down from his rebuilding role at Awantec – unless he views the chance to shape and accelerate the nation's digital economy as too good an opportunity to pass up on?
Surprisingly some Awantec shareholders seem quite sanguine about the possibility of him leaving. The comments I read on a retail investors forum centred mainly on speculation that this could help run the share price up as the company may be rewarded for his national duty. Clearly those investors were thinking more short term. But if he gets the position, he will be gone for three years. How will his major investors react? What about the analysts who cover Awantec? It seems like Abu Hasan has calculated that the experience will be a plus for him and perhaps his company, down the road.
But if he is appointed, there will be public pressure over the conflict of interest as he has to monitor the progress of Awantec and his partner, Google Cloud in delivering cloud services. And Awantec cannot win any new business from the government that is connected to MyDigital during this CEO tenure. Is he willing to walk away from this opportunity, one that his interim chairman described Awantech as being able to "tap the vast opportunities in the digitalization process in Malaysia".
Having said that, among the four candidates, he clearly has the deepest experience and best relationships working to transform government using technology as Awantec has been engaged with the various government agencies since 2005, either in selling them software licences or helping them upskill through training.
He will know where and who he can push to get more done and he will know how massive the task ahead is and will rally and motivate his team for the tough task ahead.
But the standout trait of Abu Hasan that I like is his willingness to invest in building his own Intellectual Property (IP) and assets. His biggest effort towards this was when he launched his own university in 2013, the University Malaysia of Computer Science and Engineering (UniMY) in Cyberjaya. His dream was for it to grow and become the top supplier of computer engineering, cyber security and analytics talent in the country. He invested over RM20 million into this dream but failed to make it work and sold off the university last year.
These efforts over the years have not been as successful as he wished but it has not deterred him and it has given him a keen understanding of just how difficult it is for local entrepreneurs to build their own IP and assets and how important it is to encourage and support them.
Here, the rolling out of MyDigital will create a lot of opportunities for software and various digital services to be used. I believe Abu Hasan will show a preference to support local made whenever possible and this will benefit our startups and other homegrown tech companies.
The charismatic, young choice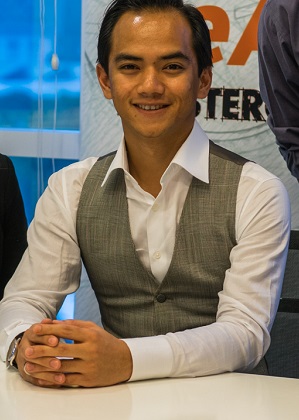 The other interesting candidate in the ring is Fadzli (pic) from MDEC. From the startup world, he burst into the scene as the first winner of a reality venture capital show in 2011 with his startup Voucheres.
He was serving as president of Technopreneurs Association of Malaysia or TeAM before he was brought in by Surina Shukri, MDEC's CEO as among her first senior hires.
With news portal, The Vibes, claiming that Fadzli will be leaving at the end of his contract next month, it naturally raises speculation whether he is confident of being chosen as the SCMO CEO or is he leaving for other opportunities? He did not respond to DNA attempts to seek clarification.
The preferred candidate among some in the startup world, this would be a bold hire as Fadzli has no experience working with the government aside from his two year MDEC stint.
Like Abu, Fadzli will be a champion for promoting the adoption of locally built technology for MyDigital, in fact, as TeAm president he urged for government adopt more locally developed software and services.
He is certainly the most charismatic of the three candidates (remember, I am not able to comment on Anna) and the youngest as well and will prove to be a dynamic champion for the digital economy. His performance at MDEC will probably weigh in heavily as well, being an indication of how he can work in government and bring in the private sector.
The choices are with the Prime Minister now and while the list would have gone to him with a preference for the top candidate and second choice by the EPU, we ultimately don't know who is whispering what into the ears of the Prime Minister. I am sure last second jockeying is going on.
Still, I hope the decision is made solely on the basis of who can do the best job possible. Let's give them full government and private sector support and hold them to high performance levels with no excuses for average performance. Nothing less than 24x7 by 365 commitment is required. The near future competitiveness of Malaysia is at stake.
Keyword(s) :
Author Name :