Ganesh Kumar Bangah joins Disrupt #24: Pay to Play
By Karamjit Singh October 28, 2014
MOL Global CEO to share thoughts on state of e-payments
Panel of two Internet companies, one traditional bank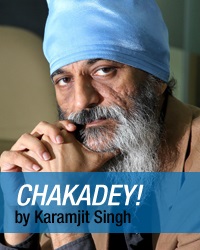 IN a big treat for those attending tomorrow's DNA-TeAM Disrupt session, we are excited to announce that MOL Global chief executive officer Ganesh Kumar Bangah will be our third panellist for our 'Pay to Play' discussion.

With MOL the leading e-payments player in emerging markets, especially Brazil and Turkey, Ganesh will be able to add a wider perspective to the discussion when he joins Chang Chew Soon, founder of Asian mobile payments startup Soft Space International; and traditional banker Victor Khor, executive vice president and head of Group Transaction & Alternate Banking at the Alliance Banking Group.

I am particularly looking forward to the exchanges between Ganesh and Khor, as the former has stated that banks are his biggest threat.

"Competition from banks could come against our MOL Pay, which is our payment platform for e-commerce.

"Today, we sit between the banks and online merchants, and if the banks work very quickly and acquire these online merchants on our behalf or on their own, then they are a threat," he had earlier told Digital News Asia (DNA).


And then came the caveat: "But you know banks are very slow. And this is small business for them," Ganesh (pic) had said.

Khor will certainly have his own thoughts on this and I feel we are in for an exciting sharing session on how the payments sector is doing, and the role banks feel they can play, especially with increasing competing from non-traditional players like Internet companies and telcos.

If you read today's article on Telenor Digital's ambitions in the digital space, including offering financial services, you will see what I mean.

Competition to be the preferred digital payments provider is certainly heating up, and you can catch the ringside action tomorrow. So grab the few tickets that are still left and remember, there is a post-Disrupt networking cocktail session sponsored by Bob Chua of Pulsate Sdn Bhd.

The monthly DNA-TeAM Disrupt panel discussion and networking session is jointly organised by DNA and the Technopreneurs Association of Malaysia (TeAM), with the Malaysian Business Angels Network as the supporting presenter.

Disrupt #24: Pay to Play will be held on Oct 29, from 5.30pm to 6.45pm, at Whisky Tango Foxtrot (Damansara), 2nd Floor, 128b, Jalan Kasah, Damansara Heights, 50490 Kuala Lumpur.

To book your tickets, click below:

Related Stories:
Electronic payments stimulate economic growth in Malaysia: Visa

Mobile penetration vs banking penetration = APAC m-commerce growth: Frost

MOL and Soft Space form mobile payment JV ... for your aunty!

Coda Payments in deals with SEA telcos, expands merchant network

Telr out to transform e-payments in emerging markets

For more technology news and the latest updates, follow @dnewsasia on Twitter or Like us on Facebook.
Keyword(s) :
Author Name :