Disrupt#13: Where are our bumiputera ICT champions?
By Karamjit Singh December 12, 2013
Govt and state tech jobs reserved for bumiputera firms, various initiatives to support them
Odds actually stacked against true bumiputera entrepreneurs, especially in private sector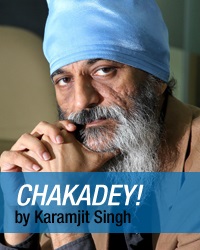 THE 13th DNA-TeAM Disrupt definitely has the potential to be the most spicy and charged topic we have had so far: Bumiputera ICT companies: Why have there not been any breakouts yet?

To make it clear, this is purely an enterprise space issue.

After all, the perception among many Malaysians is that bumiputera tech companies have it easier in competing for federal government and state tech jobs, many which are given to bumiputera companies – never mind that most of the revenue is actually captured by the multinationals that sit in the background supporting them.

And this leads to racial overtones. After all, every non-bumiputera tech entrepreneur who fails will be tempted to think that if he had been a bumiputera, surely he would have succeeded.

Really, though?

Strangely, over my career covering technology since 2000, I can almost make the case that it is actually harder for bumiputera entrepreneurs in the tech space to succeed – the honest and true-blue ones will feel the odds stacked against them because they don't have the connections to lobby and win government tech jobs.

These jobs tend to go to the larger bumiputera companies, especially the listed ones such as Mesiniaga or HeiTech Padu, or to those which have very strong lobbying ability.

For instance, I just wrote about how the first phase of a US$140-million (RM450-million) IT project by the Royal Malaysian Customs Department has apparently been won by Brilliance Information Sdn Bhd.

No, you're not going to see its chief executive officer Salehodin Majid at any industry event though, or making waves with his intention to conquer overseas markets.

In the private sector, and even with some government-linked companies or GLCs, it is even tougher because competition is open and the genuine bumiputera entrepreneur companies suffer from the impression that they can win government jobs and therefore are not taken seriously in the private sector.

Plus, in the private sector, you can see a long-standing trend of ethnic identity playing a role in who wins tech jobs.

But the perception still holds that it is easier for bumiputera ICT firms to succeed, especially with the Malaysian Government almost willing them on to success. For instance, this year saw the formation of the PUsh (Pemangkin Usahawan or Entrepreneur Catalyst) initiative with up to US$24.9 million (RM80 million) in funding available, spread over three years.

It is about upgrading the quality of bumiputera technopreneurs and businesses so that they can compete better, with the focus on encouraging mergers and acquisitions (M&As) between mid-tier companies so that they can become larger companies which can compete in overseas markets.

Hence our question about why there have not been any breakout successes yet among bumiputera ICT companies.

We have two panellists locked in already: The first is Azlan Yaacob, founder of Axile Consulting and deputy president at TeAM (the Technopreneurs' Association of Malaysia).

Azlan is also actively involved in coaching entrepreneurs for Cradle Fund Sdn Bhd, an agency under the Ministry of Finance; EUMCCI (the EU-Malaysia Chamber of Commerce and Industry) and New Entrepreneurs Foundation, or MyNEF, a not-for-profit organisation established by industry players in partnership with the Malaysian Government.

Our second panellist is Farith Rithauddeen, cofounder of the Skali Group, one of the few bumiputera-led tech companies that came up during the first dotcom boom, survived the bust, and went on to win a major portal revamp project from the Government in 2008, which was valued at around US$62.2 million (RM200 million).

We will be adding at least one more panellist by next Wednesday, Dec 18 when DNA-TeAM Disrupt will be held from 4.30pm to 6.30pm at Plug & Play Technology Garden, Level 7, The Gardens South Tower, Mid Valley City.

RSVP here or click on the widget below.

The DNA-TeAM Disrupt series is organised by DNA and TeAM, with support from Plug & Play Technology Garden.

Related Stories:

Malaysia's racial policies rears its head in ICT sector

Push comes to shove, PUsh will fail

MaGIC needs right leader to work its magic

TM in pact with Mentor Niaga to empower Muslim SMEs


For more technology news and the latest updates, follow @dnewsasia on Twitter or Like us on Facebook.


Keyword(s) :
Author Name :