Accounting on the cloud a Sage decision
By Digital News Asia October 8, 2014
Makes business info and financial data accessible anytime, anywhere
30-day trial, and then monthly fee or one-off annual payment at 10% discount
UK-based business management software supplier Sage Software has made the move to cloud accounting with Sage One.

Aimed at making business convenient for small and medium enterprise (SME) owners and accountants, Sage One is an online accounting solution which makes business information and financial data accessible anytime, anywhere, the company said in a statement.

"Sage One caters specially to those who are always on the go and who want information at the fingertips, and in a format that it easy to view at just a glance," said Michael Cho, managing director of the company's Malaysian subsidiary Sage Software Sdn Bhd.

"Sage One gives business owners and accounts complete flexibility to access their business and financial information whenever they want, from wherever they are," he said in announcing local availability.

Sage Software's Kuala Lumpur-based Malaysian outfit was established in 1988, and has grown to have a customer base of over 500,000 users, the company claimed.

Sage Software said its migration towards cloud accounting was based on customer convenience and aiding business growth.

The platform comes built-in with banking features, invoicing and quoting others, allowing users to access business performance information whilst keeping track of customers, suppliers and inventory.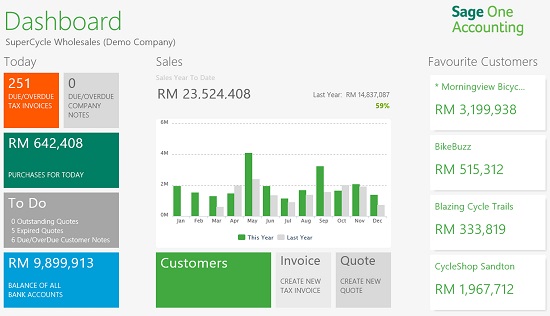 Its 'customer zone' enables a business' customer to view transactions, accept quotes and keep track of statements. With easier means of access, the integrated business product benefits both business owner and customer in everyday transactions, the company claimed.

In addition to accessing Sage One via a desktop, add-ons were developed for the iOs, Android and Windows platforms.

"Sage understands the importance of data security and has been active in taking multiple steps to ensure safety of our products," said Cho.

"We have employed an industry-standard firewall to ensure any possible intrusion. In addition, we utilise SSL security with a 256-bit encryption and data backup.

"Aside from the basic username-password method, data is stored in a managed environment located at a secured and guarded physical location," he said.

Sage Software is offering a 30-day trial, and thereafter a monthly subscription fee or a one-off annual payment that comes with a 10% discount. For more information on Sage One, visit www.sageone.my.

Related Stories:

Finance SSO industry faces talent crunch: ACCA survey

Preferred destination for finance, accounting services

Innovation to determine winners and losers in financial sector


For more technology news and the latest updates, follow us on Twitter, LinkedIn or Like us on Facebook.
Keyword(s) :
Author Name :