Telco Deep Dive: Quarterly report shows Jendela exceeds 2020 targets
By Tan Jee Yee December 23, 2020
Exceeds fibre connectivity target by 123.1%; upgrading base stations target by 100.9%
Targets recognition of telecoms as third utility within 12 months of announcement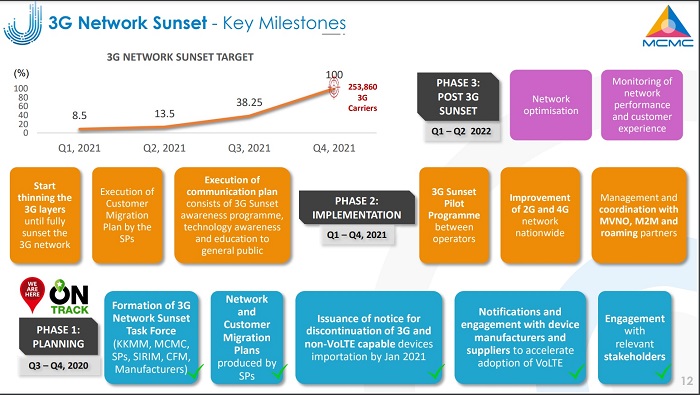 It has been close to four months now since the current Malaysian government announced Jendela, or the National Digital Network, a five-year digital infrastructure plan to ensure that the country meets the needs of digital connectivity and set the groundwork for a gradual transition to 5G technology.
Jendela has two phases. We're currently in Phase 1, which aims to provide 4G mobile coverage from 91.8% to 96.9% in populated areas, as well as increasing mobile broadband speeds from 25Mbps to 35Mbps. Phase 1 also involves the 3G network sunset – the gradual shutting down of 3G in the country.
In Phase 2, set to happen in 2022 and beyond, Jendela aims to utilise FWA (Fixed Wireless Access) and other fit-for-purpose technologies to address further gaps in the digital divide, on top of 5G planning and priming for the nation's infrastructure to be 5G ready.
We're closing in on the first quarter of the plan now, so many are undoubtedly wondering how the plan is unfolding – which is exactly what the recent announcement of the first quarterly report for Jendela set out to do.
As the Malaysian Communications and Multimedia Commission (MCMC) chairman Dr Fadhlullah Suhaimi says during the report's media briefing, the goal of the report is to make Jendela's progress as transparent as possible. "It is to put a bit of fire behind us and the industry to deliver what we set out to," he says.
Did the industry deliver? According to the report, it is a resounding "Yes". For one, the country has surpassed its self-imposed target for 2020 in terms of the number of premises now having internet connection via fibre optic cables.
The target for 2020 was to have 352,101 premises and homes having fibre connectivity – telco firms this year have managed to have 433,477 premises passed with fibre optics as of 16 December, equivalent to 123.1% of the target set.
Mobile connectivity
As for the 2020 target to improve wireless broadband speed for users, the numbers look promising. The aim was to upgrade 16,214 existing base stations at urban and suburban areas – as of 16 December, a total of 16,029 (or 98.9%) were upgraded. However, that the total sites with upgraded equipment is forecasted to reach 16,366 (100.9%) by the end of the year.
As for 4G coverage, Jendela set a target to construct 940 new tower sites in 2020, which fell short. As of 16 December, 746 of the new sites have been completed, with Fadhlullah stating that 875 are forecasted to be completed by year-end. That's 93.1% of the target, with a shortfall of 65 new telecommunications towers.
"Certainly the industry will try to catch up on those numbers moving into 2021," Fadhlullah hopes.
The telco firms listed as falling short of the target are U Mobile, Digi and Celcom. Maxis and Telekom Malaysia (TM) were not listed as they did not face problems in meeting their respective targets.
Reasons for the shortfall include lack of planning and improper execution, on top of state bureaucracy, the speed of approval by the local authorities' level, waiting for site acquisition by state-backed company; and the impact of the conditional movement control order (CMCO) due to the Covid-19 pandemic.
Fascinatingly, Fadhlullah cites public protest as the reason for an expected shortfall of one of the planned towers. Approval by local authorities for these towers would be rescinded whenever there are such protests.
Fadhlullah shared that telcos lagging behind in meeting these targets will not be penalised, as making these shortfalls public is a penalty itself. "This is an effort done by the industry and due to the close working relationship, you realise the problem does not sit with one particular entity," he explains. "The whole value chain needs to be of assistance in being fixed or in being expedited."
For the action plans to close the gap, Fadhlullah says that there will be a detailed analysis of the industry's challenges and close monitoring performance on weekly targets, besides having escalation to State committees on infrastructure or communications as well as other platforms such as the Jendela Steering Committee (JSC) and seeking the minister's intervention for engagement with state government and local authorities.
Telecommunications as utility
Budget 2021, which was tabled in November, has recognised telecommunications as the country's third utility (after water and electricity).
According to Fadhullah, the minister and MCMC have engaged with all head of states in the country on the matter. The states of Melaka, Kedah, Pulau Pinang, Perak and Terengganu have moved into the proposal stage.
Overall, the Jendela report notes that Johor's Menteri Besar, Hasni Mohammad, has recognised telecommunications as the third utility on 26 November 2020. Additionally, MCMC has met with Kedah's EXCO on 9 December to discuss the policies at state level. There has also been a meeting with the Malacca State Government on 14 December 2020 – Fadhullah notes that the state in principle has agreed that telecommunications is part of basic public utility.
Last month, Communications and Multimedia Minister Saifuddin Abdullah stressed that this recognition will help speed up approval and construction of assets, including telecommunication towards, in implementing Jendela.
Fadhullah states that by recognising telecommunications as a third utility, the industry can expedite the expansion of connectivity in rural areas. For one, this ensures telecommunications becomes a prerequisite in every new development alongside water and electricity, so new development in off-city areas will get coverage quickly enough.
At the moment, erecting new telecommunication structures require the approval of local authorities (PBT), which slows down the overall process. There are occasional exceptions – Celcom, for instance, managed to deploy a new mobile tower at Kampung Bukit Petai 7 in Tanah Merah, Kelantan, to address mobile connectivity issues faced by Nurlieda Khaleeda, within a few weeks.
This, Fadhullah explains, is a "shortcutting of an existing process". A long-term solution is needed. "So it's highly significant that we make it a third utility so that approvals are institutionalised and we can get them within the shortest period of time."
MCMC and the Ministry of Communications are targeting to make telecommunications recognised as the third utility within "12 months by the time of announcement." The process can't go speedily, as there are 14 states in Malaysia, each with their own governance. "It's a very stretched target, but a target nonetheless," says Fadhullah, determined that all parties to their very best to make this happen.
The 3G sunset
In August, it was announced that Malaysia is targeting to shut down 3G networks by the end of 2021, in order to improve 4G networks which in turn serve as the foundation for 5G deployment.
So far, 3G network sunset efforts are on track. Phase 1, which involves the planning phase, has already been completed. This began with the formation of the 3G Network Sunset Task Force, leading off to network and customer migration plans produced by service providers.
The task force is set to issue a notice for discontinuation of 3G and non-VoLTE capable devices importation by Jan 2021, on top of providing notifications and engagement with device manufacturers and suppliers to accelerate adoption of VoLTE.
This is because 4G is an all IP (Internet Protocol) network designed for data rather than voice. VoLTE or voice over LTE is the specific layer on which high quality voice calls can be delivered over the 4G network.
Meanwhile, Phase 2, which is the implementation phase of the operation, is set to transpire across the entire 2021, wherein 3G coverage will be thinned out until it is fully shut down. In between that, the operation will see customer migration plans by service providers as well as the execution of communication plans consisting of 3G Sunset awareness programme, technology awareness and education to the general public. For the latter, the public will be made aware of the risks in buying 3G phones as the network will be phased out at end 2021.
The start of 2022 will see Phase 3 of the operation, which will see further network optimisation post sunset and the monitoring of network performance and customer experience.
Fadhullah reiterates that Jendela is not about the expansion of 4G, but preparing the nation for 5G. He notes that 5G networks are already existing in Malaysia, though limited to trial areas. Those with 5G devices and a service SIM card from the service provider conducting the 5G trial will be able to get on board.
Fadhullah adds that the 5G demonstration projects period has been extended to June 2021. Currently, there are 50 5G live sites in six states, which are Selangor, Perak, Penang, Kedah, Pahang and Terengganu; as well as the federal territory of Kuala Lumpur.
When asked if more states could join in the demonstration projects, Fadhullah says that they are "free to come."
"The 5G demonstration projects is not about states, it's about industry. The service provider is ready to go anywhere. The states, if interested, are free to come," he says.
"At the end of the day, the use of 5G would actually increase the premium for investments in a particular state."
For more information on Jendela as well as the report, visit myjendela.my.
Keyword(s) :
Author Name :