Sunway launches ground-breaking 42KL with goal of producing quality talent
By Digital News Asia July 23, 2020
Coding school with zero tuition, zero teachers & non-traditional classrooms
Collaboration between Sunway Group, MDEC, partners such as CIMB, DHL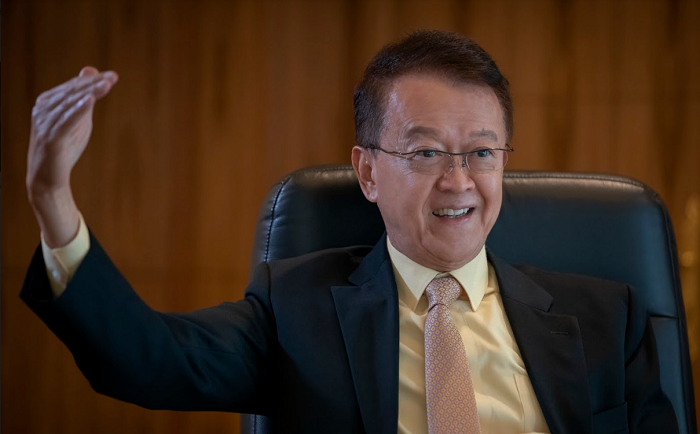 The ground-breaking French founded coding school, Ecole 42 (Ecole is French for 'school') was launched in Kuala Lumpur today by Malaysian Minister of Multimedia and Communications Saifuddin Abdullah.
Sunway Education Group, the education arm of conglomerate Sunway Group, is the country partner for Ecole 42, launching the innovative campus, 42KL during a virtual launch this evening.
Saifuddin congratulated Sunway Group on another milestone towards the nation's development. "This is indeed a brilliant idea of a new methodology, system and new approach to education. We are facing a very fast changing geopolitical world with fast changing technology that is inevitable and which we have to embrace to benefit from," the minister said.
"Because we have to face new kinds of jobs and new kinds of environments, education has to move in response, with 42KL a movement in the right direction," he adds.
The Malaysian campus of 42 is situated within the FutureX building in Sunway City and will operate with 42's innovative model in a collaboration between Sunway Education Group, Sunway iLabs and Malaysian Digital Economy Corporation (MDEC). Anchor partners that have signed up thus far include Sunway Group, CIMB, Roland Berger, DHL, Huawei, and Carsome.
The first 42 campus was established in Paris, France in 2013, and the second in Silicon Valley, the US in 2017. The 42 campus in Sunway City Kuala Lumpur comes on the heels of the recently launched 42Bangkok in March.
42 is a ground-breaking coding school with a disruptive educational model as it has zero tuition fees, zero teachers and zero traditional classrooms.
It is the first in the world to offer peer-to-peer learning and is completely merit-based. The only requirement is that students must be at least 18 years old.
Focusing on project-based learning imitating real-world work, the school encourages students to learn time management and build conceptual frameworks that can be applied to industry challenges and problem statements.
This is via peer-to-peer learning where students are responsible for their own success and the whole programme is gamified, where progress is accounted for using experience points through the completion of each project.
In his address, Sunway Group founder and chairman Dr Jeffrey Cheah said the Group looks forward to contributing and helping the nation to overcome the challenges in an era of rapid changes, by producing quality talents relevant to various industries.
"42KL will help lay the foundation for Malaysia to become the leading digital economy in ASEAN. The venture also testifies to our commitment to the 17 Sustainable Development Goals adopted by the United Nations. We recognise that realising the SDGs is not the responsibility of governments alone. It requires the commitment of all sectors of society -- the private sector, academia, civil society, and, of course, every single individual," said Cheah.
"The partnership between Sunway's educational institutions, MDEC, industry players and Ecole 42 serves as an excellent example of this philosophy," he adds.
Surina Shukri, chief executive officer, MDEC, shared, "The entry of 42KL is a welcome addition to our vibrant digital talent development ecosystem as it will certainly unearth more high potential Malaysian tech talent and groom them to become world-class developers and tech entrepreneurs while making Malaysia the digital workforce hub for the region."
The Ambassador of France to Malaysia Frederic Laplanche and the managing director of Ecole 42 Sophie Viger, also delivered a special address at the virtual launch with Matt van Leeuwen ,Sunway Group Chief Innovation Officer and Sunway iLabs Director, introducing 42KL.
This was followed by a panel session and a fireside chat. The panel session was helmed by Olivier Crouzet, Ecole 42 Director of Pedagogy, Hamidah Naziadin, CIMB Group chief people officer, Dr Elizabeth Lee, Sunway Education Group Chief Executive Officer and Surina.
The fireside chat with 42 Paris alumnus was a discussion on an alumni's experience as a 42 student, his learning experience as well as advice for incoming students.
Interested candidates can visit https://42kl.edu.my/ for enrollment and more detailed information. 42KL is also seeking to bring in more industry partners interested in developing and recruiting Malaysia's best tech talent.
How 42KL Application and Admission Process Works for its 1st Nov intake
There are no minimum entry requirements except students are to be 18 years old and above.
All applicants will sit for an online test before 450 of them are selected to enter what 42KL called "The Pool".
"The Pool" students will undergo an on-site assessment for four weeks.
The final 150 students will be chosen to embark on Levels 1 to 7 for the core curriculum stage, lasting approximately 12 months. After Level 7, the students will do an industry placement for 3-6 months with one of 42KL's partner companies to apply the skills they have developed during the core curriculum.
Thereafter, these students can either choose to get employed or go back to the 42KL campus to continue their studies with Levels 8 to 21 for the specialisation stage, lasting approximately another 24 months.
After Level 21, they will enter the workforce upon graduation where their acquired technical and soft skills will make them suitable for any role.
Keyword(s) :
Author Name :