Malaysia Tech Month 2020 aims to raise nation's digital tech ecosystem profile, globally
By Tan Jee Yee November 10, 2020
Kicks off with launch day conference featuring global and local tech ecosystem leaders
Campaign serves as overarching umbrella platform for rich variety of Nov tech events
The Malaysia Tech Month 2020 (MTM 2020) officially opens its doors today, and does so with a resounding boom. The month-long campaign, organised by the Malaysia Digital Economy Corporation (MDEC) with the aim to showcase the nation's digital and technology ecosystem, kicked-off with a two-day conference.
After an opening address by MDEC chief executive officer (CEO) Surina Shukri, the conference started proper with Alexander Stubb, former Finland Prime Minister and former Vice President of European Investment Bank, who talked about how the year 2021 will serve as the 'great reset'.
Stubb headlines a line-up of international speakers and panellists that include Randi Zuckerberg, former Head of Marketing, Facebook and founder of Zuckerberg Media; ZOOM CIO Harry D Moseley; and Taavi Kotka, Entrepreneur and former Chief Information Officer of Estonia.
The conference is also packed with Malaysia's tech ecosystem leaders, sharing their views, including the likes of Catcha Group cofounder and CEO Patrick Grove; Inmagine cofounder and CEO Stephanie Sitt; Aerodyne Group CEO and founder Kamarul Muhamed and Soft Space CEO Joel Tay.
"We started today on a high note, a good note. I am very, very humbled by the response that we have gotten so far – humbled by the speakers who have accepted our invitation," says MDEC chief marketing officer Raymond Siva (pic).
"My expectation is that we want our digital and tech industry to share the challenges, their success and their innovations that they have faced and developed over the last couple of years, especially over the last six months. We want them to inspire the next generation of digital and tech entrepreneurs to learn from their experiences."
Focusing on Malaysia's digital ecosystem
Billed as the capstone campaign for MDEC, MTM 2020 aims to emphasise and fortify Malaysia's role in expanding the digital economy and its first-mover position in ASEAN, while drawing attention to the country's readiness in leveraging opportunities that the Fourth Industrial Revolution (4IR) will spur and inspire.
An expansion of Malaysia Tech Week, MTM 2020 will provide a platform for wide-ranging array of events, highlighting multiple collaborations with industry partners that are taking place throughout November.
The campaign serves as an overarching umbrella platform for all Malaysian digital and tech industry events in November. The launch day conference, today, is just the beginning – MTM 2020's partner events include Wild Digital Southeast Asia 2020: Virtual Edition; MyDroneTech Fest KL; MyDroneTech Fest Roundtable; State of the Global Islamic Economy 2020/21 Launch; LEVEL UP KL 2020: SEA Game Awards 2020; and LEVEL UP KL 2020: Play Day.
MTM 2020 was conceived when MDEC noticed several standalone events occurring in November. "We looked at the content that was out there, and instead of having various smaller events or standalone events, we felt that we had an opportunity to curate all these great events that are happening," Raymond says.
"It allows people to focus fully on what Malaysia's digital tech ecosystem has to offer. We've seen the interest from industry, as well as regional interest coming in, to look at the sheer diversity of solutions and passion that is coming out from our digital tech ecosystem."
Sparing no efforts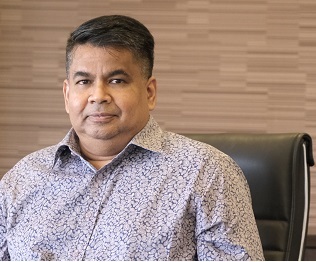 MTM 2020 comes as relevant for Malaysia, which is placing growing emphasis on the digital economy. According to the Department of Statistics, Malaysia's digital economy is expected to contribute 20% of the economy by 2020.
It's already en route to achieve that easily, as Malaysia's digital economy contributed 19.1% to the national economy in 2019, up from 18.7% in 2018. This year, the e-commerce sector will lead the charge as it is expected to exceed RM110 billion in revenue in that same period. This roughly equals to 40% of the nation's digital economy.
Meanwhile, MDEC Chairman Rais Hussin (pic), shares: "MTM 2020 will support Malaysia's Shared Prosperity ambition as the digital economy continues to show tremendous potential for equitable opportunities. Beyond strengthening the confidence of our country as a compelling digital and tech investment hub for Southeast Asia, MTM 2020 enables us to further our collective goals in building a 4IR-ready workforce and widen our efforts to drive forward border-spanning innovations."
He adds that in bringing together inspiring leaders and innovators to showcase Malaysia's best, MDEC will continue to "stimulate the growth of 4IR technologies, like artificial intelligence (AI), robotics and the Internet of Things (IoT)."
"All these, and so many more high-tech innovations, will act as the catalysing shifts for user consumption, lifestyle changes and workspace optimisation," he notes.
Adding to this, Surina says: "We are sparing no efforts to ensure digital technologies remain central to Malaysia's socio-economic growth in this new norm. To achieve this, we must also ensure that the initiatives – both current and upcoming – are relevant to the needs of startups and SMEs. They must start to think regional and then go global."
MTM 2020, she says, serves as a strategic extension of the Malaysian government's continued push to develop and sustain a vibrant digital economy.
Siva says that MDEC is hoping MTM 2020 to be an annual event. Expanding the Malaysia Tech Week into a month is, in part, a response to the many changes brought on by the Covid-19 pandemic.
"In this unprecedented year, we should try and do something different – something bigger and better. We want to provide really good value to the business community, especially the startups and scaleups that are looking for ideas, tips, innovations and inspirations to address challenges posed by the new normal," he explains.
"As my chairman says, in unprecedented times, we cannot keep doing precedented things. So I hope that in the next two days, and the entire month, there will be so much sharing, so much information that our industry can take and learn from.
Related Stories :
Keyword(s) :
Author Name :