Facebook Malaysia expands its office and commitments, but puts no dollar value to its investments
By Tan Jee Yee May 29, 2019
Fast Forward Together initiative to grow local SME, community
Next Terragraph trial set to be in Cyberjaya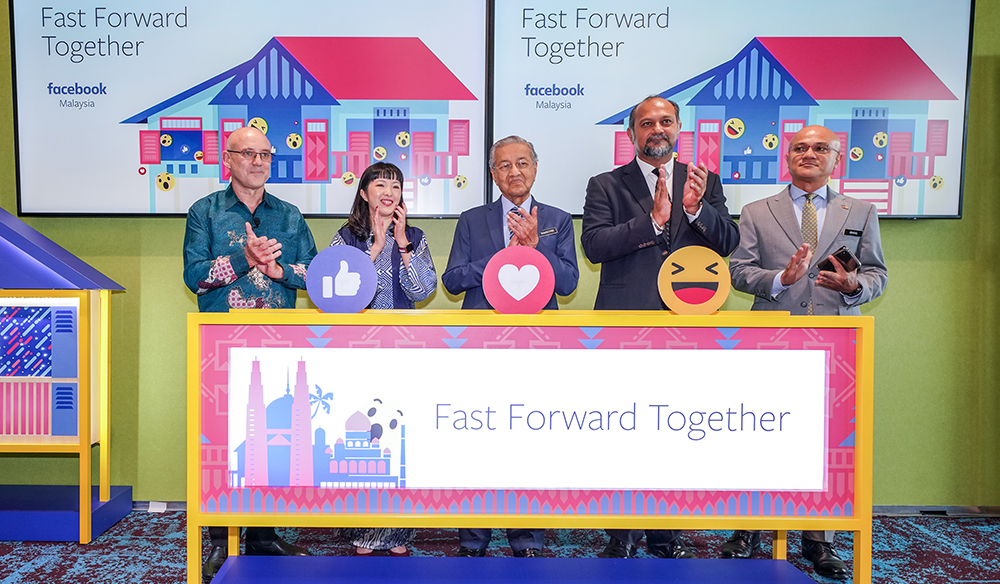 FACEBOOK Malaysia on May 28 celebrated the opening of its new expanded office space in Kuala Lumpur. It is, as expected of an internet company's office space, decked out with niceties that range from a "secret room" (behind a sliding cabinet) containing video game arcade machines to local interpretive art as wall décor.
And while the new space exudes that New Office Smell, it also brings with it new investments into local programmes for Malaysians. However it did not put a dollar value to the investments, both new and current.
During the opening, Facebook Malaysia announced Fast Forward Together, a long-term initiative which they say is to "support Malaysia's on-going efforts to progress in its digital-focused economic development path."
With it, Facebook Malaysia will be concentrating on programmes focused on three areas: helping Malaysian businesses grow locally and internationally; enabling improved internet connectivity; and supporting community building efforts.
"The opening of Facebook Malaysia's new expanded office reaffirms the nation's commitment to ensure that our people are communicating and staying connected. In building a new Malaysia. We are on a mission to build, rebuild and reinforce our position as a nation of strength, integrity and commerce where prosperity is shared and growth is accelerated," said Prime Minister Dr Mahathir Mohamad, who officiated at the opening.
"We are committed to working with companies like Facebook to move forward our digital economy and help Malaysian businesses grow into global brands and to also continue to build a safe online environment for all people. I believe that Facebook Malaysia's Fast Forward Together initiative will help support Malaysia's efforts to progress in its digital economic development path."
"Malaysia is an important country"
In her speech, Facebook Malaysia's country director Nicole Tan said: "Malaysia is an important country to Facebook, contributing to our continued growth in Asia Pacific, where we see over 23 million Malaysians on our platform every month, connecting with family, friends, businesses, and communities.
"The country's economy is in the midst of a societal and digital transformation, coupled with a tremendous push for industrial growth, technological innovation, and entrepreneurship. It is exciting to be a part of this, and we are investing in our partners, programmes, opportunities and people that are helping us create a positive impact in their communities,"
Reiterating the social network's initiatives, Tan highlights the ways Facebook Malaysia is helping local businesses grow. This includes the Made by Malaysia, Loved by the World initiative, in which Facebook, in partnership with Martrade and Avana (a Malaysian-based regional social eCommerce platform), has equipped more than 1,000 businesses across seven cities in Malaysia with the tools to export their products as well as online capabilities to grow beyond local borders.
Then there's Blueprint, an initiative offering free education to help entrepreneurs and marketers get acquainted with marketing across Facebook's family of apps and services. Tan noted that 58% of total course enrolments in Malaysia are taken by SMEs, with more than 51,000 people currently registered with Blueprint.
Facebook has also partnered with MDEC for the e-Usahawan programme, which provides coaching support to produce up to 100 Blueprint Associate Certified trainers in 2019.
Investments into infrastructure and community
Tan adds that Facebook Malaysia will be continuing investments into infrastructure and connectivity technology to help the growth of local businesses and communities. For this, she points towards the first large-scale Terragraph market pilot launch in Georgetown earlier this year.
The Terragraph network consists of 400 nodes installed throughout the Penang heritage zone, connecting 100 businesses with broadband at fibre-level speeds. The network also includes 50 public Wifi locations. The project is being run in collaboration with YTL.
Tan says that they are scaling Terragraph technology trial in Malaysia in collaboration with another local service provider, which will not include the provision of Wifi, fixed wireless access and smart city applications and services.
This upcoming trial, she says, will take place in Cyberjaya, and can be expected within 2019.
Tan also talked about Facebook Malaysia's plans at supporting community building in the country.
This includes the Facebook Community Leadership Circle Programme, which aims to empower and support Facebook community leaders to foster and strengthen Facebook Groups. The programme is expected to launch in KL by the end of 2019.
Another programme we can expect this year is We Think Digital, which aims to offer digital literacy resources designed to help people think critically and share thoughtfully online. Just two weeks ago, Facebook Malaysia launched Why Am I Seeing This, which is aimed at helping users better understand and control what they are seeing from friends, Pages and Groups in their News Feed.
Cooperation in community standards
In his speech, Mahathir noted that businesses can take opportunities with Facebook's programmes to grow their reach.
"For SMEs, it can be exciting to have thousands of 'friends' on Facebook driving lots of extra traffic to your website or retail locations. It is interesting to note that in 2016, some 18 million Malaysians were active on Facebook monthly. That translates to about 81% of Malaysians on the Internet," he says.
"Amazingly, 94% of Malaysians discover products and brands on Facebook and significantly, 62% make a purchase after discovery. As of March 2019, the numbers have increased to 26 million Malaysians that were active on Facebook. SMEs can take this opportunity to further expand their businesses online and to penetrate the global market successfully"
Still, the premier noted that social media can also be used for malicious activities, and that there needs to be limits to one's actions online.
"While Malaysia advocates for a free and open internet, this has to be within the ambit of our laws, and cannot be unfettered. The rule of thumb is simple - what is illegal offline is almost always illegal online," he says. "Freedom of speech is not a license to abuse, it is a responsibility. Freedom of speech without any concern for good human behaviour would be a disaster for any society."
He adds that another area for stronger cooperation with parties like Facebook would be in Community Standards Enforcement Report.
"While there is some form of recognition of hate speech, there are other forms of speech that may potentially be a threat to a nation's harmony and national security. The diversity in culture and tradition translates to very different consequences and implications in speech and postings. If not taken down quickly, such speech and postings are potentially harmful depending on what is being said and in the context of a particular country," he warns.
He recognises that social media providers are doing their best to find automated ways to search and filter inappropriate posts, especially those related to child pornography, terrorism and hate speech.
"The challenge now is to address the diverse spectrum and other UGC (User Generated Content) in relating to religious sensitivity, political speech, sedition and even human rights issues, to name a few."
Related Stories :
Keyword(s) :
Author Name :