Tune Protect launches digitally-based insurance products
By Tan Jee Yee May 25, 2021
Home Easy touted as cheapest online home insurance in the market
Includes complimentary benefits; stackable top up add-ons for additional coverage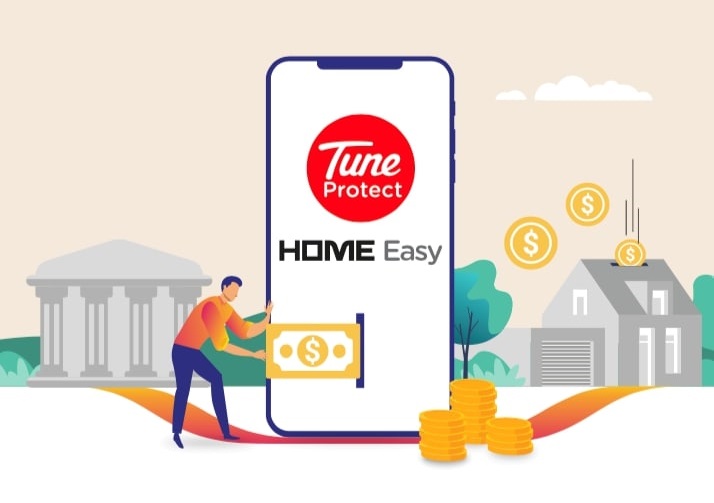 TUNE Protect Malaysia has launched Home Easy and Home Shield, a house owner and house holder insurance providing coverage for residential buildings and home content against loss or damage due to fire, lightning, explosions, flood, or burst pipe, among others.
Tune Protect touts Home Easy as the cheapest online home insurance policy in the market, which offers more than 40% savings in premium presently.
Tune Protect is confident enough with their lowest price claim that they are launching a lowest price guarantee campaign, which the company said will "make good the difference" if a customer finds a cheaper quote in the market from now until Aug 31.
However, there are terms and conditions set for this guarantee and they can be found here.
Home Easy is available for purchase online whilst Tune Protect's agents will assist in the purchase of Home Shield. According to the company, both home insurance products offer attractive savings in premium compared to the tariff rate. The other provides greater flexibility to homeowners to tailor their plan with optional add-ons to meet their individual needs.
There will also be complimentary benefits which that reimbursement of water bill due to burst water pipe, and a personal liability insurance coverage of up to US$60,366 (RM250,000) if customers opt for both the house owner and house holder coverage for their homes.
[RM1 = US$0.241]
"Buying a new home is exciting. However, with the steady increase in house prices coupled with the effects of the pandemic on personal budgets, customers have become more price sensitive and will value any opportunity for savings," said Willaim Foo, chief executive officer of Tune Protect Malaysia, during the virtual launch event.
"We are disrupting the market to be the insurance partner that provides the much-needed home protection at a fraction of the cost."
Strong potential
The company claimed Home Easy is Malaysia's first online home insurance product that can be purchased through its website or the Tune Protect mobile application. There are benefits to buying online – customers get an additional 15% direct rebate on premium and can earn five BIG Reward Points for every RM1 premium for redemption.
Home Shield, on the other hand, is distributed via Tune Protect Malaysia's widespread agency network nationwide. By purchasing through the company's agents, customers will get a safety net benefit – a 10% financial buffer in addition to the total sum insured of the residential building for the house owner.
Customers can also stack additional top up packs to tailor their own protection needs. The top up packs include Landlord Insurance, Mortgage Loan Protection, Home Care and Smart Home Devices Protection.
According to Foo, there are currently 5.8 million residential properties in Malaysia, which he said represents a big bulk of the existing market and potential for Tune Protect's home insurance products.
Citing the 2020 Asia-Pacific Outlook study by Ernst & Young, Foo claimed that 94% of millennials in Malaysia indicated their intent to buy a home in the next five years, reflecting a promising opportunity for Tune Protect Malaysia to extend its reach.
Rohit Nambiar, group CEO of Tune Protect (pic), said that they will be exploring and releasing more insurance products within the health, lifestyle and SME segments, adding that they are set to launch "a couple of" health products in Malaysia, as well as some propositions within the lifestyle space.
Tune Protect is also in the process of launching a critical illness product in Thailand. In the lifestyle space, it is also launching pet health and pet travel products in the UAE.
"Across the three pillars, over the next six months, you will see a lot of new products and propositions hitting the market," he said.
"But it's not limited to just products and proposition. We will following three concepts: our price will be the cheapest, if not one of the cheapest; our products will be stackable, which means we give you choice and our products will be multi-channel, so you can purchase depending on your choice.
"And finally, our products will be digitally administered, so you can be serviced digitally, and we will launch new waves to be serviced as well," he said.
Related Stories :
Keyword(s) :
Author Name :