TM Future Skills Programme collaborates with Bangsar/Pudu for 21-school pilot
By Digital News Asia June 25, 2020
Provides students, teachers with TM 3Ducation 3D printing module, TM Nano Maker
Reaching out to 21 schools in Bangsar/Pudu area under district education office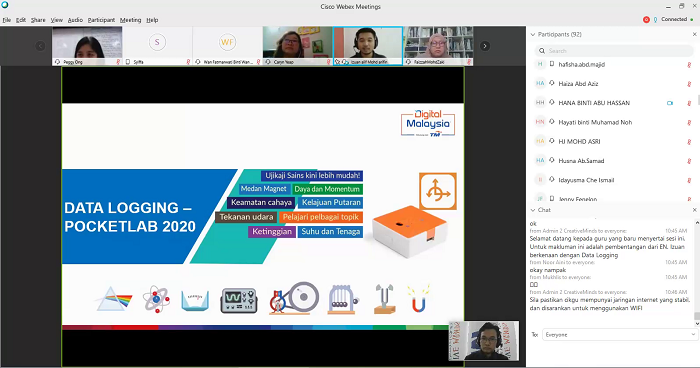 The TM Future Skills programme is an initiative of Telekom Malaysia's that aims to empower students by equipping them and teachers with Industrial Revolution 4.0 (IR4.0)-centric kits and knowledge, such as the TM 3Ducation 3D printing module and the TM Nano Maker, a real-time data logging tool for STEM subjects.
TM's tertiary education arm, Multimedia University (MMU) will also provide its expertise in design thinking, prototyping and fundamentals to IR4.0.
These benefits are now being extended to more students and teachers. TM announced that it is collaborating with Bangsar/Pudu District education Office (PPDBP) for the implementation of TM Future Skills to schools under their care. The collaboration was formalised in a document exchange ceremony involving TM, MMU and PPDBP held recently.
Through the collaboration, TM is reaching out to 21 schools in the Bangsar/Pudu area under PPDBP and empower the teachers as well as students of the schools with the TM 3Ducation 3D printing module, TM Nano Maker Kit, design thinking and other IR4.0-centric skills and knowledge.
Besides MMU, TM also works with its Corporate Responsibility (CR) innovation partner, Creative Minds to deliver the programme to participants.
"At TM Group, we believe in lifelong learning and work together to achieve this. As part of its CR, TM has been continuously implementing programmes for students at Secondary and Primary levels to prepare them for their higher education, especially in STEM-related courses," says Izlyn Ramli, vice president, Group Brand and Communication for TM.
"As a key enabler, TM has always been an avid supporter for innovation and technology in Education; which started back in 2014 with the introduction of coding language to its adopted schools through its TM Robotics Programme. In 2016, we extended the benefits to more schools through TM 3Ducation, followed by the TM Nano Maker Kit Programme in 2018," she adds.
As MMU is part of the partnership, teachers at the schools in Bangsar/Pudu area under the programme will be exposed to the practice of design thinking, prototyping and components that are fundamental to IR4.0.
"MMU offers a wide range of studies in line with the needs of STEM fields which include Engineering, Multimedia Creative, Applied Sciences, Information Sciences and more. So our fellow academicians can have hands-on experiences of these fundamentals which they can bring back to their respective schools for students to adopt in preparation for IR4.0," Izyln explains.
"For students from low-income households, our Yayasan Telekom Malaysia (YTM) is also here to offer financial assistance in the form of scholarships to eligible students."
During the movement control order (MCO) period in Malaysia, in which schools are yet to be fully opened to students, the TM Future Skills utilised an online platform to deliver the programme content to teachers.
The programme is currently being conducted via e-courses and e-workshops utilising online productivity tools for secondary and primary teachers. More than 80 teachers attended each e-workshop session.
With the reopening of schools on 24 June 2020, 12 selected schools in Bangsar and Pudu received 50 sets of 3D printed face shields, demonstrating the usage of TM 3Ducation 3D printing module which is an element of the TM Future Skills programme.
Keyword(s) :
Author Name :