Jendela's quarterly report shows progress, improvements: MCMC
By Tan Jee Yee April 7, 2021
Jendela is "on track" in home fibres passed, wider 4G deployment and 3G sunseting
Disparity in telco cost of doing business in each state; more efforts to streamline cost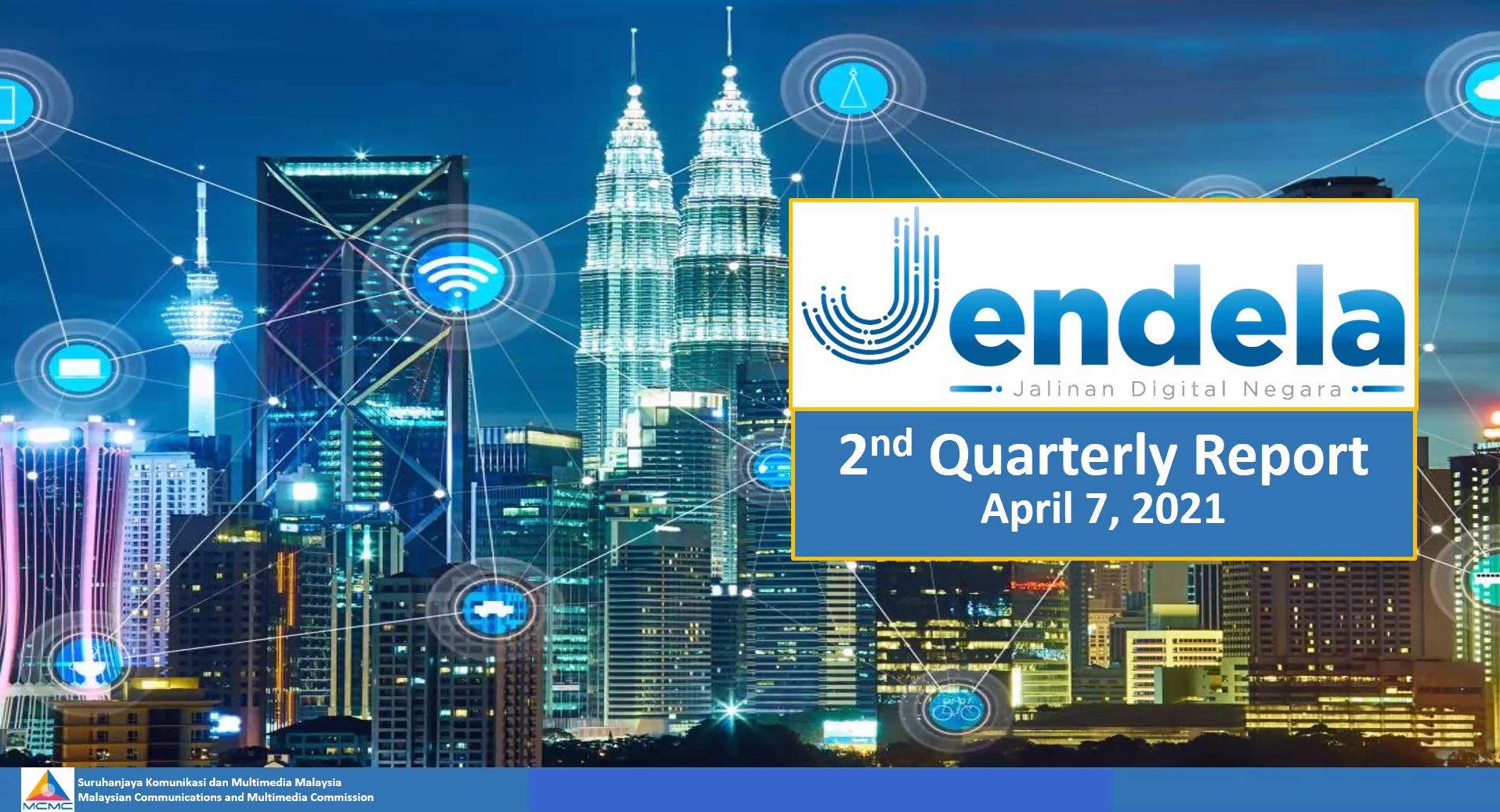 THE Malaysian national digital infrastructure plan (Jendela) is said to be on track and progressing towards setting the groundwork for 5G technology with improvements shown across the board, according to the Malaysian Communication and Multimedia Commission (MCMC).
Speaking to the media on to announced is second quarter report, MCMC chairman Dr Fadhlullah Suhaimi said the targets for each phase has not changed except for one: that of expediting the planning and implementation of the 5G network for commercialisation, previously slated for Phase 2, to begin in Phase 1 instead.
The first Jendela quarterly report revealed last December indicated that the the plan, announced by the Malaysian government last year, has exceeded its 2020 targets. Jendela has two phases, with Phase 1 running from 2020 until 2022, while Phase 2 starting from 2022 onwards.
Fadhlullah said thanks to the efforts of the telco industry together with other stakeholders, the commercial availability of 5G will begin by the end of 2021 as announced by Malaysian prime minister Muhyiddin Yassin on Feb 19.
He added that beyond the 5G rollout, there is much planned for 2021.
The targeted projects in 2021 include the fiberisation of 1,245,452 premises and homes and the upgrading a total of 12,499 from existing 2G/ 3G base stations to 4G equipment in order to expand and improve 4G coverage.
There are also plans to introduce 193 new 4G sites, as well as satellite connectivity at 839 locations to improve mobile coverage in remote areas. The 3G network sunset will also be completed by 2021.
"Going into 2022, we have already tendered 1,661 locations for new towers to provide 4G network coverage. Evaluation is being undertaken and we hope to see it being implemented in Q3 this year," Fadhlullah said.
On track
For fibre connectivity, 5.414 million premises were passed in Dec 2020. This number has increased to 5.707 million as of March 31, Fadhlullah said. Mobile broadband speeds have remained mostly the same (25.6Mbps, as opposed to 25Mbps), but 4G coverage has now increased to 93.51% of the population from 92.03%.
"We are on track," the MCMC chairman said.
Fadhlullah added that from a KPI standpoint of premises passed, operators have hit 132% of its planned target for Q1 of 2021. As for new 4G sites, operators have achieved 116% of their target, with U Mobile seeing a significant increase. Overall, Fadhlullah said every operator is on track to complete its 2021 targets.
The new quarterly report also delved into the cost of doing business in Malaysian in terms of setting up and running tower structures. Fadhlullah said this is where investment into commercial areas have "hit a bit of a bump."
He said there are noticeably large disparities in the cost of deploying a new tower in each state, and the cost for renewal for existing towers. For instance, it costs US$9,110 (RM37,600) to deploy a new tower in Sarawak, compared to US$2,083 (RM8,600) in Selangor.
[RM1 = US$0.242]
At the same time, the cost of renewal could be as high as RM18,000 per year in Johor, making it the state with the highest total cost in Malaysia.
Fadhlullah noted that while the cost of a tower is the same, the difference in deployment costs lies in logistics, as deploying a tower in a remote area would cost higher.
Also, different states have different approval costs, with each state making its own decisions based on pre-set criteria decided by the state's own local authorities, likening it to how different states have different quit rent rates, he added.
According to Fadhulllah, MCMC is on a mission to lower these cost figures and make them more consistent.
He said some states have reduced the cost of doing business once they become aware of the differences in the charges.
For instance, the approval cost of a tower and rooftop structure in Terengganu was at a higher level but after some discussions, the state authorities decided to reduce the cost, he explained.
Conceding that to get all states to reduce the costs or to streamline will not be easy as each state would have to consider their own impact revenues, Fadhlullah said.
But MCMC will continue to engage with state authorities and track these figures, he stressed.
3G sunset, third utility
On the network sunseting of 3G technology, Fadhlullah says that telcos have successfully moved 629,018 (commercial) customers from 3G into 4G networks in Q1 of 2021 (as of February 28), which is above the targeted 562,490 target for the quarter.
Some 20,492 3G carriers were also switched off in the quarter, above the 19,607 target, he added.
MCMC forecasted that some 732,652 customers would be migrated by the end of the quarter (March 31). Each telco reported that they are happy with the progress of expanding 4G coverage in primarily 3G areas, with the adoption of 4G and VoLTE (Voice over LTE) being faster than planned.
In his briefing, Fadhlullah also touched on overall network complaints. In Q4 of 2020, MCMC recorded a significant drop in complaints – 28,577 complaints as opposed to 59,738 in Q3 of 2020.
However, the number has risen to 54,538 in Q1 of 2021.
Fadhlullah noted that this could be due to the second movement control order (MCO2.0) that was enacted during the period, forcing people to stay home.
"Network management is going to be a challenge when the population moves in droves into a given area," Fadhlullah explained.
In the previous Jendela report, Fadhlullah said efforts to recognise telecommunications as the country's third utility (after water and electricity) is underway.
Of the states that are doing so, Fadhlullah said that there is a new inclusion as Terengganu now joins Penang, Melaka, Perak, Pahang and Sarawak in adopting telecommunications as a third utility.
Fadhlullah said the process isn't simple as each state and local government have their own bylaws, which meant that discussions would have to take into account of various individual factors unique to each state.
"It's not so simple; we work within what we can. It takes a bit of time," Fadhlullah said.
Related Stories :
Keyword(s) :
Author Name :