Exabytes, Penang govt partner to boost youth digitalisation skills
By Digital News Asia May 25, 2021
Programme provides skill knowledge on domain setup, web hosting, VPS
Allocated budget of US$120K, covers digital solution, products, services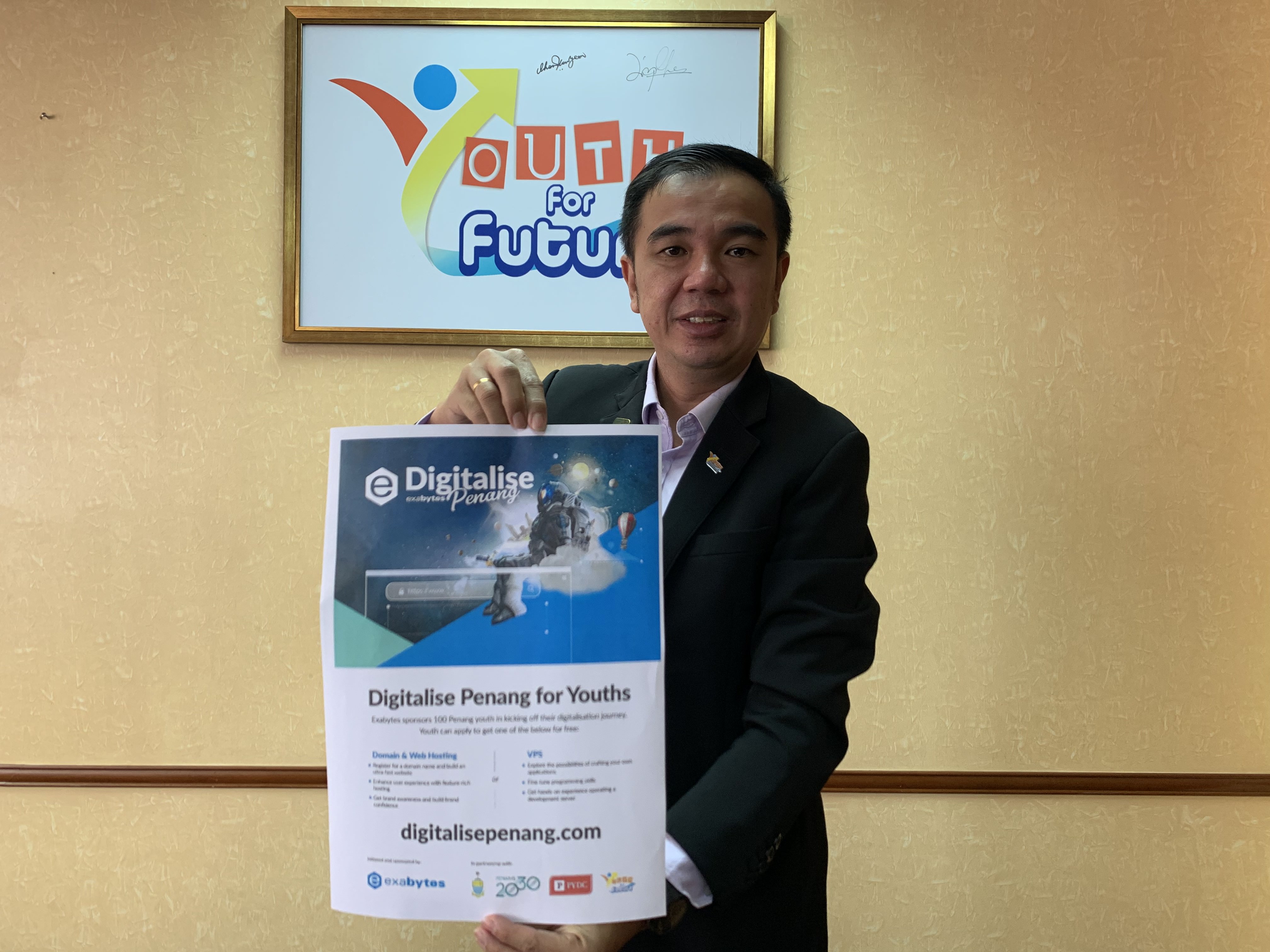 CLOUD and digital solutions provider Exabytes Network Sdn Bhd, the Penang state government and the Penang Youth Development Cooperation (PYDC), have launched the Digitalise Penang for Youth Programme.
The initiative is aimed at providing youth between the ages of 15 and 35 relevant digitalisation skills to thrive in the digital economy, including setting up domains, web hosting, VPS (virtual private server) and others.
In a statement, Exabytes said the knowledge obtained will be hopefully used to help participants set up their own online business or fine-tune their programming capabilities for their tech industry careers.
The programme begins with teaching domain setup, marked as a first step in building an online identity, allowing the youth to own a domain name of their choice. Subsequently, web hosting plan allows participants to experiment with building their online presence by developing their own website and online store.
Lastly, VPS serves as a tool for the youths to create and host their own codes, in order to run a development server that could hone their programming skills on top of experimenting with different programming languages.
"Exabytes has allocated a budget of RM500,000 (US$120,724) in terms of digital solution products and services to launch Digitalise Penang for Youth to create opportunities for youths to grow digitally and kick-off their digitalisation dreams," said Chan Kee Siak, founder and chief executive officer of Exabytes (pic).
"This initiative is a step forward in our effort to empower digitalisation among Malaysian youth and give them opportunities to grow digitally and to leave a meaningful footprint in the industry."
Chan said the Digitalise Penang for Youth programme is also critical in supporting the Penang tech industry as well as promoting healthy time management among Malaysian youth during the Covid-19 pandemic.
The rollout of this initiative is described as the start of a concerted approach by the state government to assist and support the community via new job creation and opportunities. It also serves to nurture the e-commerce and tech industry in Malaysia.
Soon Lip Chee, Penang state executive councillor (EXCO) for youth and sports (pic, top), said: "This pandemic has led to an inevitable surge to adopt digital technologies and at the same time speed up the rate of digitalisation within just a very short period of time.
"As such, our youth especially needs to adapt to this change of environment quickly to encourage growth and remain resilient throughout this tough time where little is known on when this war against Covid-19 will be won.
"Besides, this programme is also in line with the Penang 2030 vision by fostering a digital community in Malaysia''.
The youth will have access to the sponsored programmes for one year but the caveat is that the campaign will only run until year-end or until the quota is reached, whichever comes first.
For more information on this digitalisation programme and enrolment details, visit here.
Related Stories :
Keyword(s) :
Author Name :