Brought to you by SAP Malaysia
Empowering customers to 'RISE with SAP'
By Digital News Asia July 9, 2021
Significantly lower total cost of ownership, more innovation for the business, more speed
Cloud applications supporting best practices, business process intelligence to analyse processes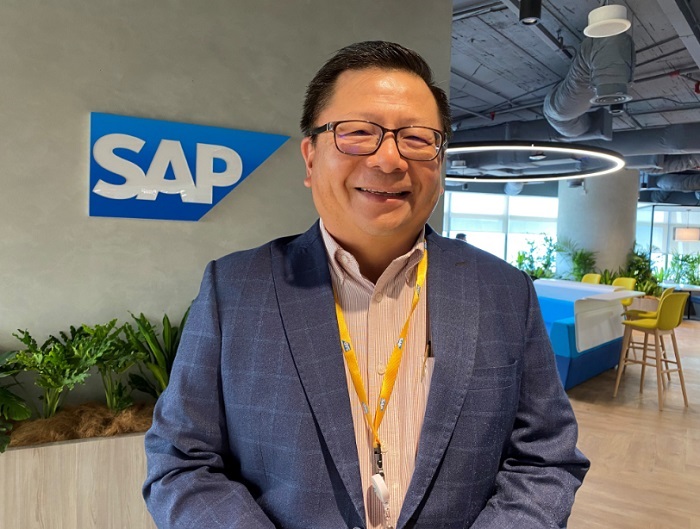 At the recent international SAP SAPPHIRE NOW 2021 event, the world's largest enterprise applications provider introduced the 'RISE with SAP transformation packages for specific industries'.
Its global press release said that this initiative builds on the successful introduction of the RISE with SAP offering in January 2021.
"The RISE with SAP packages for specific industries provides business transformation as a service with five initial industry-tailored cloud solutions for retail, consumer products, automotive, utilities and industrial machinery and components," said the release.
So what exactly is RISE with SAP?
SAP Malaysia managing director Hong Kok Cheong (pic) described RISE with SAP as "our approach to pave your way to run as an intelligent enterprise with SAP S/4HANA Cloud, connectivity to SAP Business Network, access to the SAP Business Technology Platform, and a selection of industry cloud solutions for your core business – all wrapped up in a single package with business process insights and technical migration tools."
"The benefits you can expect include significantly lower total cost of ownership (TCO), more innovation for your business, more speed and agility, and seamless collaboration with suppliers, customers, and service providers," added Hong.
This stems from the reality that, as digital transformation has become mission-critical to most businesses, more companies are choosing to run enterprise computing in the cloud.
"While many small and midsize enterprises have already taken this step, it's a journey for large enterprises running multiple enterprise resource planning (ERP) systems and a wide range of additional enterprise applications," said Hong.
Via 'RISE with SAP', Hong noted, customers get everything they need to simplify their transformation journeys – all in one bundle – and without high upfront investments.
"SAP will work with customers to manage their entire business transformation process, including service-level agreements, operations, and dealing with any issues that may arise," assured Hong.
'Transformation as a Service'
RISE with SAP is essentially 'business transformation as a service' to motivate, accelerate, and simplify the transition to the intelligent suite and SAP Business Network.
"Customers' main focus, inevitably, is always directed to their core businesses, which is defined by the industry – or industries – they operate in. After all, that's where they compete for market share, win and retain customers, and develop new business opportunities and business models," said Hong.
"Given disruption and the constant changing economic environment, businesses can no longer afford to sit still. Instead, they need to optimise business and operational models and do something different to be successful in the future."
Transformation is more than a technical migration, according to Hong. "It requires a redesign of business processes, and new technologies that unlock new ways of running the business and staying ahead of competitors.
"That's where our industry value advisors come in to develop a joint vision of the future and guide customers on their transformation journeys to achieve maximum business outcomes using this 'vision-to-value' method," said Hong.
"This method is supported by a tool set with industry best practices, benchmarking, and value management tools. Our business process intelligence tools offer the insights and a common language to design core business processes of the future."
In other words, RISE with SAP offers customers a holistic on-your-terms and on-your-timeline transformation into an intelligent enterprise.
Organisations can remove complexity with simplified engagements and guided business transformation journeys, enabling them to go where their businesses need to go.
"SAP offers a faster time to premier value, and the flexibility that organisations need without a high up-front investment. RISE with SAP is what businesses need for holistic transformation – all in one place," said Hong.
"SAP's industry cloud is the open innovation space for SAP, our partners, and customers to create and adopt industry best – and next – practices, supported by cloud applications that use the intelligent technologies of SAP Business Technology Platform," said Hong.
"RISE with SAP with flexible offerings are aimed at addressing specific business needs: cloud applications supporting best practices, business process intelligence to analyse and optimise business processes, and services to design and execute transformation programmes."
SAP's commitment to supporting every customer become a 'best-run business'
With SAP being at the forefront of 25 various industries worldwide, Hong said that SAP can help local businesses – especially small and midmarket businesses – learn from larger enterprises such as making their supply chain process shorter and more effective.
"SAP is committed to supporting every customer to become a best-run business. Together, we help the world run better and improve people's lives," said Hong.
He also emphasised that 'best-run businesses are intelligent enterprises'.
"Intelligent enterprises apply advanced technologies and best practices within agile, integrated business processes to become more resilient, profitable and sustainable, said Hong.
Here in Malaysia, a number of SAP customers have already successfully embarked on their respective transformation journeys towards becoming intelligent enterprises.
They include utility companies like Sarawak Energy and Sabah Electricity, property developers like the Mah Sing Group, and visionary banking and financial services institutions like Bank Islam Malaysia.
Keyword(s) :
Author Name :