Avast targets SEA consumers, SMBs and apps for growth
By Keith Liu June 23, 2015
Aims to raise regional PC installed base to global average of 30%
Leveraging on large user base to generate new income streams
PRAGUE, Czech Republic-headquartered Avast Software wants the world to know that it is the top dog in the antivirus market – for consumer PCs, at least.

It's a fact that may surprise some people, especially here in Asia, but the maker of the free antivirus software avast! has the largest market share in the consumer PC space (including both paid and free licences), and 230 million installations across PCs, tablets and smartphones.

Avast claims that these refer to actual installations and not multiple seat licences, which in many cases result in a smaller number of installations.

The January 2015 report from independent number cruncher Statista, for one, shows that Avast pips Microsoft Corp for first place in the Windows desktop market with 21.4% market share, as seen in the chart below:
That base has grown very quickly recently. Out of that 230 million installations, 30 million of those were installed in 2014 alone, helping the company rake in revenue of US$217 million, a growth of 51% year-on-year.

But that's not enough for Avast chief executive officer Vince Steckler (pic below). Speaking to Digital News Asia (DNA) in Singapore during a recent media tour of the region, Steckler admitted that despite owning about a third of the antivirus installations for Windows PCs in markets outside China, South-East Asia has seen a far smaller takeup, with just 7-8% in Singapore and 10-12% in other parts of Asia.
"What we'd really like to do is really bring South-East Asia up to our global average, which is roughly 30%, [with] Singapore quadrupling, and Vietnam [growing by] 2.5 times," Steckler said, adding that it plans to achieve this within the next two to three years.

That however, doesn't mean that Avast will start up new offices or invest in a lot more manpower in this region.

"We run an Internet business model. We don't need local staff to really drive the installed base," he said.

"The reason why you have local staff is because [security] companies had a very traditional way of doing business – you had resellers and retailers, you needed a big organisation to step that up.

"But it's a very expensive business model – that's what the Internet and mobile ecosystems have disrupted," he added.

So how then is Avast planning to grow its share?

"It's fundamentally [by] being a bit more noisier with the user base, to encourage them to recommend the product to their families and friends, along with keeping the product quality up," said Steckler.

"Beyond that, there is no magic to it.

"We haven't gone off and worked with download sites in the region, we haven't done much to encourage product recommendations here, we haven't done much to work with bloggers and press here, so [we're] starting up those activities," he added.

Driving up that installed base is key, since the company's model is about offering a free product and then converting free users to paid licences in order to generate revenue.

But that model is also fast changing, as income from Google to install the Chrome browser as part of the standard installation process, as well as monetisation revenue from cleaning and removing browser hijackers, begin to overshadow Avast's traditional revenue stream.

"If you look at five years ago, 100% of our consumer revenue came from people moving from the free to the paid [version]," said Steckler.

"Now it's around 60%, and 40% is from using the free security product as a platform to make money in other ways," he added.

That (privacy protected) platform includes using the big data gleaned from its installed base to identify emerging trends amongst users, such as browsing habits and top search terms (see charts below, click to enlarge), which would provide monetisation opportunities for Avast.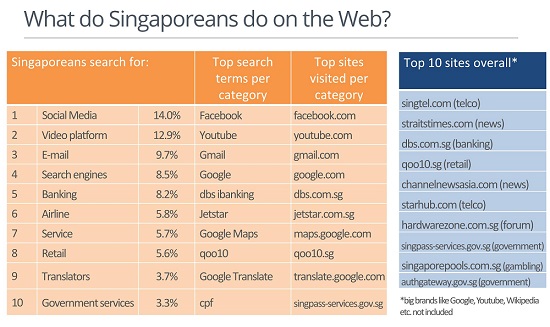 "It grows much faster, every month year it becomes a larger part of our business and that is the long-term focus," said Steckler.

Freemium ≠ low quality

Part of that focus is on increasing the size of that platform – in other words, increasing the usage of the software.

This also puts pressure on the company to deliver a compelling application, since 'freemium' (free + premium) software is generally reviled for being a severely impaired version of the paid product.

Steckler countered, "People won't use a product just because it's free, at least on the scale that they use ours, so we've always positioned our free product as at least as capable, if not more capable than our competitors' paid offering, and that, I think, has really driven the installed base.

"Our philosophy has always been the full-featured product for free – and yes we add some extra things to the paid product, but they're not in malware protection. There's no malware protection difference between our free product and our paid product," he added.

Avast now wants to apply that same philosophy to its mobile apps as well as products targeted at small and medium businesses (SMBs).

In February, Avast joined the (small) ranks of vendors offering free antivirus software for commercial usage (including Comodo and Immunet) to launch Avast for Business, a solution for SMBs that comes with an unlimited number of device installations and no time limits.

Not surprisingly, it signed up more than 100,000 customers in over three months.

Steckler identified SMB companies with between 10 and 15 users as the 'sweet spot' for this solution, and nothing more than 100 users, since that would be moving into the enterprise security category.

"We are not an enterprise [security] company, we don't intend to be an enterprise company ... because the enterprise needs a much larger infrastructure and ecosystem.

"You need highly-paid deal sales-people, VAR (value-added reseller) partners that add big value, a big tech support staff to go onsite to troubleshoot, 24x7 phone support – all those things are expensive," Steckler maintained, adding that such resources would drain the profits from the company.

"And we're a traditional business in that sense – we'd like to make a profit," he quipped.

The other relatively new area for Avast is in mobile, primarily the iOS and Android platforms.

The challenge however, is to be able to stand out among the hundreds of utility apps that offer security and performance enhancement functionality, such as antivirus, anti-malware, memory and storage clean-up, battery life improvement, anti-theft and data protection.


With the May 2015 launch of the Avast SecureMe for iOS and Apple Watch, as well as the Android-based Avast Battery Saver and GrimeFighter (pic), the company realised that the field is so crowded that even well-known antivirus brands need to take extra steps to rise to the top of the app heap.

Steckler is hoping to leverage his current users to do just that.

"When we release a new product, we push it through the Windows installed base. That drives sufficient downloads and high ratings to move it from the bottom of the category to one of the Top 2 or 3 in the category," he said.

More importantly, he believes that mobile platform owners like Google need to make the upgrade process from free to paid a lot easier, since only 7% of users actually complete the purchase cycle on mobile, compared with 25-30% on PCs.

In this business, where hundreds of thousands of downloads happen every day, each percentage point change in that conversion rate translates to a huge number for the company's topline.

Related Stories:

Poor security awareness amongst Mac, smartphone and tablet users: Survey

SMBs coming round to IT security: Symantec

Fake antivirus invading app stores: Kaspersky

4 out 5 apps are scanning your location: McAfee


For more technology news and the latest updates, follow us on Twitter, LinkedIn or Like us on Facebook.
Keyword(s) :
Author Name :