Week in Review: Diversity our strength, contradiction our weakness
By A. Asohan April 25, 2014
MaGIC opens this weekend, in time for Obama's visit
Launch highlights what's wrong, and right, in Malaysia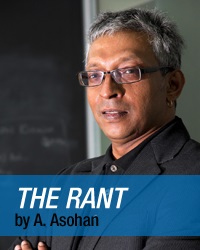 MALAYSIA'S a funny old country, really.

On April 26, we play host to US President Barrack Obama, the first time we have hosted a sitting US president since Lyndon B. Johnson in 1966, according to US Embassy officials.

The last time Obama said anything about Malaysian Prime Minister Najib Razak, it was to praise him as an example of a modern, moderate Muslim leader. Little did he know that in the intervening months, Malaysia would become the first country in the world to outlaw the use of the word 'Allah' by non-Muslims.

Not bad for a secular country. Even Islamic states have not barred non-Muslims from a word that predates Islam itself. The excuse by domestic political and religious leaders that such use would only 'confuse' the Muslim majority population certainly sends out the wrong signals about the average IQ of Malaysians.

Meanwhile, one Opposition politician is going to be jailed for alleged sodomy after what can only be described as the fastest judicial review in the East; and another, Karpal Singh, was convicted of sedition for basically pointing out what is already enshrined in the Federal Constitution.

Karpal, a beacon of democracy and a true people's champion, passed away recently in a road accident, but his family has vowed to fight to clear his name.

All these moves to establish the hardline Islamic credentials of the ruling administration, highlighting the lack of democratic process in the country, are leading up to what promises to be the most important announcement for the technology ecosystem in the country: The launch of the Malaysian Global Innovation Centre (MaGIC).

Ironic, really, since MaGIC itself was born out of Obama's own initiatives to engage the Muslim world via entrepreneurship. It was announced at the Fourth Global Entrepreneurship Summit (GES) last October, which Obama was supposed to have attended but had to cancel because of the US Government shutdown.

Indeed, the official launch of MaGIC was scheduled to coincide with Obama's visit, and may be the only bright point of his tour: He can genuinely praise it without having to tread carefully between the reality of what is happening in Malaysia, and the need to deepen trade and bilateral ties between the two countries.

I myself may not be sure what MaGIC's charter really is, when shorn of its public relations and marketing chatter, but I was reassured somewhat after hearing its newly-appointed chief executive officer Cheryl Yeoh speak at the DNA-TeAM Disrupt panel discussion earlier this week.

Only seven days into her role, Yeoh was invited at the last minute. She apparently had had a previous engagement but rescheduled that so that she could go to the ground and network with actual entrepreneurs in Malaysia.

While I may be unsure of what role MaGIC is really going to play, the fact that it is supposed to be a 'global innovation centre' means Yeoh will have her work cut out for her. While she may be able to spearhead new and exciting initiatives, she won't be able to address the systemic and institutional failures in the country. That is beyond her scope and her remit.

But they really are what's holding us back. To have a vibrant tech ecosystem, you need a dynamic academia on board. Hard to do in a country where appointments in tertiary institutes are largely predicated on how loyal one is to the ruling regime, or where university students are barred from any kind of political activity because they're only supposed to study hard and listen to their elders.

We won't even bring up damning levels of corruption or the terrifying levels of crime in the country, which would only discourage foreign investment and interest from plugging into our ecosystem. Nobody feels safe investing in a country where political know-who can be more important than technical or business know-how.

It can be quite depressing, really.

But it was also at the same Disrupt panel discussion where Malaysia showed its greatest strength. It was quite heartening to hear the vibrant discussion between the panellists and the audience on a range of issues. There was consensus on some issues, but also differences of opinion on many others – but all equally valid and impassioned.

We must be doing something right. Yeoh, who made it as an entrepreneur in the United States but came back because she appears to want to do something more meaningful with her life, proudly declared that she is Malaysian through and through, and that her entrepreneurial spirit was a product of Malaysia.

Her fellow panellist Aaron Gill, head of products at soaring startup MyTeksi, proudly proclaimed that he is "truly, truly a product of the Malaysian ecosystem," while the introverted Azrul Rahim, who last year sold his truly made-in-Malaysia JomSocial solution to a US company, is coming out of his 'techie shell' to engage with and give back to the ecosystem both as a role model, and as an investor in venture capital firm 8Capita.

That panel discussion was a perfect microcosm of what can be best about Malaysia: Multicultural and multiracial, diverse views but singular purpose.

The Malaysian ecosystem can certainly teach a thing or two to our political leaders about how differences in opinion do not equate to dissent, that there's a difference between diversity and contradiction. The first is our greatest strength, the second our most damning weakness.

Editor's Picks:
Cradle moves to clean up processes after Auditor General's report

Disrupt: Heartfelt lessons, honesty and founder war stories

Singapore's US$96mil bid to address Series A crunch

PlaTCOM to 'unleash' innovation among SMEs

All KPJ hospitals to be on the cloud by end-2015

Malaysia to step up green agenda

Digital Malaysia announces two new initiatives

Previous Instalments:
Week in Review: MaGIC will enrich our ecosystem

Week in Review: A home run missed by GrabTaxi
Week in Review: DNA's exclusive with Mr Dell himself
Week in Review: Growing the ecosystem, one exit at a time

Week in Review: Investors ask the wrong question

For more technology news and the latest updates, follow us on Twitter, LinkedIn or Like us on Facebook.
Keyword(s) :
Author Name :