GTC 2018: Nvidia's bet on AI, machine learning paying off
By Edwin Yapp April 24, 2018
Bolstered by soaring stock, AI, autonomous vehicles, Nvidia expects growth to continue
Some analysts are bullish, while another warns of regulation, competition to Nvidia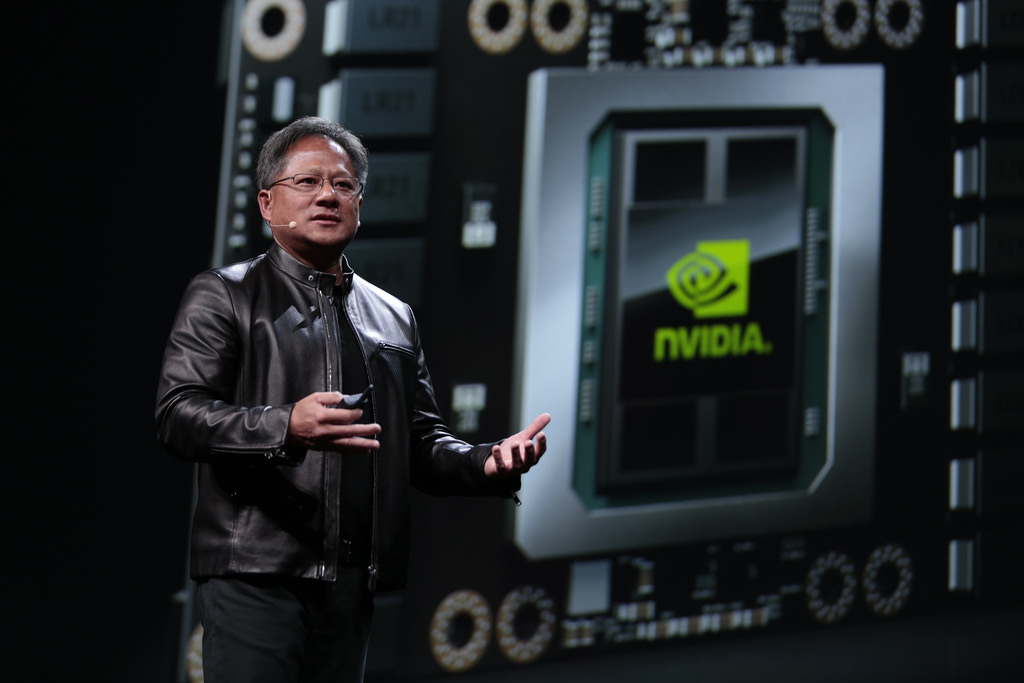 IT WAS close to 4pm at the Hilton San Jose, California, when Jensen (Jen-Hsun) Huang causally strode into the room full of journalists awaiting his arrival from Las Vegas on the third day of GTC 2018.
Dressed in his trademark black jeans, black polo-T, sequined-lace moccasins and draped in his signature motorbike leather jacket, the chief executive officer (CEO) of Nvidia Corp arrived quietly from back of the hall, with a microphone in one hand, ready to field questions from about 80 journalists, including this writer.
All had gathered and were looking forward to getting new insights on Nvidia, a company Huang co-founded with Chris Malachowsky and Curtis Priem in 1993, and which has been one of the darlings of the Nasdaq in the last two years.
So why was Huang flying in from Las Vegas when he should presumably have been in San Jose for his own annual GTC conference for partners, developers, media and analysts?
Simply because the Nvidia chief executive had to make an 800km trip to the Sands Convention Centre in Las Vegas to appear at one of its partner's – Adobe Systems Inc – ongoing annual conference sessions in the same week as GTC 2018 only to fly back to attend his own global press conference.
"Are you really here, Jensen, or is this a virtual reality (VR) of yourself,?" asks one journalist when Huang took the podium at the press briefing. "Yes, this is a VR of myself!," he quips, to the laughter of all in the room.
But as jovial as Huang was, the hour that followed was anything but. The affable 54-year-old technologist fielded a wide continuum of questions from journalists, taking it all in stride.
Huang aims to push the envelope with the crown jewels of Nvidia: Graphic Processing Units, or GPUs – specialised semiconductor chips used in everything from real time, high-end ray tracing, artificial intelligence and deep learning – to new heights in data centre technology.
READ ALSO: GTC 2018: Nvidia aims to leverage on AI, machine learning
Huang says Nvidia isn't new to making transformational changes. In fact, he shares that his company began pivoting away from being purely a graphics card designer and producer to what he says Nvidia is today, a "computing architecture and software company."
Sharing the stage in Las Vegas with Adobe's chairman Shantanu Narayen, Huang reminisces back to the days when Nvidia was just a small company compared to the many neighbouring giants and asked, along with his co-founders, 'What do we need to do to stay alive? How can we reinvent ourselves?'
"There were two things that happened. We decided that we would expand our computing to simulate the laws of physics because that's the only way to create reality," he explains. "That expansion allowed us to go into high performance scientific computing which led ultimately to AI and machine learning.
"The second investment we made was by observing how a new model for software, which we call deep learning and AI, was going to change the way people approach software.
"Just as we [are beginning to] create companies that no humans can create, we thought that we could create software that no humans can create," he shares. "And so that observation was a great one. So seven years ago, we took the company and we pivoted into AI and the rest is history."
Not done yet
The reinvention of Nvidia is lighting up the industry. From a company standpoint, Nvidia's stock has climbed some sevenfold from a mere US$30 (RM119) range in 2016 to about US$236 (RM919) today, effectively giving it a market capitalisation of about US$139 billion (RM541.47 billion) at the time of writing. (US$1 = RM3.895)
Its most recent Q4 earnings report ending January 2018 clocked US$2.91 billion in revenue, up 34% from US$2.17 billion a year earlier; it is also up 10% from US$2.64 billion in the previous quarter. For the full fiscal 2018, revenue was US$9.71 billion, up 41% from US$6.91 billion a year earlier.
And Huang hasn't finished with this reinvention of Nvidia yet, something that was plain to see as he still exudes the passion of a CEO half his age – a trait you'll find more in hot startups in Silicon Valley rather than in a company that is 25 years old.
Spending about two-and-a-half hours at his keynote, Huang struck a balance between being the visionary that he has come to be known as in Silicon Valley and the consummate professional salesman, straddling the stage and urging his audience to chant a catchphrase for GTC 2018: "The more you buy, the more you save!"
Indeed much was expected of Huang at GTC 2018 with everyone wondering whether he would announce a brand new flagship chip like he did last year at GTC 2017, where he unveiled the Nvidia Volta GPU to the world.
Alas, Huang did not and instead only made a number of announcements that centred on improving its current lineup.
READ ALSO: GTC 2018: Nvidia burnishes its AI credentials with new line up
Analysts weigh in
Still, the lack of such an announcement didn't dampen the enthusiasm shown by the close to 9,000 plus audience who were attending GTC 2018.
And although Huang did not bring in a new chip, one analyst was still impressed with what Huang did introduce – systems that build on an already great GPU in the form of the Volta introduced last year.
Writing in ZDNet, Constellation Research analyst Doug Henschen said he was "blown away" by the number and range of sessions Nvidia had on AI, including demos and applications in evidence at GTC 2018.
"Yes, it's an Nvidia event and GPUs were the ever-present enabler behind the scenes. But the focus of GTC and of Nvidia is clearly on easing the path to development and operationalisation of applications harnessing deep learning, high-performance computing, accelerated analytics, virtual and augmented reality, and state-of-the art rendering, imaging, or geospatial analysis," he wrote.
And in a commentary for the Motley Fool, analyst Leo Sun believes Nvidia could eclipse Intel Corp in terms of value in the future.
The future is for Nvidia's taking and Huang knows this. Even as this story is being written, investment bank Morgan Stanley has upgraded its stock target for Nvidia, betting on its dominant position in GPUs, of which demand is set to increase thereby favouring the chipmaker.
However, research firm Gartner believes that there are still challenges for Nvidia going forward.
In a research note, Gartner acknowledged that GPUs provide a good, readily available solution to the current demands of a number of data centre workloads, especially in AI, simulation and analytics.
"But as the use of data centre workload accelerators for AI grows, it will attract (and already has) the attention of other semiconductor vendors looking for a new business opportunity."
Also, Gartner notes that as the AI market matures and the focus of AI developments shifts from training neural networks to deploying them for inference, the initial demand for high-performance parallel processing solutions may decline with a shift to using alternate compute solutions for the deployment phase.
Lastly, regulation in the field of AI could also dampen the industry as a whole.
"The AI market is still at a very early stage of development, and the market currently is unregulated. As the use of AI becomes more prevalent and pervasive, there is a risk that governments will seek to regulate the market to ensure appropriate levels of responsibility and control are in place," the research note added.
Next page: Only limited by the laws of physics
Keyword(s) :
Author Name :