Week in Review: Lessons in spectrum refarming and e-commerce
By Karamjit Singh February 19, 2016
As Japanese players struggle, a leading Indonesian retailer goes online
Singapore shows Malaysia how spectrum allocation should be executed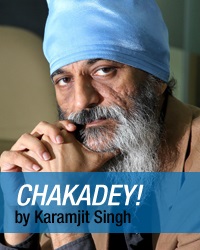 E-COMMERCE stays on my radar again this week after I wrote in last week's column about how in Indonesia, market leader Lazada is facing its first serious competitor in the form of the country's largest conglomerate Lippo Group, through its MatahariMall.

This week, it's more about how Japanese investors in South-East Asia's e-commerce market are struggling, and how it seems like their biggest challenge has nothing to do with market size but their inability to sufficiently adapt to local market needs.

On the one hand, this is surprising, considering the strong and successful Japanese presence in the region, driven mainly by manufacturing businesses.

Clearly the dynamics in the e-commerce space are very different from the cozy world of manufacturing with its ISO, JIT, Kaizen, and Six Sigma practices that fit nicely in any manufacturing business, irrespective of cultural nuances or marketplace behaviour.

And while we wait to see if Rakuten's impending C2C mobile app for the region takes a focused approach by verticals or goes broad-based, we now welcome Indonesia's lifestyle retail giant PT Mitra Adi Perkasa Tbk (MAP) as the latest brick-and-mortar player to go into e-commerce, part of its omni-channel strategy.

I like the honesty of its executives who admit the process of adding a digital component to their very touch-and-feel business has not been easy. They were wise not to rush things as well, with e-commerce on their radar since 2014.

As MAP group chief executive officer VP Sharma said, "We did not want to play fast and leave faster."

But they are there now and their digital-savvy customers will surely appreciate this as well. This is a story we definitely want to revisit 12 months down the road, to see how they have fared and what they are learning.

Meanwhile in Singapore, the incumbent telcos have learnt, despite their lobbying against, that they will have to face a fourth player by 2017.

I cannot but be impressed by the rational and measured manner in which this whole process is being conducted, with clear spectrum bands, amount of spectrum, dates of auction, starting bid prices and possible scenarios spelt out by the Infocomm Development Authority of Singapore (IDA).

Compare this with the 'exciting' (though the telco industry will tell you 'more haphazard') manner in which Malaysia announced its upcoming spectrum refarming.

The good thing about the two spectrum announcements happening within two weeks of each other is that they starkly display the professional approach versus the meddling approach when politicians think they can make better decisions than regulators.

Here's wishing you a restful weekend and a productive week ahead.

Editor's Picks:

Undeterred, IDA allows for fourth telco in Singapore

Japanese e-commerce hangover forming in SEA?

Indonesian retail giant MAP dives deep into e-commerce

Axiata adamant that Celcom won't be affected by smaller spectrum allocation

SEEK seeks to take jobs portal space to the next level

Digital transformation: Don't forget the back-end!

Review: Samsung Galaxy A5 (2016)'s premium looks, not premium-priced


Previous Instalments:

Week in Review: Formidable competitor to Lazada in Indonesia

Week in Review: Malaysia's spectrum refarming

Week in Review: Grab-bing a piece of the bigger pie

Week in Review: MDeC's unfinished business

Week in Review: Garuda a digital catalyst for Indonesia?


For more technology news and the latest updates, follow us on Twitter, LinkedIn or Like us on Facebook.

Keyword(s) :
Author Name :