Week in Review: Grab-bing a piece of the bigger pie
By Karamjit Singh January 29, 2016
Grab's rebranding may mark the expansion of its playbook
Also a reaffirmation of the digital disruption we can expect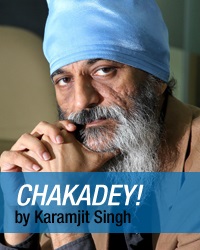 ALREADY well-known throughout South-East Asia, GrabTaxi – the Singapore-based but Malaysian-founded and Malaysian-led ride-sharing startup – has rebranded itself to Grab, dropping the association with taxis and ride-sharing that has been its core business thus far.

But having raised over US$700 million in the four-and-a-half years of its existence, it has been clear since last year that it could not just stay in the transport vertical it was in. There is just no way it can offer any meaningful returns to its investors here.

I would hazard a guess that its rebranding into a generic word such as 'Grab' indicates that it plans to be a key player in the 'on-demand' economy.

But will it stay in South-East Asia or set its sights on greater Asia (barring China perhaps, where Didi Kuaidi, already an investor in Grab, is playing) to try and become the dominant player there? It certainly has the firepower to widen its market focus.

Looking beyond its business model, funding, new brand and its market traction, at its core, Grab is a disruptor, and a digital one at that.

The fact that life itself is rapidly going digital was the single key element that offered Grab cofounders Anthony Tan and Tan Hooi Ling a cost-effective method to try and disrupt the taxi industry by shifting more power to customers and rewarding good taxi drivers in Malaysia (yes, they exist!), which is where their initial focus was.

Their idea was not premised on being able to raise tens of millions of ringgit, let alone the hundreds of millions of US dollars their startup has in its coffers now.

It is the mixture of: 1) The low cost of being a disruptor; and 2) The fact that more people have smartphones which not only changes their behavior and expectations, but allows disruptors to reach consumers easily, bypassing intermediaries and middlemen.

All this has created the ideal environment for disruption. This disruption will happen to both small and large companies.

And recent research by the Harvard Business Review and commissioned by CA Technologies only reaffirms what Digital News Asia (DNA) readers know already.

The study, which covered 300 companies across the world, showed that 44% expect their industries to experience significant digital disruption over the next three years.

Not surprisingly, the study found that the two major factors that will drive this digital disruption are changes in customer behaviour and expectations (cited by 46% respondents), and disruptive new competitors (25%).

That would be the likes of Grab and the other hungry startups out there that sense this market 'grab' opportunity.

Here's wishing all the attackers (startups) luck; and the defenders (brick-and-mortar players) luck as well. May the one with the best digital strategy and execution, win!

Editor's Picks:

Spurned by Medium, MCMC strikes back, users suffer

Indonesia's Telkom blocks Netflix, industry calls for revision

Rivals Celcom and TM unite in converged play

Saving the CIO, Part 1: Aligning business needs, fighting bureaucracy

MSC expands to East Malaysia, NXG first to get MSC status

GrabTaxi's 'hidden' Tan, and why she came back

Of AI and the human touch: EmTech Asia Day One


Previous Instalments:

Week in Review: MDeC's unfinished business

Week in Review: Garuda a digital catalyst for Indonesia?
Week in Review: Watershed year, Netflix here

Week in Review: Or the year ahead, actually

Week in Review: A Christmas wish list


For more technology news and the latest updates, follow us on Twitter, LinkedIn or Like us on Facebook.

Keyword(s) :
Author Name :