Week in Review: D50 honesty and authenticity strike a chord
By Karamjit Singh March 18, 2016
Panel sessions at Monash and Nottingham's Malaysian campus a hit
Counterbalance to too bright a picture painted of entrepreneurship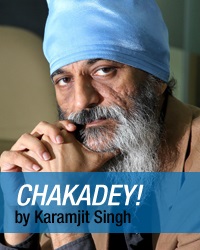 ONE interesting recent development in education is that universities are now encouraging students to not just prepare for a job in the workforce, but to create their own jobs by becoming entrepreneurs.

That's all fine and cool, but I have seen how the concept of being an entrepreneur has become a bit too 'sexy-fied' for my liking. And that's dangerous for students.

Our response at Digital News Asia (DNA) has been to create our 'In the Trenches with DNA's Digerati50' as a counterbalance to the perception that the path of the entrepreneur is all about the idea, building a good team, a great product, going out and raising a few million US dollars, and then expanding regionally or globally and becoming the next billion-dollar company.

And that's why the realism that our Digerati50 bring, by intimately sharing their pain points and fears as they build their companies, is so valuable.

And that is why I love the comment from Professor John Benson, head of the School of Business at Monash University Malaysia, who said, "In my three decades of meeting with and listening to entrepreneurs share their stories, I have never heard sharing of such honesty and authenticity."

This came on Wednesday when DNA brought three of our Digerati50 to Monash's Malaysian campus in Subang Jaya. And while I am sure you will find the barriers to entry article we wrote useful, it does not convey the true impact of the two-hour session we had with the audience of over 100.

And that is because most of what Puan Chan Cheong, better known as CC Puan, founder and chief executive officer (CEO) of Packet One Networks Malaysia; iGene CEO Matt Chandran; and Jeffri Cheong, cofounder and managing director of Kaodim.com; shared was kept within the confines of the room.

The Monash talk was actually the second session we have had under our 'In the Trenches with DNA's Digerati50.'

The first was two weeks ago where an equally powerful session was held at the University of Nottingham's Malaysian campus, in which 1337 Ventures CEO Bikesh Lakhmichand; Babydash founder Lavinie Thiruchelvam; and Code Ar.my cofounder and CEO Zafrul Noordin shared details of their journeys.

Bikesh brought the house down when he urged the students to forget about trying to emulate what is going on in the Silicon Valley, using a four-letter word liberally to emphasise his point. "The action and the opportunities are here in South-East Asia. This is a great time to go out and grab them," he urged.

While our Digerati50 give students a raw dose of what really goes on in their hearts and heads as they go about building their businesses, the end-message is a positive one.

For those among you who are students or in academia and want to bring 'In the Trenches with DNA's Digerati50' – even if you are in Singapore or Indonesia – do get in touch with me and we will make this happen.

Have a restful weekend and a productive week ahead.

Editor's Picks:

In the trenches with the D50: Don't just overcome barriers, create new ones

pitchIN Equity launches, first issuance in mid-April

MDeC's 2020 vision to make Malaysia a regional BDA hub

aCommerce to make Indonesia its centre, begins expansion

Astro may launch permanent e-sports channel

The Apple-IBM pact: 'We have shifted the curve'

Baking in security, the Microsoft way


Previous Instalments:

Week in Review: Women in retreat, it looks like

Week in Review: The 'cultural edge' and winning in SEA

Week in Review: The words they use

Week in Review: Lessons in spectrum refarming and e-commerce

Week in Review: Formidable competitor to Lazada in Indonesia


For more technology news and the latest updates, follow us on Twitter, LinkedIn or Like us on Facebook.

Keyword(s) :
Author Name :