Evernote opens up business notebook
By Gabey Goh December 11, 2012
Evernote Business aimed at servicing needs of small and midsize companies
New features offer better collaboration and sharing capabilities
EVERNOTE, maker of note-taking and archiving software, has launched Evernote Business, aimed at meeting the needs of small and midsize companies.

"Two-thirds of our users already rely on Evernote to be more productive at the office, but up to now Evernote has been a mostly solitary affair," Andrew Sinkov, Evernote's vice president of marketing, wrote in a blog post announcing the launch.

"At its core, Evernote Business is Evernote. It's the same service that's used by tens of millions of people around the world, but it's better. We've added a number of features and refinements that make Evernote Business a perfect tool for small and medium-sized companies and small teams within larger organizations," he added.
In an interview with Elsa Wenzel for PC World, Evernote CEO Phil Libin noted that two-thirds of users, which number 45 million worldwide, are using Evernote at work.

"The vast majority, about 85%, brought it into the workplace themselves. Only about 15% are using Evernote because their IT department set them up with Evernote. The No 1 thing they've asked for is much better collaboration and sharing capabilities so they can use Evernote with their teammates, and that's what we've focused on," he said.

The launch of its business edition follows the company's successful raising of US$85m of new funding, with 75% of it set aside to cash out existing investors and bring in "important new long-term investors who can help shepherd the company to, though, and beyond an eventual IPO."

The new software tool lets users share information within a company or with clients; while a company's IT deparment controls permissions. Users can join Evernote Business with their existing personal account, which remains invisible to the company, and users keep their own data, should they leave the company at any time.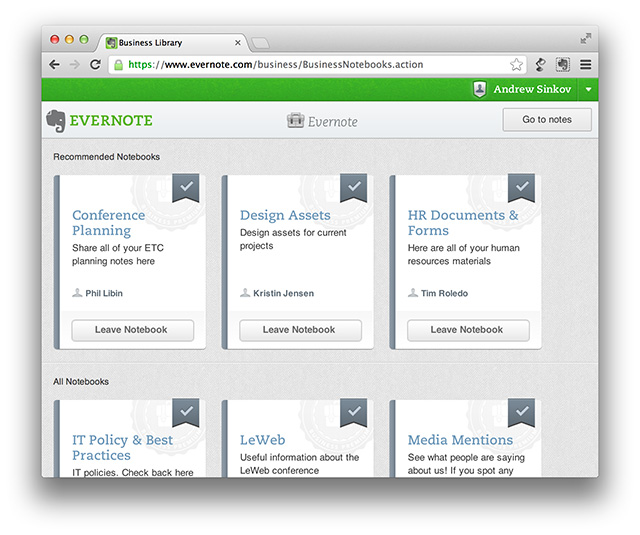 Features unique to the Business edition of Evernote include:
Business Notebooks – Anything placed into a Business Notebook benefits the entire company, making it easier to share notebooks with fellow employees.
Business Library – A collection of selected Business Notebooks that are accessible to the entire organization.
Updated Chrome browser extensions (Web Clipper and Clearly) to support Evernote Business – A web search will now display related results pulled from a user's account and from the knowledge of a team right alongside results from Google, Bing, Yahoo!, and other search engines.
Admin Console – Administrators can monitor their company's Evernote Business deployment through the Admin Console. Here they can manage users, Business Notebooks and the Business Library. They can also set their user number thresholds and payment preferences.
Available on Mac, Windows, iOS and Android platforms, Evernote Business is now available in seven countries: USA, Canada, France, Germany, Switzerland, Japan, and UK.

In the US, Evernote Business is available for US$10 per user per month. That provides users with 2GB per month of new content in Personal Notebooks, while co-workers can share another 2GB in their Business Notebooks. A non-Business Evernote Premium account currently runs US$5 per month or US$45 per year for 1GB per month.

Rollouts to other countries are expected to take place from the first quarter of next year. For more information, click here.
Keyword(s) :
Author Name :