ServisHero announces blockchain-based system and ICO on horizon
By Chong Jinn Xiung March 27, 2018
ICO to planned to be raised in the middle of 2018
Blockchain technology to unlock new potential for workers in SEA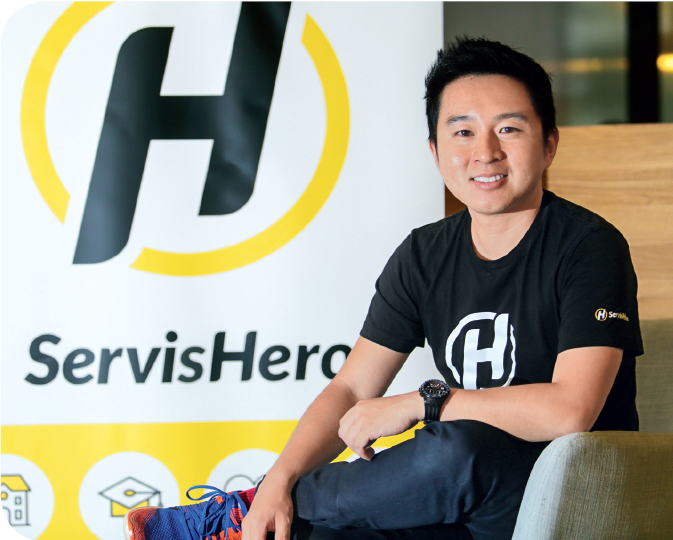 ONLINE marketplace for local services in Malaysia, Singapore and Thailand, ServisHero has announced that it is preparing for its upcoming Initial Coin Offering (ICO) in which the platform's ecosystem will be powered by the ServisHero Coin that built on the Ethereum Blockchain.
In an interview with Digital News Asia, ServisHero chief executive officer Karl Loo (pic above) said the ICO is likely to take place sometime in the middle of 2018. ServisHero is also developing its blockchain infrastructure with the help of Origin Protocol, one of the world's leading blockchain experts from Silicon Valley.
He cites that one of the biggest barriers to global trade is the lack of trust and if that problem can be solved with technologies like blockchain. For ServisHero this means the decentralisation of its work and transaction histories for consumers and service providers. This would then result in reputations for workers to have more transparent and will assure users that the information is fully trustworthy.
The opportunities are huge in SEA and according to the Bank of America, the global market growth for the sharing economy is led by Asia, in particular, SEA countries. With more than 3.8 million Internet users coming online for the first time every month in SEA, there is the potential that more people in the region will be using the Internet to find paid work.
ServisHero is invested in by Golden Gate Ventures, a leading Southeast Asian venture capital fund that backed Omise, the company behind OmiseGo, one of the world's most successful cryptocurrencies.
When asked why consider an ICO over alternatives like Equity Crowd Funding, Loo cited that companies like PolicyPal, which recently raised US$20 million through an ICO, shows that ICOs in SEA can raise a significant amount of money. He attributes this due to the fact that ICOs are able to tap into a global investor base, hence the potential to raise a large amount of capital as compared to an ECF, where say in the United States companies are limited to raising up to US$1 million over any 12-month period.
"We are very excited about the potential of blockchain technology as it changes the way service platforms like us operate as it will open up a lot of work opportunities for workers in developing markets like in Southeast Asia (SEA)," said Loo.
"We see the implementation of ICO to less about fundraising and more about bridging the technology in blockchain," Loo added. "Tokenisation of the platform will release a lot of opportunities and we also want people that support us through these tokens to be rewarded and incentivesed to actively participate on ServisHero."
Loo is of the view that if companies are not thinking of blockchain they risk become irrelevant. With the blockchain system in place, ServisHero hopes to reduce its cost and need for middlemen like banks and payment gateways. This would, in turn, he claimed, dramatically reduce the commision rate ServisHero charges by more than 10 times.
"If we don't have to pay for payment gateways, we can reduce the amount of operational overheads that we need to maintain and reduce the amount that we charge," he said confidently.
ServisHero will be releasing its whitepaper and more details about token sales for its upcoming ICO over the coming weeks. Currently, investment opportunities are only available to private investors but interested parties can register their interest on the ServisHero Coin website.
Related Stories:
Despite challenges, small businesses gung-ho about growth: ServisHero survey
For more technology news and the latest updates, follow us on Facebook, Twitter or LinkedIn
Keyword(s) :
Author Name :