Sentuh brings the digital touch to wellness
By Dzof Azmi September 8, 2020
Massage and spa experience is now brought to customer's doorstep
Looks to build itself as an end-to-end platform for any spa and wellness business
Without a doubt, Covid-19 disrupted businesses in a major way. And for a company like Sentuh (which means 'Touch' in English), which specialises in bringing the massage and spa therapy experience direct to your doorstep, it stopped business in its tracks, cold.
"We had to shut down," says Ahmad Aizudin (pic, below), founder and CEO of Sentuh Sinergi Sdn Bhd. "Services were totally discontinued for almost three months," he sighs.
Still, disruption was nothing new for Aizudin, who is an example of a brick and mortar entrepreneur who overcame his fear of technology and doing things the way they always were, to adopting digital simple because he recognised that it would help him run his business in a more competitive and efficient manner and with a different business model as well.
Set up as a separate business from his two brick and mortar centres, the key difference with Sentuh is that it does not have full time staff that have to be paid no matter how poor business is. Sentuh relies on freelancers that only get paid when they service a client. Sentuh does not have rental overheads and does not have customers cancel bookings because of rain, bad traffic or from not finding any parking.
By early 2020 the model had proved itself enough that, six months earlier, in Sept 2019, Aizudin shut down both his brick & mortar spa centres. Sentuh, which was launched in 2018, had its highest grossing month to date in March, the same month the Mandatory Control Order (MCO) was enforced. It also hit its ten thousandth booking that month, helped by expansion to Johor Baru and Kota Kinabalu as well. And demand was outstripping supply, with the startup having to turn down about a third of attempted bookings, despite having more than a hundred therapists on their books. They were even receiving and fulfilling orders on the last night before the MCO was enforced!
And then, they had to stop. "Nobody knew how long it would last."
Yet, the value of this asset-less model has been enhanced further in a Covid-19 era with Aizudin not saddled with the burden of fixed opex, nor facing the emotional burden of letting go of his people in an already tough economic climate. Furthemore, customers are loath to visit any spa and wellness centre over doubts of the premise consistently applying strict hygiene protocols.
From traditional to online
Running an online wellness business was the last thing on Aizudin's mind when he started the spa business over 10 years ago in 2009. However the changes he witness throughout that journey, were not lost on him.
Specifically, he saw how digital was beginning to impact brick and mortar businesses. At first it was how social media changed the nature of marketing. And then it was how companies like Grab disrupted the service industry without owning any assets.
This growing realisation of what digital could do coincided with the limitations of growth faced by his two brick and mortar outlets. "It's a hassle actually to come to the spa, because it's in a business area and parking is an issue," he notes, adding that clients were cancelling appointments because of it. But while they were cancelling, people also kept asking, "do you do house calls?"
Thus, Sentuh was born in 2018, and with it, a new set of business challenges to deal with.
The issue with sourcing therapists has been there from the beginning. "When we first started, we only had five or six freelance therapists who we had to convince to come on board," said Aizudin.
Another challenge is that many of the freelancers were not familiar with technology, even if they owned mobile phones. Aizudin estimates that 70% of their therapists are from the B40 group. "Most are single mothers or housewives."
It was clear that before economic opportunities can be taken – part-time therapists are able to earn up to RM1,000 a week – the digital divide needs to be closed. "Some of them don't even have email. I had to ask my admin to create an address for them."
This requirement to have technology that "just works" without any frills drove their development process with Aizudin feeling that their technology is what gives Sentuh a competitive advantage. He now intends to offer the booking platform to other spa and wellness operators in the market.
Bringing wellness centres online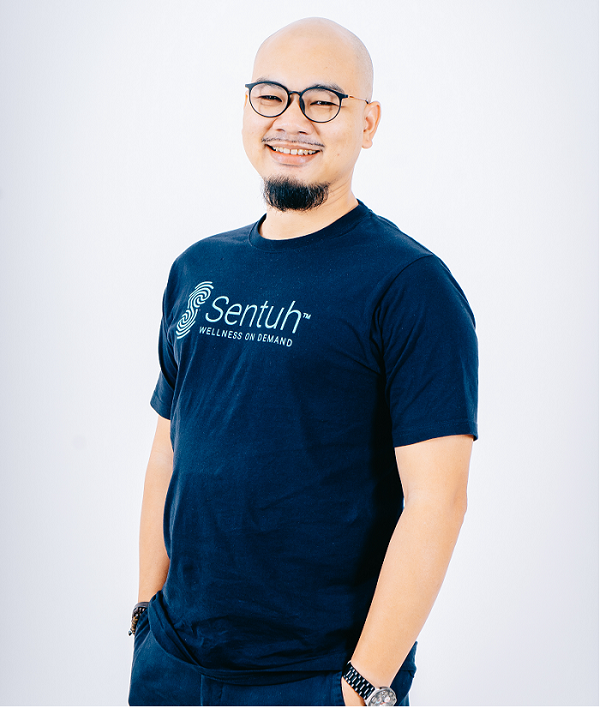 Clearly, the MCO has badly affected the spa and wellness industry in Malaysia. As many of the operators rely heavily on foreign therapists who can no longer travel freely, many have had to close down.
"Luckily for us we have our products," shares Aizudin, referring to their range of skincare products and massage oils diversified from the previous spa business which he closed in Sept 2019. "We could cover expenses for three months during the MCO (and) we did not have to terminate anyone."
They have reopened for business now, although the new normal means therapists wear face shields and latex gloves on their house calls. The reopening also comes with a renewed ambition to pick themselves up from this setback and grow onwards.
In particular, Sentuh wants to help other wellness centers go online. "They want to join us because of course they are also closed," explains Hisham Talib (pic, right), the chief strategy officer. "That's why we decided to build a platform for wellness operators to on-board themselves. Essentially we want to build this into an end-to-end platform for any wellness services provider to use based as a SaaS model."
The hope is to roll this out by end October. This is part of a larger plan to grow Sentuh as quickly as possible. Brunei has been targeted for expansion this year, and they plan to go into other Southeast Asian countries within the next three years. "We want to grow as fast as possible," Hisham stresses.
So far, apart from a grant from Cradle Fund Sdn Bhd and an angel investment, Sentuh has been mostly self-funded. However, they know that ambition needs to be fuelled by more than desire and have launched their equity crowd funding (ECF) campaign on pitchIN at https://equity.pitchin.my/businesses/sentuh-sinergi-sdn-bhd#fndtn-panel-business-info with the goal of raising US$120,000 (RM500,000).
[Paragraph updated.]
"I think what makes ECF special is that our investors can also become our brand ambassadors," says Aizudin. As it is, they already have several celebrities as clients who willingly endorse their service. The eventual hope is for an IPO, or to join up with another like-minded operators, should another player large enough arrive or emerge in the region.
"If we don't grow fast enough, quickly enough, and big enough, that will be the end of it," predicts Aizudin. "But if we are established and we have a large base of customers, then maybe others will look to partner with us."
Related Stories :
Keyword(s) :
Author Name :