MyCash Online breaks into international market
By Anushia Kandasivam January 2, 2018
Funding woes drive startup to better opportunities overseas
Goals for 2017 achieved, there are big plans for next few years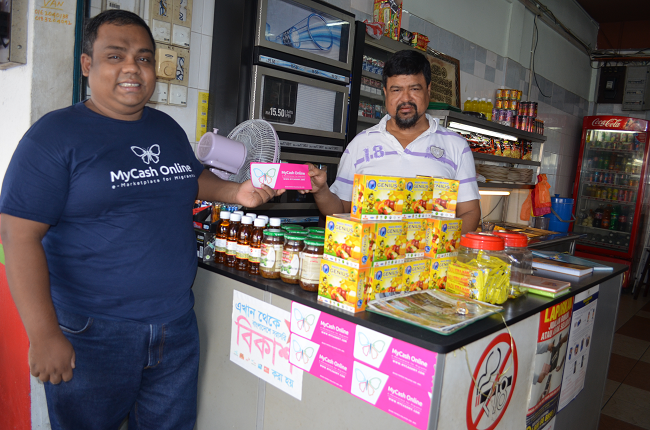 MALAYSIA-based fintech startup MyCash Online will soon be moving its headquarters to Singapore. Cofounder and chief executive officer Mehedi Hassan says that the main reason for this move is that Singapore affords the startup a great many more opportunities, especially in terms of funding.
Getting funding in Malaysia is so difficult as to be almost impossible, he says. The startup previously raised US$120,000 (RM500,000) in June 2017 through equity crowd funding (ECF) after being unable to secure venture capital or other kinds of investment. It was the first fintech company in Malaysia to successfully raise funds through ECF.
At the time, it was reported that the ECF campaign had raised US$300,000 (RM1.3 million) with Cradle Fund Sdn Bhd to contribute US$180,000 (RM800,000). However, for reasons not made public, Cradle did not participate in the funding in the end. Mehedi declined to reveal the reason as well.
The funds raised have gone into marketing and improving the product but more is now required for the startup to meet its ambitious goals over the next few years, hence the move to Singapore.
MyCash Online has already received regulatory approval from the Monetary Authority of Singapore and is beginning to offer some services to migrant workers, including international mobile top-ups, bus tickets and bill payments, all of which are available in Malaysia. It also offers a remittance service that enables migrant workers to transfer cash and make bill payments to their home countries.
The catalyst for the move to Singapore was the startup's participation in the Singapore Fintech Festival 2017, where it won a pitch competition. The prize was S$20,000 in funding from the Monetary Authority of Singapore and S$50,000 worth of legal services from law firm Allen & Gledhill LLP.
It has not yet used the prizes but Mehedi says that the legal services will certainly come in useful soon as MyCash Online will be applying for a remittance licence in Singapore in 2018.
Creating a digital bank
Going international has been the startup's dream from the beginning. In a previous interview with Digital News Asia in 2016 (its first media interview), Mehedi shared that his big dream was to turn MyCash Online into a digital bank that offers its migrant worker customers a range of services through digital engagement and alternative banking facilities.
This dream is coming true – MyCash Online has been invited to talks with Invest Lithuania, the country's investment promotion agency, to initiate a plan to set itself up as a digital financial institution there.
The parties met at the Singpore Fintech Festival, where the startup's founders met the Lithuanian foreign minister and the governor of the Bank of Lithuania.
Mehedi explains that Lithuania looks to have good potential, especially as the licensing fees are cheaper compared to in Malaysia; the startup will only require a paid-up capital of €1 million (US$1.19 million or RM4.8 million) for a licence in Lithuania whereas Malaysia's capital adequacy requirements are more restrictive.
Once plans are solidified, the startup will apply for a digital banking license, in 2019 or 2020. Lithuania will then be a stepping stone into the rest of Europe.
"We have evolved a lot since [our first interview]. At that time we were a small company just starting out, selling mobile top-ups. Now we are becoming a financial institute," says Mehedi.
The startup is also preparing a framework to provide credit ratings for the stores that act as their mobile sales representatives, using African mobile phone-based money transfer and financing service M-Pesa as a guide. M-Pesa offers a microfinancing service in Kenya, Tanzania, South Africa and a few other countries.
MyCash Online plans to create credit ratings using the data it has collected from customers and stores and offer small loans. It is in talks with potential partners and hopes to offer a pilot programme to some of its stores early next year.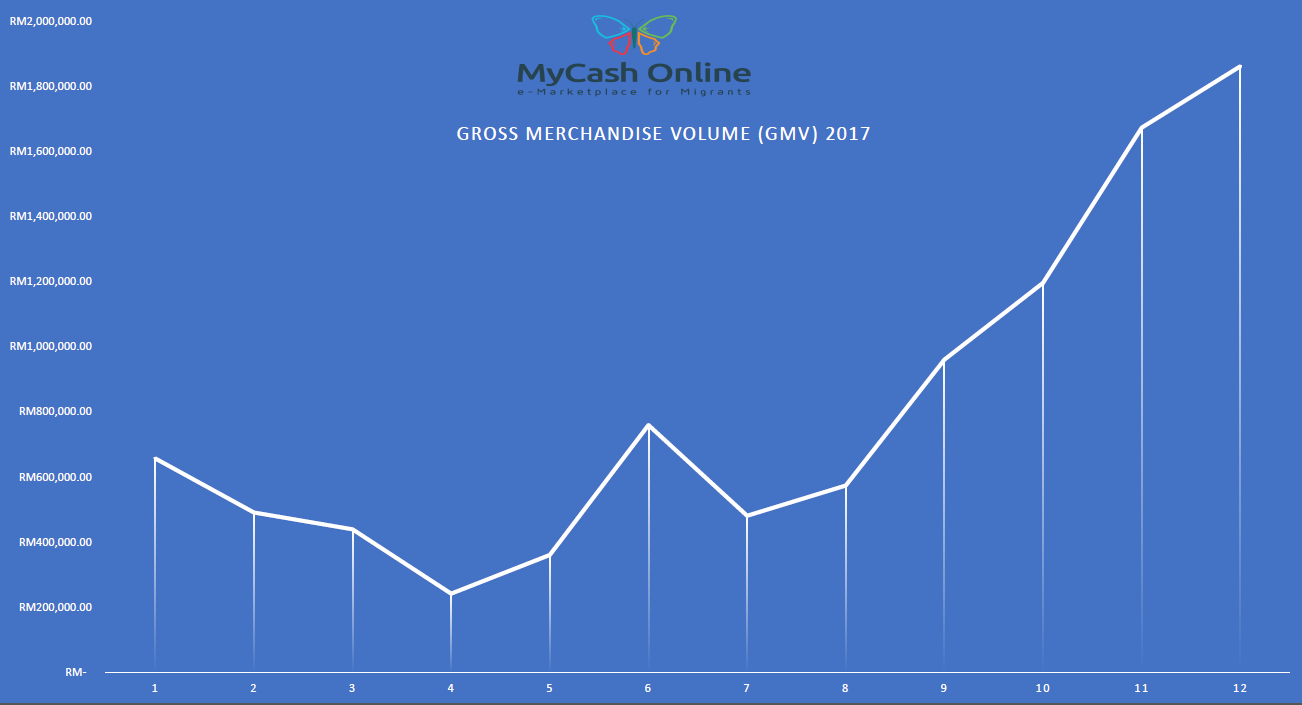 Increased market traction
At the time of the ECF campaign in June 2017, MyCash Online's gross merchandise value (GMV) was between RM500,000 and RM600,000 per month. That has quickly quadrupled to hit RM2 million per month in December.
Mehedi reveals that the startup currently handles about 1,000 remittance transactions per month, one year after launching this service.
"I think this is a big achievement for us as a team. We are pretty happy with this."
Where one year ago it was just starting to gain traction among customers and had 226 agents in the Klang Valley who offered various MyCash Online products to the migrant worker community, it now has about 80,000 customers and more than 800 mobile sales representatives (as they are now called) all over Peninsula Malaysia.
The mobile sales representatives are not paid a salary but work on commission as they sell the service. They comprise traditional sundry shops, mobile phone stores and even individual human resources representatives who work in companies that employ migrant workers.
More big plans ahead
MyCash Online is targeting 3,000 transactions per month by March 2018, tripling its current amount in two months. This is a reasonable target and one that the startup can achieve, says Mehedi.
"We have a very good offering for the market," he says. Three ingredients go into creating the offer – value for money, convenience and excellent customer service. Mehedi explains that MyCash Online provides a 'last-mile service' for customers where the startup follows up closely with first-time customers and works hard to solve any problems that may arise with foreign banks.
"We have a very dedicated customer service. This relationship we've built with the customers helps us a lot. Most of the customers we have are repeat customers who use us every month."
By the end of 2018, the startup aims to have 500,000 customers and at least 3,000 mobile sales representatives throughout Malaysia, including East Malaysia.
There are more big plans for 2018: the first is a payroll system that companies can use for their migrant workers instead of paying them in cash every month. The idea is that the salaries go into MyCash Online, and customers can access their money through the apps and directly send money home or purchase services. Mehedi reveals that the startup is talking to a factory and two plantation companies, and hopes that the system will be in place by the second quarter of 2018.
The second plan is to introduce a prepaid card for migrant workers, mainly to enable them to shop online. Mehedi says for this to work, the startup needs to partner up. It is in talks with non-banking institutions who are card issuers. This plan should come to fruition by the end of the first quarter of 2018.
"Our dream is to have every migrant worker [in the countries we operate in] use MyCash Online at least once. This is our goal in the next two or three years. It's a tough one, but we want to at least try," he says. There are 5 million migrant workers in Malaysia alone with less than 500,000 in Singapore which includes domestic workers and those in construction and other non-skill jobs.
"There is so much potential in this industry, and we are trying very hard to get further than where we are now," says a determined Mehedi.
Related stories:
MyCash Online hits on a US$80 mil yearly market
MyCash sets new ECF record in Malaysia with US$300k raised
Helping grow Malaysia's fintech ecosystem
For more technology news and the latest updates, follow us on Facebook, Twitter or LinkedIn
Keyword(s) :
Author Name :