Mimpi launches online-only mattress store
By Yunnie Marzuki February 9, 2018
Sold 300 mattresses after its soft launch
Targets Jakarta and Bandung as main markets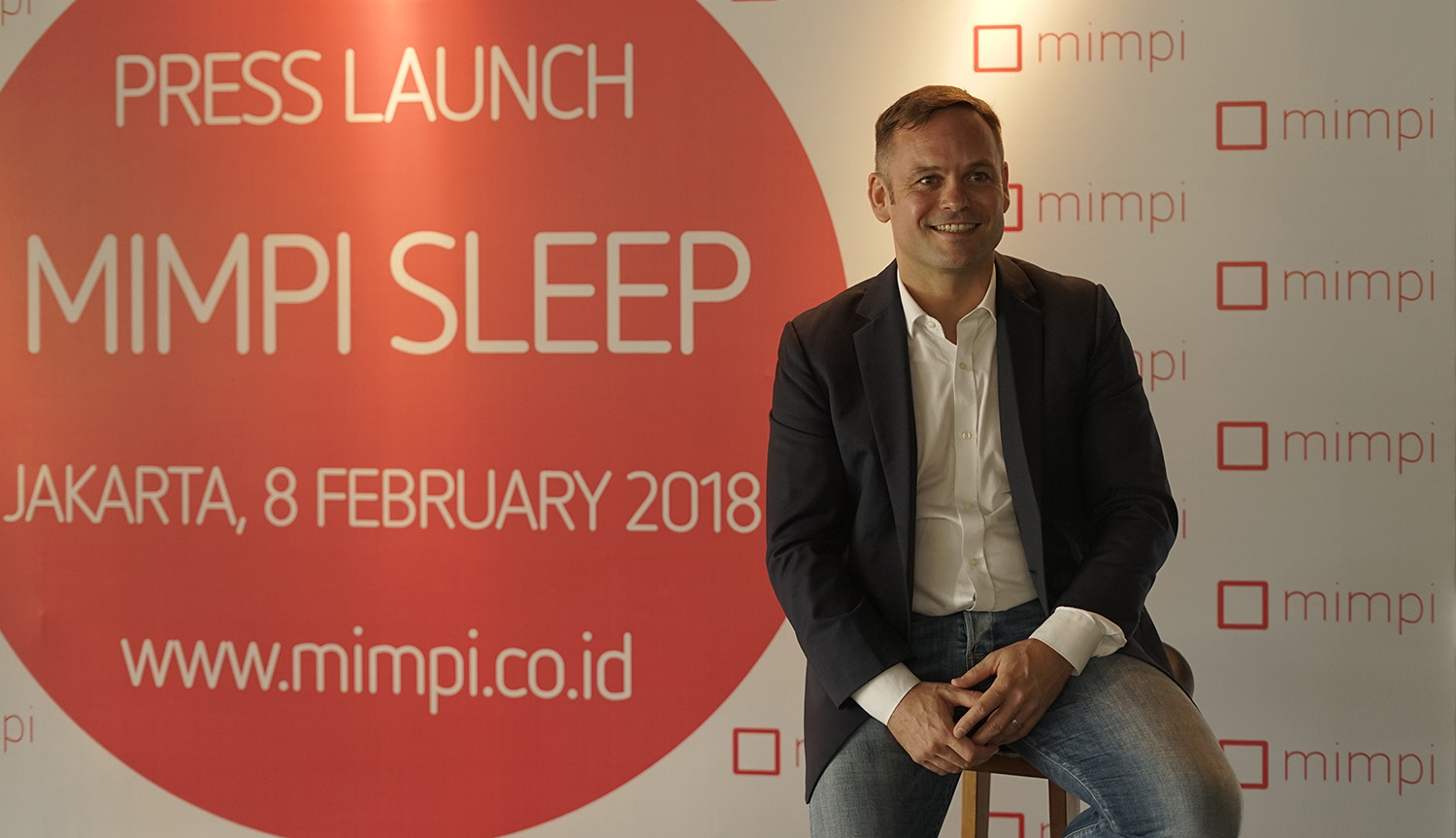 MIMPI, a Jakarta-based online-only tech startup that sells luxury mattresses officially launched on Feb 8 after its soft launch in March 2017.
Having experienced the hassle of buying a mattress at offline stores, Mimpi founder and chief executive officer Frank De Witte (pic) was motivated to start this business.
He says that Mimpi has made 300 sales since the soft launch, with most of them coming from Jakarta and Bandung.
"In 2017, we really embarked on our venture. We had our technology and product ready, but we needed to develop our online tools to be able to sell, such as developing the website.
"During the soft launch, our growth in sales was slow and I think that our website did not hold what I wanted it to, so I created a new one."
To De Witte, the development of the website was a huge challenge and he is relieved and proud that the product and website are ready for the wider Indonesian market by creating a stronger marketing strategy.
"We are engaging very closely with our existing buyers by receiving feedback and building relationships with them, which is also part of our marketing strategy."
He explains that the Mimpi is internally funded, and he is only investing in marketing campaigns for Jakarta and Bandung.
"Initially, I also had invested in product development such as for our website and products. But now we want to focus more on marketing."
He told Digital News Asia in a previous interview that Mimpi would expand to Malaysia and Singapore.
However, De Witte now says that he wants to focus on Indonesia's market and set a steady growth in sales first.
Mimpi now has two people managing the company, De Witte himself and a marketing manager who handles inquiries and customer relationships. He outsources IT and manufacturing.
When asked about challenges, De Witte says that Mimpi needs to compete with existing offline stores and he needs to educate people about the mattresses.
He plans to sell his product on online marketplace such as Lazada and Tokopedia once he is ready.
"Through our online-only approach, we are able to cut out the element of middlemen in our supply chain, ensuring that we serve our customers directly and personally address their exacting needs."
Mimpi now sells four types of mattresses depending on the number of layers of foam used.
"We used to only sell '4L (four layers)' mattresses, but now, we provide mattresses with one to four layers of foam."
Prices for Mimpi's mattresses range from US$190 to US$873 with the products being delivered for free.
"The mattresses will be shipped in a box with compressed vacuum packing and it is folded to fit the box."
In terms of delivering goods, De Witte says that he optimised the delivery process through collaborating with Shipper.id, logistics player.
Mimpi mattress are sold exclusively online through the company's website, www.mimpi.co.id
Related Stories:
Mimpi to sell mattress exclusively online in Indonesia
Indonesia's first jewellery e-commerce player Orori eyes US$ mil GMV by 2020
Wedding and motherhood startup Nuren goes live on Crowdo ECF platform
For more technology news and the latest updates, follow us on Facebook, Twitter or LinkedIn
Keyword(s) :
Author Name :