IOI Properties Crack The Code challenge to geeks
By Digital News Asia July 1, 2020
Property company's inaugural hackathon aims to build confidence
A transformation initiative to identify original ideas applicable to real estate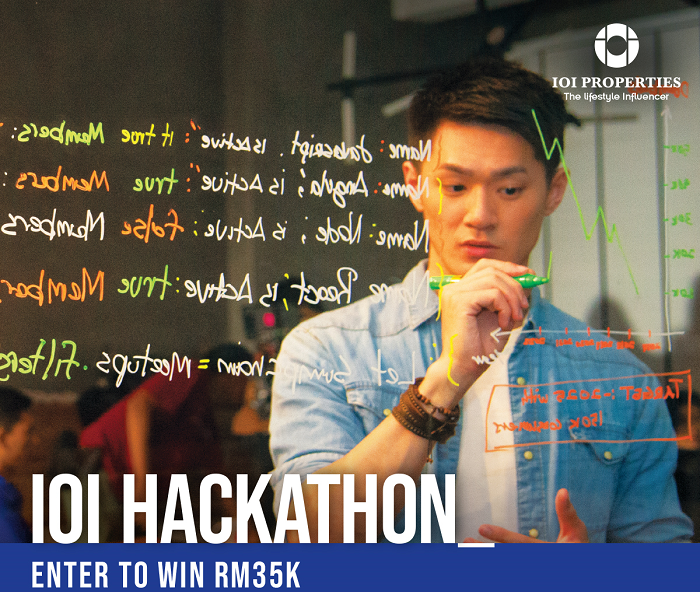 Can you crack the code?
The launch of IOI Hackathon marks the first event activation under the IOI Properties' LIVE.LIFE brand campaign. It is a campaign curated for millennials to engage with the younger generation of today. IOI Properties intends to disrupt their lives to instil passion, build confidence and define characters among this group who will be the nation's future leaders.
Bringing together the youth through the Live.Life! campaign, IOI Properties is creating a space for ideas and conversations to happen across borders.
The IOI Hackathon is an initiative by IOI Properties under its digital transformation push to identify original ideas and projects applicable to the real estate industry. It is offering an attractive prize money of RM35,000 cash, further funding, business advise, mentorship and a test bed for promising ideas.
"IOI Properties is aggressively pushing boundaries in the way we do things. At the forefront of the industry, we are actively seeking original ideas and solutions that can improve the lifestyle of our residents, community, colleagues and business partners," says Jason Tie, Chief Sales & Marketing Officer.
He adds that they are looking forward to cutting edge ideas and solutions that they can nurture and develop for immediate implementation. "In addition, we are committed to support our young talents to pursue their ideas through funding, business advice, providing a test bed and adoption of their solutions in our business."
The 2-week competition will see teams of 3 members battling it out to develop an original app that will disrupt how people choose, buy and manage properties. IOI Hackathon participants will have mentors assigned to help them along the way. The lead mentors are Edward Chin (Founder, Actualize Hub) and Stanley Seow (an IOT and hackathon specialist). The hackathon adviser is, JomHack Malaysia, who will also be supervising the participants.
IOI Hackathon is an event not to be missed. Registration is now open until 11.59pm on 17 July. Further information is available at their website. Mark your calendars and let's CRACK THE CODE!
Keyword(s) :
Author Name :